Bindi Irwin Posts about Late Dad Steve and Wishes He Was Still Alive Amid Australia Wildfires
Amid the devastating fires raging across many parts of Australia, Bindi Irwin wrote an emotional post about wishing her father, Steve Irwin was still alive and able to help.
As Australia deals with the largest wildfires it has ever experienced in history, Bindi Irwin pens an emotional message about the situation, she said:
"Dad spent his life working so hard to protect wildlife and wild places, especially in Australia. I wish he was here right now to give advice and strength during this time of devastation with the bushfires."
Over a billion animals have died in the fires. Bindi and her family have been working at the Australia Zoo Wildlife Hospital in treating over 90,000 animals. She ends her message on a hopeful note about her father, Steve Irwin, and the work they are doing, she admitted:
"I know that his spirit lives on through our conservation work and I hope together we can make him proud. ??."
In her post, she shared a picture of Steve in the Australian wild, surrounded by greenery and a bright blue sky in the backdrop. 
Showing off his world-famous smile, he is pictured holding a baby kangaroo close to his face. Fans have poured in with messages of support for Bindi, reassuring her that she is making Steve proud.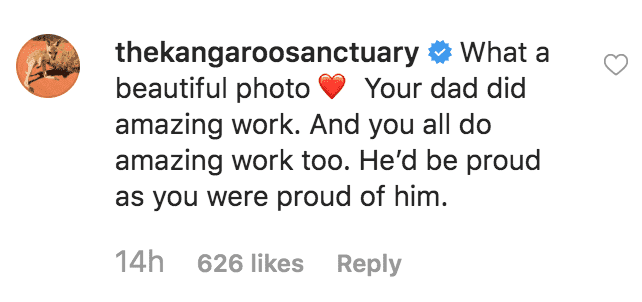 Giving her fans more insight into the work they are doing to save animals she also shared pictures on Tuesday of some of the animals they have been treating, she revealed:
"Over 600 bats were transported from caring facilities evacuated in New South Wales due to fire. Our Australia Zoo Wildlife Hospital has treated over 100 of these beautiful little souls."
According to CNN, the Australian Zoo is owned and run by Irwin family they are working around the clock to save the animals, which have been injured by the raging fires
In an interview, Steve's widow, Terri Irwin revealed that their conservation properties have not been threatened by fires. She urged people who can help to be more active in doing what they can to protect the environment.
Our 497 @AustraliaZoo staff, along with Queensland police and federal police, will be donating uniforms to be repurposed into clothes for kids affected by the bushfires. I am incredibly proud of the work being done by @uniforms4kids! pic.twitter.com/cdMXNw1HVq

— Terri Irwin (@TerriIrwin) January 7, 2020
At the start of the year, Bindi shared a collage of photos on Instagram that highlighted everything from her family pictures to her recent engagement.
She appeared optimistic, hoping for "an amazing new decade ahead." We hope as the fires come under control, the same optimism can be restored in the country.