Lara Trump Shares Throwback Photo with Husband Eric on His 36th Birthday in a Sweet Post
Donald Trump's daughter-in-law, Lara Trump, took to her Instagram page to share an old image of herself and her husband, Eric Trump. The gesture was in celebration of the first son's 37th birthday.
A few days ago, President Trump's daughter-in-law posted a throwback picture with her husband on her Instagram, and she captioned it, "HAPPY BIRTHDAY @erictrump!!!"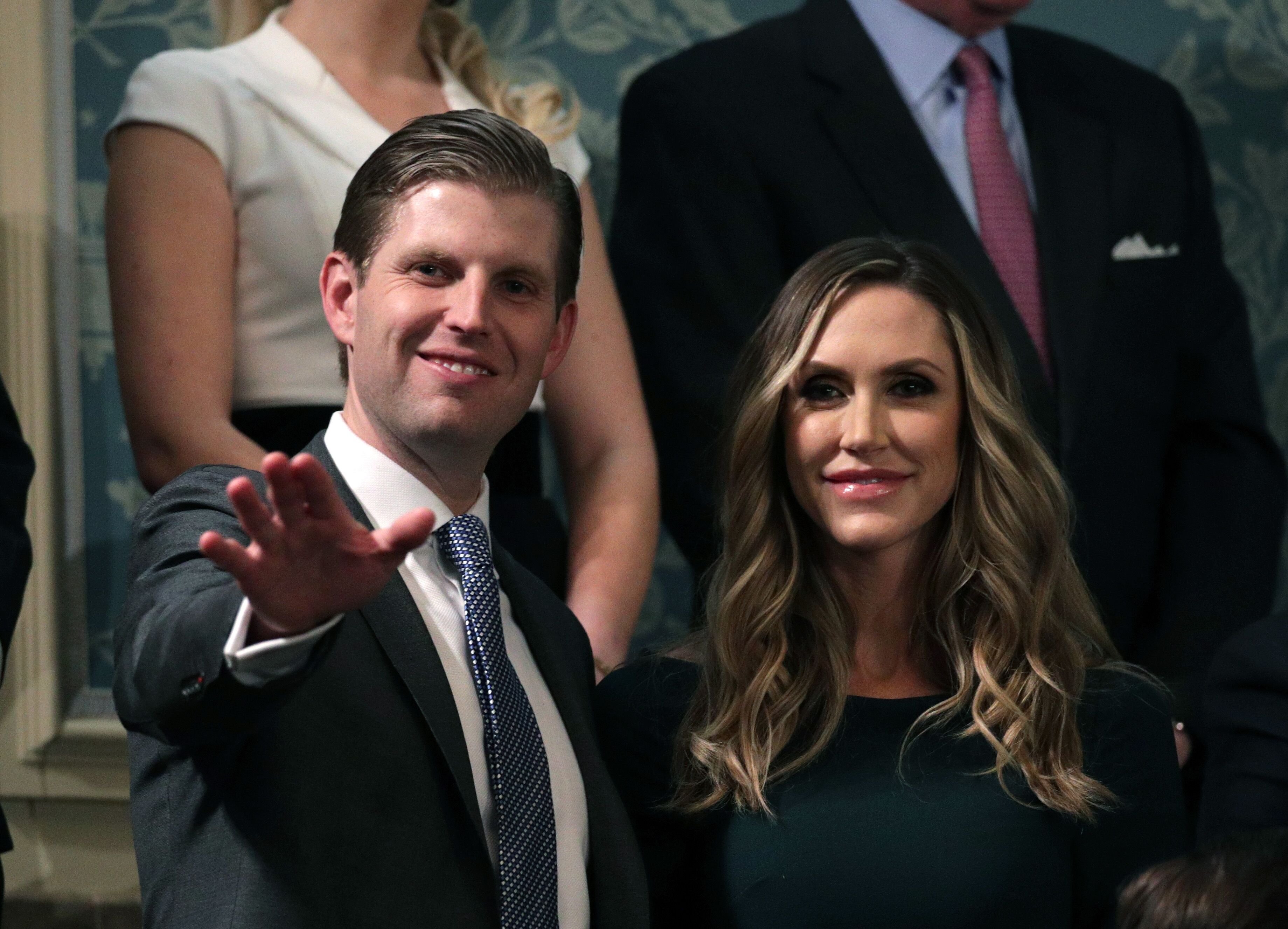 In the image, Eric Trump wore a navy blue hockey jersey with light blue hockey gloves as he held his wife, Lara, who wore a head warmer and blue winter jacket.
Lara also held on to a hockey stick, and the whole scene appears very playful. Lara's fans replied to the posted image with heartwarming messages. 
Born in Wrightsville Beach, North Carolina, Lara Trump nee Yunaska, studied Communication Arts at North Carolina State University before acquiring a degree in bakery arts from the French Culinary Institute in New York.
According to Lara during an interview with EliteDaily, she met Eric at a fashion event in New York, she said,
"We met here in New York. Actually, we were both out one night with friends and being, probably, the two tallest people in the room... I think we spotted each other across the room..."
Sometimes last August, both Lara and Eric Trump welcomed their second child, Donald Trump's tenth grandchild, and they shared the good news via a tweet.
August 20, 2019
The couple who took their marital vows in 2014 at Palm Beach, Florida, the exact place Donald married Melania in 2006 posted a family photo on Twitter with the caption,
"Luke will be a great big brother!" 
Late last year, the 36-year-old Lara and Ivanka Trump, the first daughter, took to Instagram to post pictures of their children picking apples in an orchard. 
Lara and I are excited to announce that we will be adding another member to our family in August! Luke will be a great big brother! pic.twitter.com/L1yR955P2u

— Eric Trump (@EricTrump) April 10, 2019
Lara took a trip to the Stuart's Fruit Farm in Granite Springs, New York with her friend, Emily Aronson, her son Luke and their two pooches. 
Both families went on simultaneous orchard outings to different farms. 37-year old, Ivanka posted a cute photo of herself holding up her three-year-old child Theodore as she pointed at an apple for him to take out a tree.
Meanwhile, Lara Trump, the 36-year-old sister-in-law to Ivanka, also shared a progression of photographs from the orchard outing, beginning with an image of herself holding Luke in her arms while standing beside Emily.
The cute image showed Lara with her salvage hound Ben's red chain folded over her wrist and a half-eaten green apple in her grasp.