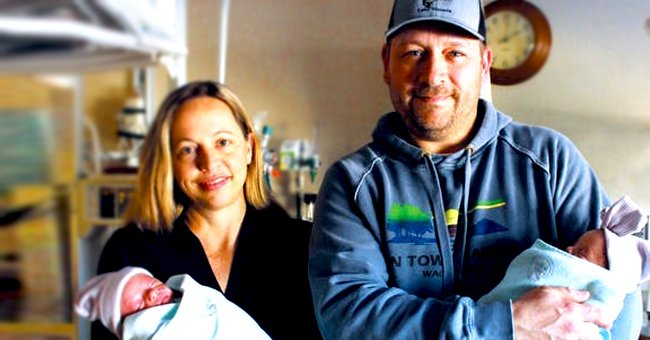 facebook.com/startribune
Minnesota Couple Are Parents of Twins Born in Different Decades
Melissa and Ben Mase, from Minnesota, welcomed twins born in two decades. Their delivery did not play out as planned.
Fifteen minutes before 2020, Melissa, 42, gave birth to George and Remi only a minute into it, as reported by Star Tribune.
"It was pretty exciting the way this one went down for us," said Ben, 43.
IT'S NOT A PLAN
Melissa and Ben, who are also parents to William, 11, Lucia, 9, and Ella, 2, have been married for almost 15 years.
The couple said they didn't plan to welcome their twins on New Year's Eve and New Year's Day. In fact, there was no sign that Melissa would give birth early when she visited her doctor.
However, the assistant principal at Cologne Academy started experiencing symptoms the following day. That happened when she attempted to complete some work before winter break ended.
GOT A TEXT FROM HIS WIFE
In spite of the fact that her water hadn't broken, she was having contractions, which began to escalate when she got to Ridgeview Medical Center in Waconia.
Ben was at home with William, Lucia, and Ella when he received Melissa's text that they broke her water.
Meanwhile, in Indiana, Dawn Gilliam and Jason Tello also welcomed their twins in different decades.
THEIR TWINS COOPERATED
They immediately went to the medical center. In the delivery room, Ben and Melissa cracked a joke about how funny it would be if George and Remi entered the world in two different decades.
The couple didn't expect their twins to cooperate. George weighed 5 pounds, 1 ounce, while Remi weighed 5 pounds even, according to Chicago Tribune.
Meanwhile, in Indiana, Dawn Gilliam and Jason Tello also welcomed their twins in different decades, as reported by Today Parents.
Joslyn Grace arrived at 11:37 p.m. on December 31, and after thirty minutes, her brother, Jaxon DeWayne, entered the world at 12:07 a.m. on January 1.
In an interview with Today Parents, Dawn, 36, said, "Everyone in the delivery room was so excited. It's pretty awesome."
Joslyn and Jaxon already have distinct personalities, according to Dawn, who is also the mother of Gabryel, 5, and James, 10.
Joslyn is an absolute daddy's girl. Jaxon, on the other hand, is all about his mom. The newborns are required to stay in the hospital until their February 19 due date.
Please fill in your e-mail so we can share with you our top stories!