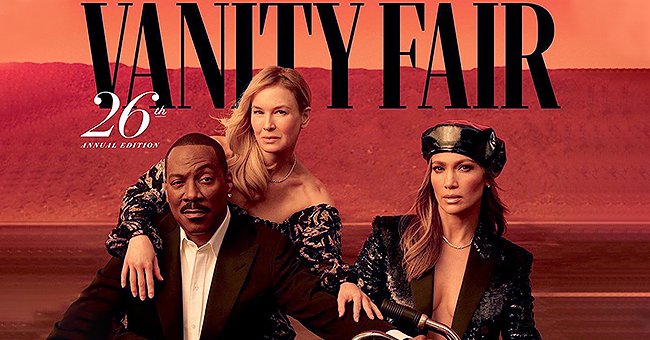 instagram.com/jlo
Jennifer Lopez, Eddie Murphy & Renée Zellweger Pose on Bikes for Cover of Vanity Fair's Annual Hollywood Issue

Jennifer Lopez is not slowing down in 2020 as she hits the cover of Vanity Fair's latest magazine issue alongside fellow stars Eddie Murphy and Renée Zellweger.
On Tuesday, the singer and dancer posted three incredible pictures taken from a photoshoot for the highly acclaimed magazine's 26th annual Hollywood Issue.
In her caption, Lopez revealed that 22 of her colleagues had made their way within Vanity Fair's pages. However, it was just three who graced the cover.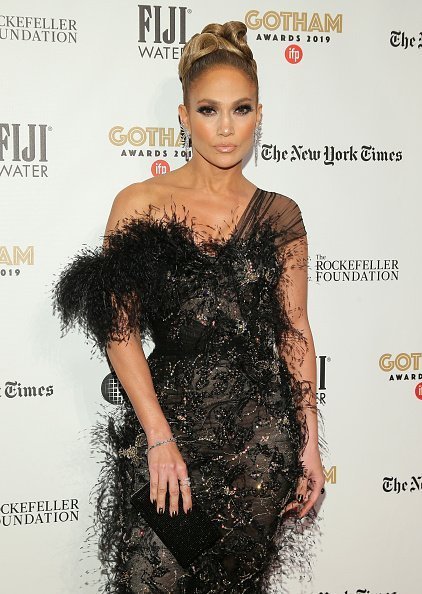 Jennifer Lopez at Cipriani Wall Street on December 02, 2019 in New York City. | Photo: Getty Images
An amazing trio
In the first photo, we see Murphy seated on an old-school bike wearing a classic tux with no tie. With attitude, he raises one eyebrow for the shot.
Behind him, Zellweger leaned over wearing a stunning low-cut dress. The blonde beauty had her hair in a side-swept style. The cover's backdrop is a brick red color.
Next to them, Lopez looked gorgeous wearing a shiny, black suit with a very low-cut at the front. She paired it with matching long pants and a black hat. She also donned a pair of gloves.
Lopez's portrait closeup
The fantastic cover photo is followed up by a grayscale portrait of Lopez wearing a tulle outfit with some jewelry. Her eyes are closed as she holds one hand to her face and the other underneath her chin.
In the last shot, we again see the three celebrities in an orange landscape. Zellweger stands in a white dress on the road, and Murphy is off-road in the same tux.
Lopez stands sideways as she uses a phone booth while wearing a gorgeous red off-shoulder dress. In just a few hours, the post amassed nearly half a million likes.
Her magazine feature
Within the pages of the magazine, Lopez discussed her career. Most recently, she's been getting a lot of praise for the film "Hustlers," which came out last September.
On playing a villain for the first time, she said:
"It was the first time I got to play a character who was unapologetically out for herself and kind of bad, actually taken over by greed... She was so many different things."
She continued: "The best mom to this little girl, a best friend, and then a total savage. That was really new for me." Elsewhere, Lopez also spoke about her desire to live outside the US.
"Hustlers" snubbed at Oscars
Yet people love her here. So much so, one fan said she was ready to riot upon learning that the singer was snubbed from the Oscar nominations list on Monday.
While Lopez has been recognized elsewhere for her performance as Ramona, the Academy Awards paid no mind to the actress. Fans were enraged as a result.
Lopez lost out on a Golden Globe and a Critics' Choice awards after nominations. Fortunately, the actress is still up for a Screen Actors Guild Award for Outstanding Performance by a Female Actor.
Lopez's emotional reaction
When she learned of the news back in December, she got emotional in a reaction video shared to Instagram. Holding back tears while working out, she spoke about her love of acting.
She also encouraged other struggling actors not to give up and thanked viewers and the SAG Awards. It looks like the Oscar snub is just a tiny bump in her road to success in 2020.
Please fill in your e-mail so we can share with you our top stories!