Pink Reveals How She and Husband Carey Hart Celebrated Their 14th Wedding Anniversary
Pink and her husband Carey Hart celebrated their 14th wedding anniversary with a trip down memory lane, a bike ride, beautiful flowers, and the thought that they "both deserve a trophy" for reaching this milestone in their marriage.
While promoting Carey Hart's second "Tanks for Troops" online auction fundraising event benefitting veterans, Pink shared the "fun" motorcycle ride she went on with Carey on January 7, their wedding anniversary, and said:
"We went to Ojai, [California,] and there's this rad little airstream park called Caravan Outpost. It's like six little airstreams and a communal fire pit, and we had a blast. It was fun. I think we both deserve a trophy. It's one day at a time, one day at a time."
On their anniversary, Pink took to social media with a slideshow of images taken throughout their relationship, including their wedding day 14 years ago.
Noting that they've been going strong "a long time," Pink admitted that their marriage hasn't been perfect, but it's theirs,  imperfections and all, and added:
"I love our family. Thank you for walking in front of me, beside me, and right behind me at times. 'You're a real man, Carey Hart.'"
The singer's sense of humor also came out as she added the hashtags, "but you're super hot," and "no one makes me angrier than you" in the caption to her tribute post to Carey.
Later on, Pink also shared a picture of the lovely flowers Carey gave her, and he, too, shared a special message to commemorate their special day.
Alongside a slideshow of three pictures, Carey wrote that he is "proud" of his life with "this amazing woman." Both Carey and Pink came from broken homes. 
Although they were "misfits" when they first met, the pair worked hard on their relationship while managing to grow together and build an "amazing family."
Since their 2006 wedding, Pink and Carey welcomed two children, 8-year-old Willow, and 3-year-old Jameson to the world. Picking up from the deeds of her parents, Willow already joins in with giving back to the community.
Carey's online fundraising event, "Tanks for Troops," will benefit the Infinite Hero Foundation, whose mission involves aiding veterans. Doing her bit to help, Willow designed an Indian Motorcycle tank featuring a "smiling poop" emoji to be sold during the auction.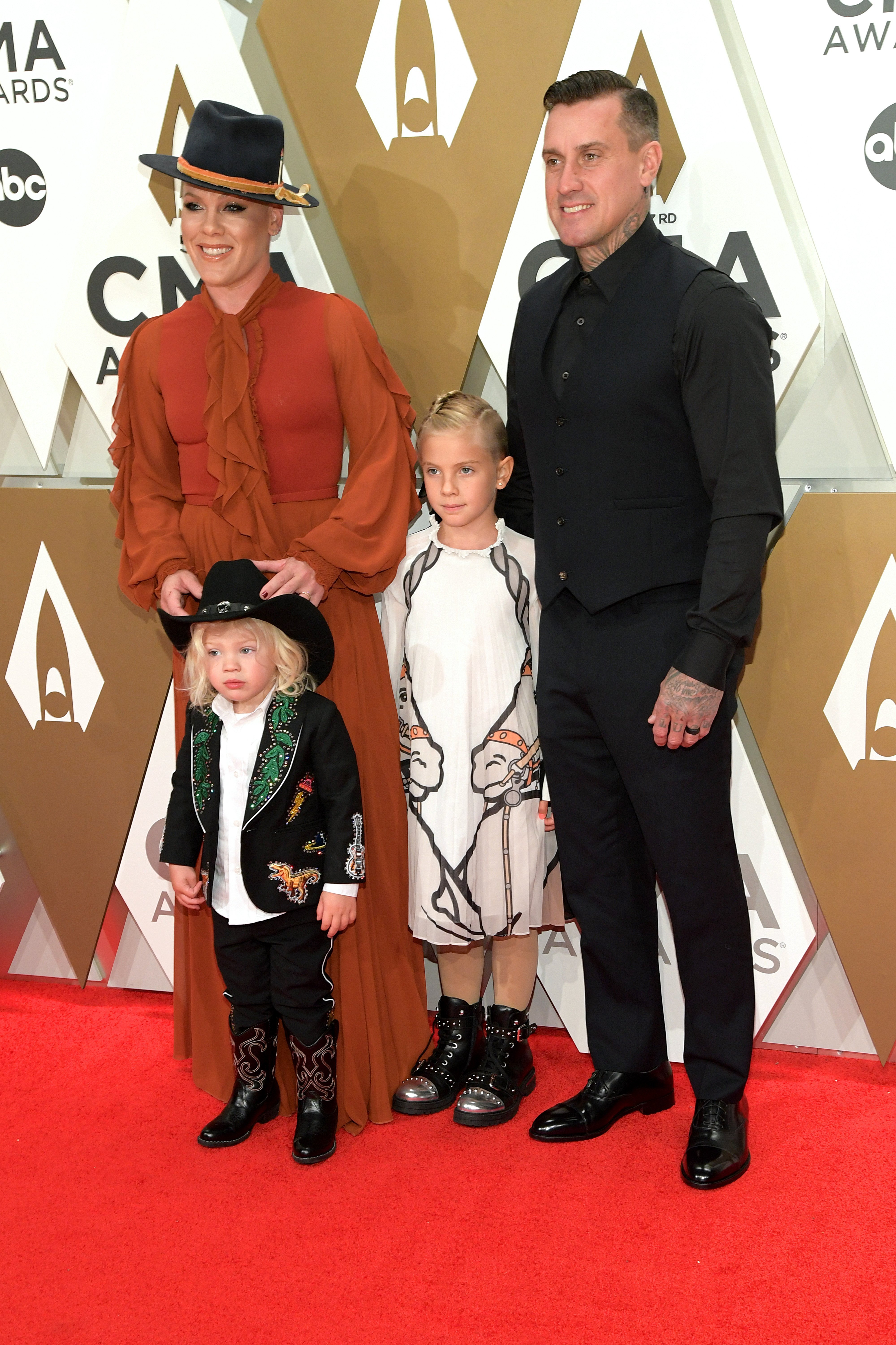 During an interview with PEOPLE, Carey joked that Willow "loves to draw a good poop emoji," and shared that she is very artistic. Willow's tank of art already received a few bids, and as excited as she is to help, Pink added that her daughter understands the value of what she does "as much as an 8-year-old can.
Pink also recently gave help to those in need in a big way. As devastating fires ripped through Australia at the beginning of the year, the singer decided to take action.
In a post to social media, Pink pledged a $500,000 donation directly to their local fire services to help combat the "horrific bushfires," and emplored others to help as well.