Lori Harvey Shares PDA-Filled Video of Her and Boyfriend Future as They Celebrate in Jamaica
Lori Harvey shares a PDA-filled video of her and boyfriend Future as they celebrated her 23rd birthday in Jamaica. 
Lori Harvey and her 36-year-old rapper boyfriend Future cozied up in Jamaica over the weekend as they celebrated the model's 23rd birthday with their close friends. 
While they haven't confirmed their relationship previously, they are now not holding back on the PDA, as they shared some videos and pictures from her lavish birthday party.
Harvey was rumored to be dating Sean "Diddy" Combs before being seen out and about with Future.
LORI'S 23RD BIRTHDAY CELEBRATION
With a fancy dinner, sparkler-lit two-tiered cake, and a giant "Happy Birthday" sign, Lori Harvey rang in another year with her close friends in tow. Her intimate guest list included the likes of Future, Jordyn Woods, Normani, and Ryan Destiny. 
However, while it seemed normal for her to celebrate with her friends, fans were particularly interested in the picture she posted hugging Future in front of her birthday sign, as they believe it signaled something brewing between them.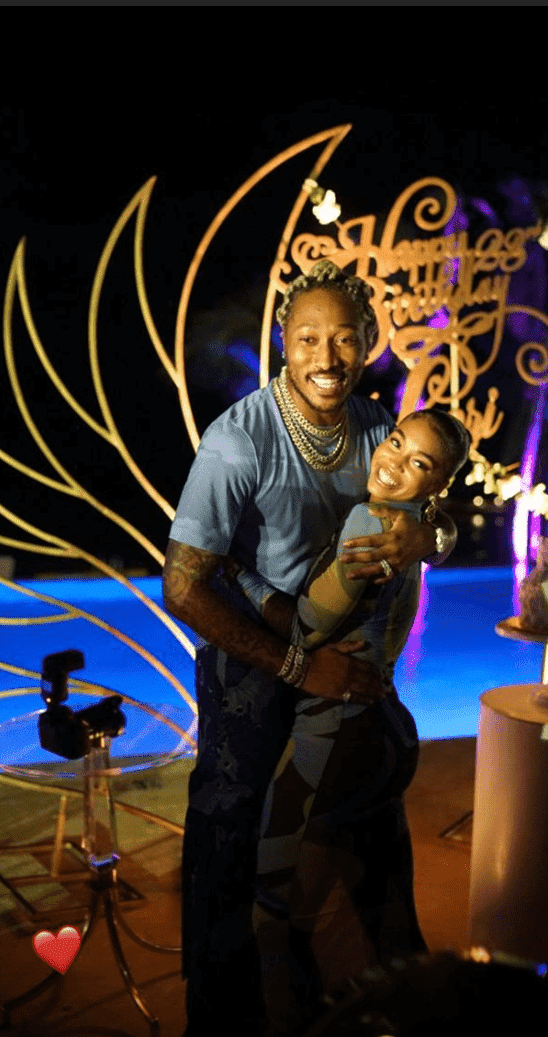 CONFIRMING THEIR RELATIONSHIP
Harvey was rumored to be dating Sean "Diddy" Combs before being seen out and about with Future, but now, their recent Instagram updates seem to confirm that they are indeed dating. 
Previously, Sean and Lori would also head on tropical adventures, before they stopped being seen together and ultimately, were seen with other people. Now, Future and Lori are having the time of their lives, and it shows in the way they act on-and-off camera. 
THEIR JAMAICAN GETAWAY
Their birthday escapade began with a trip on a private jet as they flew to Montego Bay, Jamaica. The rapper definitely outdid himself as he filled the plane with rose petals. 
They were accompanied by Lori's friends since the beginning, and they all kicked off the festivities with an intimate party in a mansion. 
LOOKING BEYOND THEIR AGE GAP
While Lori Harvey is only beginning to experience adulthood, her boyfriend Future already has six children with six different women, including one with Ciara. 
This fact doesn't matter to them, though, as they appear to be very in love as what they've been showing on social media.