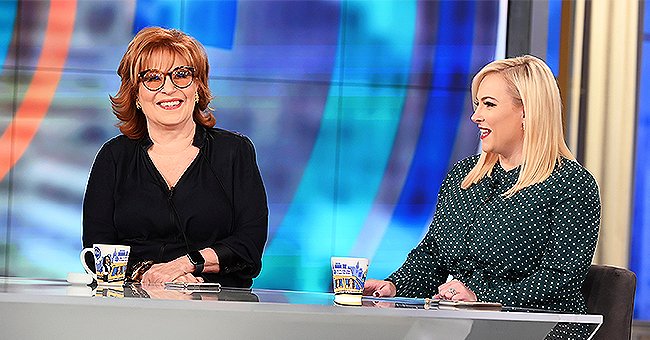 Getty Images.
Meghan McCain from 'The View' Thanks Co-Host Joy Behar for Her Marital Advice

Co-hosts on "The View," Meghan McCain and Joy Behar may not see eye to eye on politics, but when it comes to marital advice, they are on the same page.
On Thursday's episode of "The View" during their Hot Topics segment, Meghan McCain took the time to thank Joy Behar for guidance regarding particular marital issues.
Joy Behar and Meghan McCain during an episode of "The View." | Source: Getty Images.
Joy has a longer track record when it comes to marriage, as she wed Steve Janowitz in 2011, while Meghan married the conservative buff Ben Domenech in November 2017.
"You've given me a lot of really good advice," Meghan said. "You have given me very good marriage advice about having to deal with a woman in the public eye and a husband who has to deal with a woman like us — who [are] very polarizing — and their reactions in the media."
But Meghan's kind words didn't stop there, as the 35-year-old pointed out that they have a lot in common, adding:
"I know Steve is as protective of you as Ben is of me. And you've given me really amazing solid advice that is very helpful."
Joy appreciated Meghan's warm words, but Joy couldn't help but tease Meghan by asking if she remembered her actual words. Before Joy could spill any details, Meghan said that she remembered, but didn't want to share it on live television.
Since Meghan joined "The Talk" in 2017, she and Joy often butted heads over politics, and with their wildly opposed views on the matter, it's not likely to stop.
However, multiple sources confirmed that the tension between the two is restricted to the show. They actually get along well and maintain an excellent professional relationship.
The talk show is all about different views on a subject, so their bickering makes for an interesting watch. But the pair do like each other, just not when it comes to politics.
Meghan's wedding took place at the family lodge in Sedona, Arizona, and she romantically exchanged vows with Ben just before sunset.
About 100 guests, which included colleagues who worked with her father, Senator John McCain on his presidential campaigns in 2000 and 2008, celebrated the happy day with Meghan and Ben.
Senator John McCain shared his battle with stage 4 brain cancer only four months before the wedding, and his illness is actually what spurred on Ben and Meghan's engagement and marriage.
The couple accompanied John to the Mayo Clinic, where he had the scan that revealed his cancer, and they "decided to sort of celebrate life and celebrate being alive."
Last year, Meghan and Joy also surprised fans when they teamed up for Halloween. The pair took a page out of "The Shining" book and dressed up as the Grady sisters.
Even though all the hosts on "The View" looked stunning in their Halloween costumes, the scary twins stole the spotlight with every detail on point for the ultimate horror effect.
Please fill in your e-mail so we can share with you our top stories!