Julia Roberts Make Rare Public Appearance with Her Husband Daniel Moder at Sean Penn's 2020 CORE Gala
When the "Pretty Woman" star, Julia Roberts, and her husband, Daniel Moder, step out together, their fans hardly fail to notice. The Hollywood couple was recently spotted at an event in Los Angeles, California. 
Julia Roberts and her husband of nearly two decades, Daniel Moder, are one of the most beautiful Hollywood couples. The lovebirds enjoyed a rare date night together at Sean Penn's "2020 CORE Gala" on January 15. 
Roberts stepped out to the event in a matching plaid green and blue skirt and jacket. She paired her outfit with fishnet tights and chic black lace-up boots. Meanwhile, Moder looked sharp in a black suit without a tie.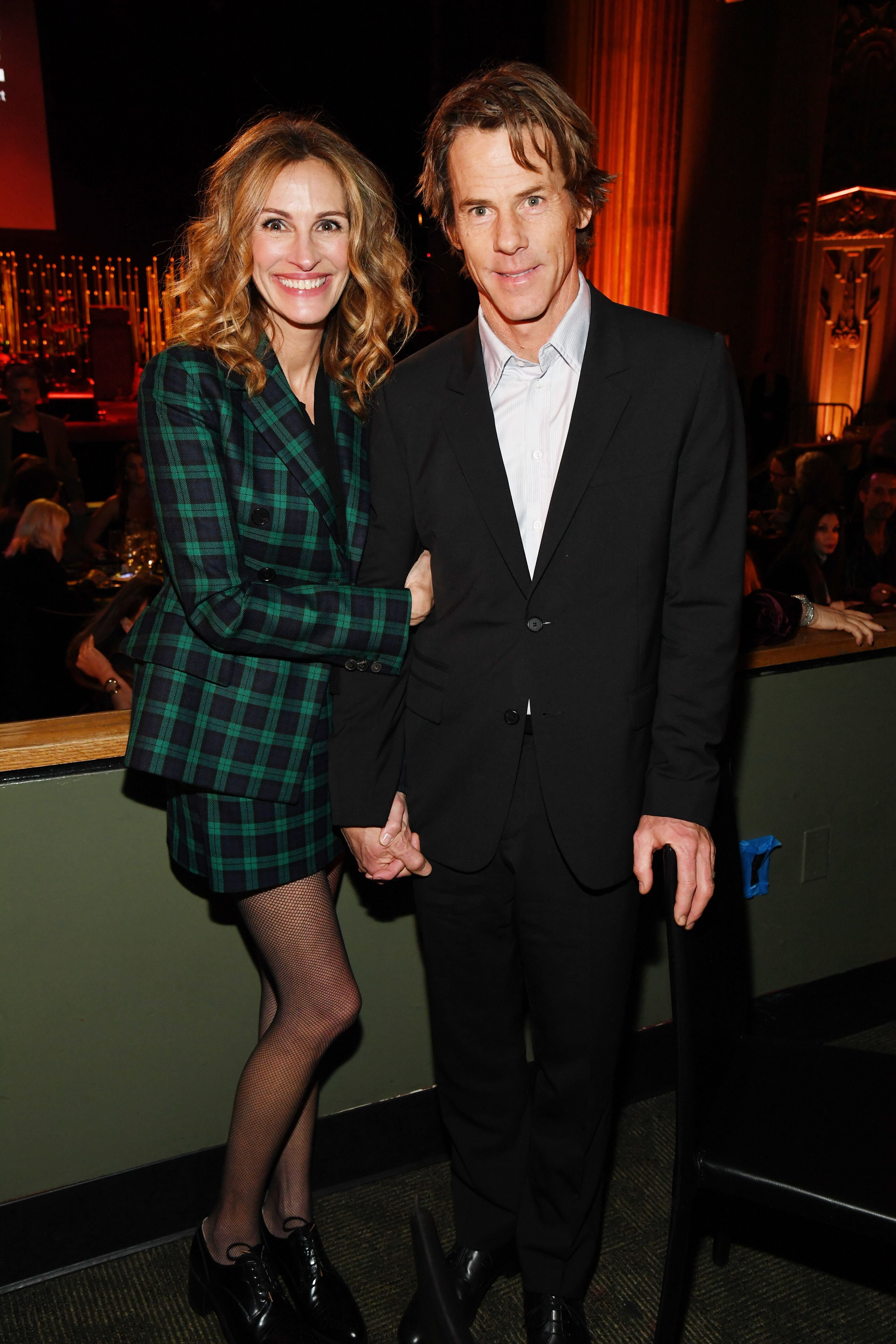 The couple was there to support Sean Penn's organization that gathers funds for disaster relief and preparedness in countries like the Bahamas, United States, Haiti, and the Caribbean. 
"
CORE
" was founded in 2010 after the tragic 2010 earthquake claimed the lives of approximately 220,000 to 300,000 lives and affected thousands of lives. January 15 marked the 10th anniversary of the organization. 
The "2020 CORE Gala" raised $5 million. During the auction, DiCaprio donated a lithograph that was sold for $110,000. Among the performers were The Man, Beck, Portugal, Dwight Yoakam, and Jenny Lewis. 
The star-studded event was hosted by Penn along with celebrities like Connie Britton and Naomi Campbell. The master of ceremonies during the dinner gala was TV host Conan O'Brien. Roberts and Moder enjoyed themselves and they were seen chatting with actor Leonardo DiCaprio who attended the event solo. 
Back in 2002 when they just got married, Roberts said that she was born to love and be the wife of Moder. The couple first met on the set of the movie "The Mexican." Moder was still married to his wife, Vera Moder, back then. 
After two years of dating, the couple finally got married on July 4, 2002. They are proud parents to their three beautiful kids, Henry Daniel, Hazel Patricia and Phinnaeus "Finn" Walter. Hazel and Phinnaeus are twins. 
Roberts and Moder have always kept their kids out of the limelight. Also, they are notoriously private about their personal lives. However, the couple occasionally gives their fans a glimpse into their private lives through their social media posts. 
Over a decade of marriage and three kids later, the couple is still going strong. In an episode of the "Goop" podcast, Roberts explained to host Gwyneth Paltrow that her meeting Moder for the first time was like a "seismic shift." 
"That was the first, like, my life will never be the same in the most incredible, indescribable way… He truly, to this day, to this minute, is just my favorite human. I'm more interested in what he has to say or his point of view just more than anybody," she gushed. 
According to Roberts, she and her husband immensely enjoy each other's company. She also shared that her marriage has grown deeper and more complex with the years.