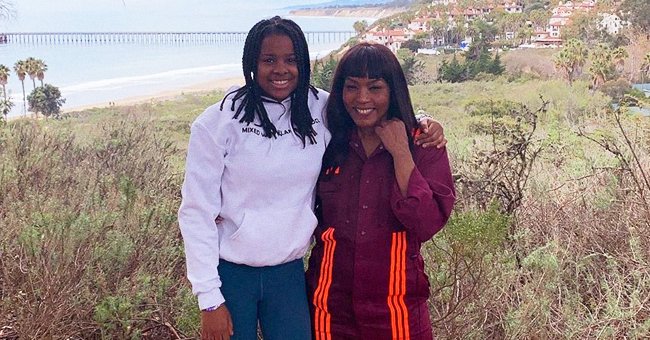 Instagram/im.angelabassett
Angela Bassett from 'Waiting to Exhale' Shares New Photo with Twin Daughter Bronwyn Who Is Taller Than Her
Angela Bassett is one of Hollywood's finest to grace the screens. In a new photo she shared on social media, the "Waiting to Exhale" actress looked stunning with her grown twin daughter.
Angela Bassett took to Instagram to share a lovely pic of her and her grown-up daughter as they rocked cozy outfits on the coastline of California. While her daughter, Browyn looked smart in a white hoodie which she complemented with a pair of Jeans and white sneakers, the teenager stood a head taller than her mom, who rocked a stylish burgundy outfit from the Ivy Park collection.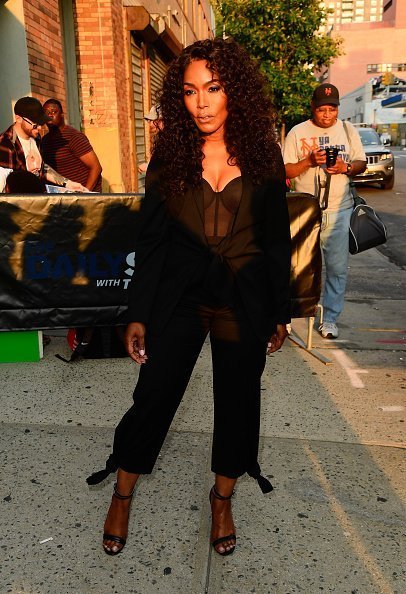 Angela Bassett outside "The Daily Show" in New York City | Photo: Getty Images
ANGELA BASSETT IS RAISING SELF SUFFICIENT HUMANS
It is no doubt that the "Black Panther" actress is a loving mom, but Bassett doesn't stop at that as she takes it upon herself to make sure her twins can stand on their own. The mom once mentioned that she taught her kids about responsibility at a young age, and now that they are older, she does not have to try hard in making them responsible. She said:
"I'm not trying at 13 and 14 to get them to do anything. So they're used to doing the right thing, you know, by and large."
The proud mom went on to give a list of her children's achievements while mentioning that they attended a public school and did their assignments on their own.
BASSETT'S STRUGGLES WITH MOTHERHOOD
Before Angela became the mother of her fraternal twins, she went through the depression of not being able to have kids. She revealed this back in 2007 while on the Oprah Winfrey Show.
Angela makes sure to be a point of inspiration for her fans, and her kids are not left out.
The 61-year-old celebrity told Oprah at the time that she and her hubby had tried different measures, including the IVF treatment, to no avail. After trying the option of surrogacy, their twins arrived. In January 2006, Basset and ger hubby, Courtney B. Vance, became parents to twins, Slater and Bronwyn Vance.
THE VANCE TWINS HAVEN'T HAD IT EASY
Slater and his Twin, Browyn might enjoy a life of glitz and glamour, but they have also gotten a dose of unfair treatment. Bassett, in an interview, made this known when she revealed that her kids had gone through race-related issues.
She told "People" that even from preschool, while the twins were four years old, they have had to deal with racism. The actress went on as she added that such a vice should not be around kids as she perceived that kids were not born racist.
BASSETT BELIEVES IN TEACHING VALUES
The "The Rosa Parks Story" actress makes sure to be a source of inspiration to her fans, and her kids are not left out of her radar. Angela made it known that although she places a rule on the media contents that her kid's view, "Black Panther," was an exception.
She told "Vanity Fair" that she made sure the twins saw the blockbuster movie as, according to her, she wanted to boost their confidence and self-esteem as well as being able to believe in their potentials as humans.
With how the celebrity mom has kept her kids busy with teaching them independence and holding up societal values, the twins are bound to make mommy proud.
Please fill in your e-mail so we can share with you our top stories!