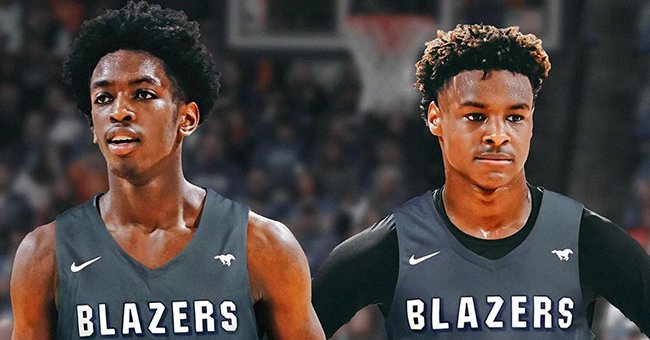 Instagram/zaire
Dwyane Wade's Son Zaire Gets NC A&T Offer after HBCU Rival NCCU Offered Bronny James a Basketball Scholarship
Zaire Wade reportedly received several scholarship offers, one of which is from HBCU NC AT&T which also offered scholarships to his Sierra Canyon teammates, Bronny James and Shy Odom.
The basketball scholarships are pouring in for Dwyane Wade's son, Zaire Wade. A host of universities have reached out to the high school senior to offer him a spot on their team including HBCU North Carolina Agricultural and Technical State University. The NC A&T offer was reportedly made just after its rival, North Carolina Central University tapped Lebron James' son, LeBron "Bronny" James, Jr. for a scholarship.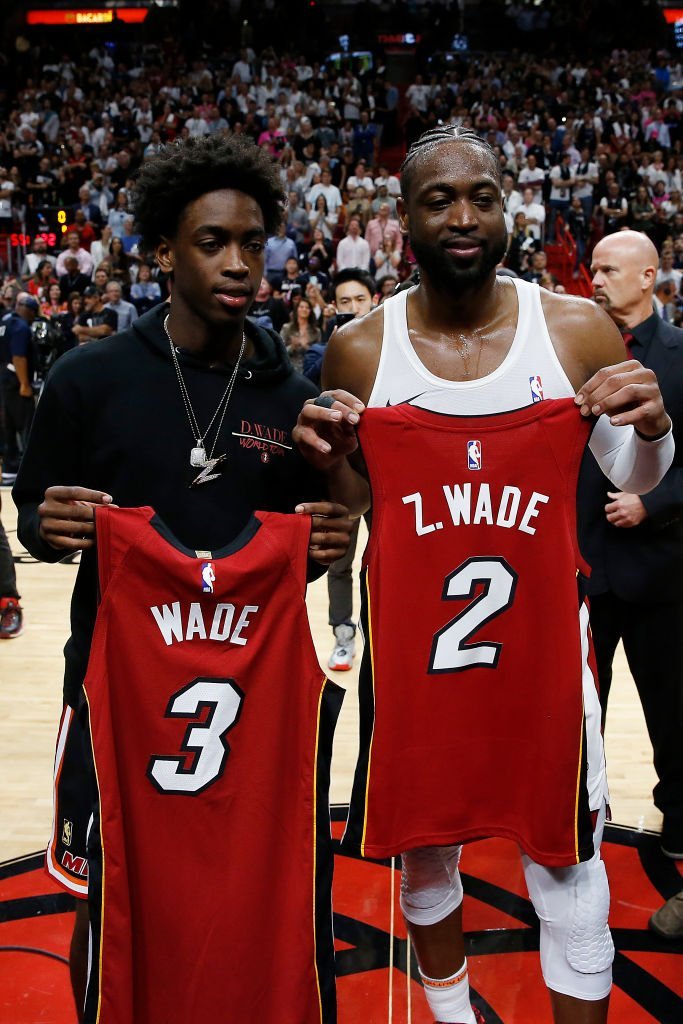 Zaire Wade and his father, Dwyane Wade exchange jerseys at Dwyane's final regular season home game of his career in Miami in April 2019. | Photo: Getty Images
THREE-STAR RECRUIT
Zaire is currently playing for Sierra Canyon High School. He is joined there by Bronny and Shy Odom, both of whom also received scholarship offers from NC A&T.
In the website, Verbal Commits, Zaire is listed as a three-star recruit with medium interest in North Carolina A&T as well as in four other schools that offered him scholarships - DePaul, Rhode Island, UC Riverside, and Nebraska.
Zaire is Dwyane's oldest son with his ex-wife, Siohvaughn Funches who's also the mother of Dwyane's second son, Zion, 12.
According to Zaire, he isn't bothered by the low ranking he was given. He admits he feels "underrated" but he doesn't allow this to dampen his spirits.
"I mean, already my recruitment is going up, the rankings or whatever [have] gone up, [since I've] been here. But yeah, you know, I pay attention to it, but I don't let it break me down or anything like that, but I see the stuff, I see the articles."
Many are hoping Zaire, Bronny, and Shy would decide to accept an HBCU offer but most critics think this is unlikely.
THE TOUGH DECISION
In May, Zaire asked his followers to help him make a decision after offers from Rhode Island, De Paul and Nebraska came in. Some think DePaul would be an easy choice for the 17-year-old point guard whose father, Dwyane hails from Chicago.
But due to DePaul's lack of success in recent years, Rhode Island, which made an appearance in the NCAA Tournaments in 2017 and 2018 have a better edge. As for Nebraska, the recent switch in coach after Tim Miles was fired may pose as a setback.
HIS FAMILY
Zaire is Dwyane's oldest son with his ex-wife, Siohvaughn Funches who's also the mother of Dwyane's second son, Zion, 12. Zion made headlines after attending the Pride parade in Miami. His father and Zaire defended his choices and slammed critics who shamed him.
Apart from Zaire and Zion, Dwyane also has a 6-year-old son, Xavier Zechariah Wade, 6, from his relationship with his longtime friend, Aja Metoyer. He also stands as a father to his nephew, Dahveon Morris after gaining full custody of him.
In 2018, Dwyane welcomed his first child and daughter with his current wife, actress Gabrielle Union. Kaavia James looks so much like her father and has been making waves in social media.
Often referred to by Gabrielle as her #shadybaby, Kaavia's expressions are a joy to her followers on her own Instagram account. Gabrielle's captions are likewise so creative that a daily dose of her posts is what fans look forward to.
Kaavia was born via surrogate. Her mother suffered several miscarriages prior to her birth. As such, Kaavia is a miracle to the family and has become the apple of her parents' eyes.
Please fill in your e-mail so we can share with you our top stories!