Dwyane Wade's Son Zaire Stands up for Brother Zion after Negative Criticism over His Appearance
Zaire Wade stood up to Internet trolls in defense of his little brother, Zion.
Former basketball player Dwyane Wade's son Zion, who come out as gay this year, was the target of unpleasant comments on his appearance after his dad posted a family Thanksgiving photo.
But his big brother Zaire hit back at those internet trolls and put them in their place.
While Zaire gave the trolls a much-needed lesson in family union and loyalty, Dwyane did the same for parenting.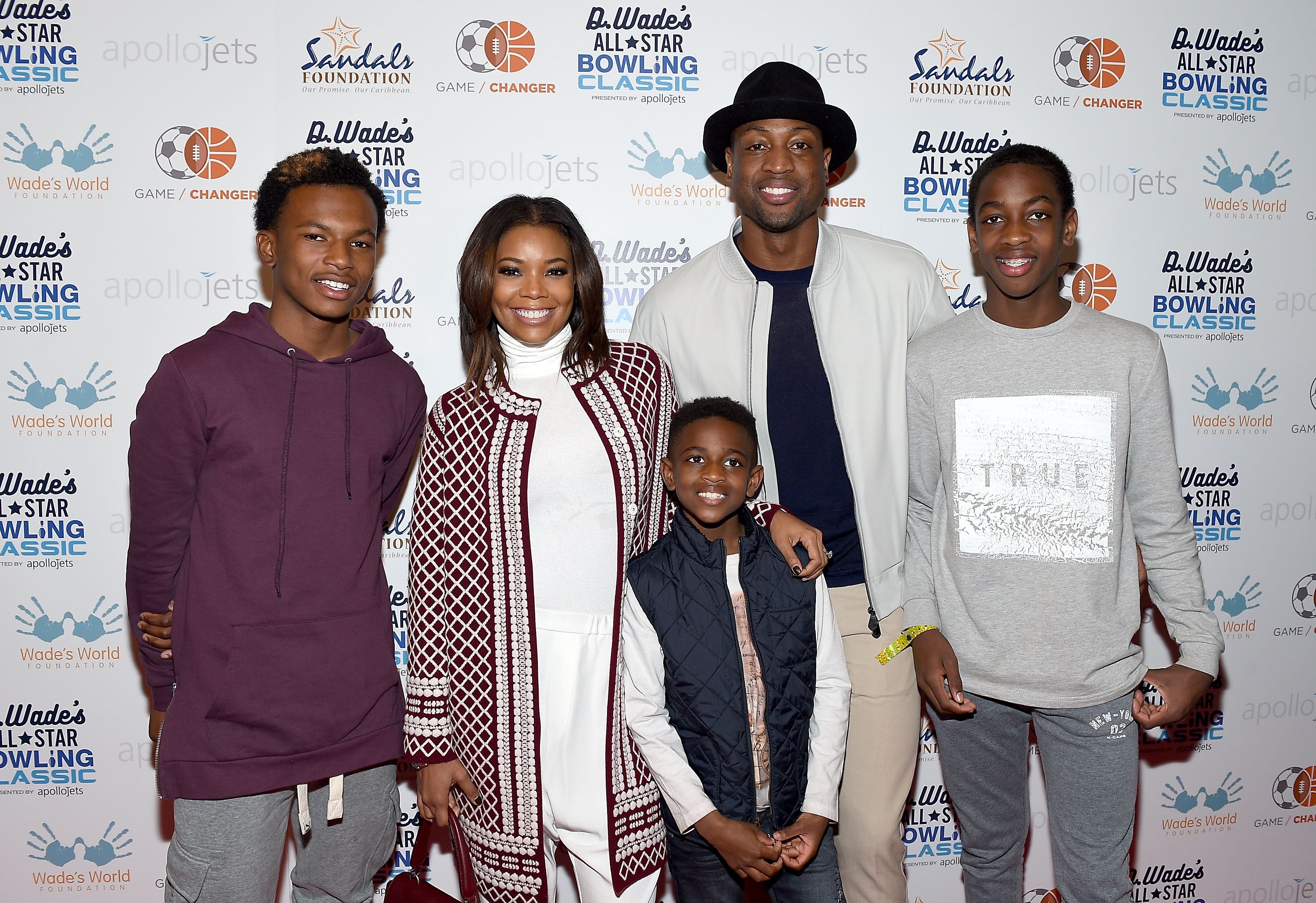 THE TROLLS CAME OUT FOR THANKSGIVING
The photo Dwayne posted showed him, Gabrielle, Zion and little Kaavia standing on a staircase.
What set the trolls off was that 12-year-old Zion was wearing a longsleeved crop top that left his mid-drift bare, and rocking long nails. Ugly and unpleasant comments flooded the post, and Zaire Wade, 17 stepped up to protect his little brother.
ZAIRE WADE'S RESPONSE TO THE TROLLS
Zaire posted a photo of himself sitting on a gold throne, with Zion leaning on his shoulder, and added the caption:
"Family First. We didn't ask for y'all opinion."
I've seen some post-thanksgiving hate on social about my family photo. Stupidity is apart of this world we live in—so i get it. But here's the thing—I've been chosen to lead my family not y'all. So we will continue to be us and support each other with pride, love & a smile! ✌🏾

— DWade (@DwyaneWade) November 30, 2019
DWYANE WADE ALSO RESPONDS
Dwyane also came out in defense of his son, deplored the hateful comments on his post, and pointed out that the trolls were displaying their stupidity and bigotry for all the world to see.
A LESSON IN PARENTING AND BROTHERHOOD
While Zaire gave the trolls a much-needed lesson in family union and loyalty, Dwyane did the same for parenting. He tweeted:
"As a parent my only goal is that my kids feel that i see them , love them and support them."
And that, in a nutshell, is it. Perhaps if more people adopted Dwayne's motto, there would be less misadjusted kids, LBTQ or otherwise, roaming the streets, lost, afraid and unloved.
Well done, the Wades!
🏳️‍🌈 LOVE is LOVE, we support you Zion! Dwyane Wade missed attending the Miami Beach Gay Pride celebration with his family. Despite being in Toronto, he sent lots of love to his son Zion Wade, 11, for expressing himself during the festivities! https://t.co/vOZKbxVdfT

— EBONY MAGAZINE (@EBONYMag) April 8, 2019
THE WADE FAMILY SUPPORT ZION AT THE MIAMI BEACH GAY PRIDE PARADE
Gabrielle Union and Dwyane Wade have been supportive of 11-year-old Zion, who has proudly been wearing the LGBTQ rainbow badge.
Although Dwayne couldn't be present, Gabrielle accompanied her stepson to the Miami Beach Gay Pride and proudly stood beside him on one of the floats.
The entire family, including brothers Zaire and Xavier, have made it clear that they fully support their little brother and are proud of him.