Reba McEntire Looks Gorgeous in Photo Collage as She & Other Celebrities Take Part in the Dolly Parton Challenge
Reba McEntire won't be left behind in fellow country singer Dolly Parton's new social media challenge. She dug up some old photos, and we think she aced it. 
On Thursday, Reba McEntire, 64, joined in on the fun with fellow celebrities as she shared four photos to go with four of the most popular social media platforms. 
The "Does He Love You" singer was taking on Dolly Parton's challenge, which started on Tuesday with a very creative post and a witty caption. Her and McEntire's posts are found below.
Dolly inadvertently creates a challenge
For her part, Parton shared a collage photo showing herself in a suit for LinkedIn, a gray turtleneck sweater for Facebook, a traditional Western outfit for Instagram, and a Playboy bunny outfit for Tinder. 
"Get you a woman who can do it all," she wrote in the caption. Soon after, fellow celebrities, both male and female, showed off their dynamic personalities with similar posts.
Reba and all the stars join in
With that, the #DollyPartonChallenge was born. Stars like Ellen DeGeneres, Viola Davis, Janet Jackson, Jennifer Garner, Martha Stewart, and Terry Crews all gave it a shot.
McEntire didn't disappoint. She stunned in a blue suit for LinkedIn, used her tv family portrait from the "Reba" show for Facebook, and added a selfie for Instagram.
Leave it to @DollyParton to be a #trendsetter! I can't be left off the wagon!!! #allthewomeniam pic.twitter.com/63KELa2GBf

— Reba (@reba) January 23, 2020
For the Tinder grid square, the red-haired singer went with a photo of her posing on a couch wearing a blue and gold blouse that put her cleavage on full display with its low neck.
Fans give McEntire ideas
Tinder, a dating site, calls for such enticing photos in the challenge. However, one fan thinks that McEntire should have used another photo for that slot.
We all know the REAL tinder pic: #TheRedDress pic.twitter.com/gzQ4gS6Zs4

— Kylee (@_kyleeMarie_) January 23, 2020
Another fan threw it back totally by bringing up MySpace, one of the very first social media websites on the internet. They used one of McEntire's photos from her younger days.
MySpace pic.twitter.com/ioA7WmgVUf

— paige (@BonerWizard) January 24, 2020
All-female CMA hosting
Of course, McEntire is so much more than her amazingly good looks — as is Parton. When the two joined Carrie Underwood last year for the Country Music Awards, it was an overflow of talent.
The three women took to the stage to sing Parton's hit song "Those Memories of You." Once again, the night was about bringing to light the many talents of women. 
McEntire looked ageless at CMAs
As usual, McEntire looked incredible at the event, due in part to the three amazing outfits she went through for her performance. It started with a shimmering black gown on the red carpet.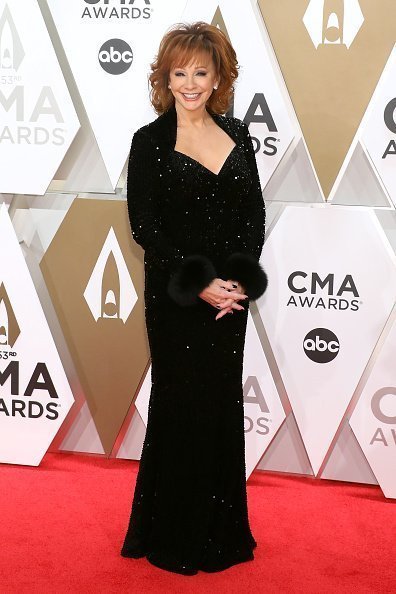 Despite her solo attendance following a split from ex-boyfriend Anthony Lasuzzo, McEntire still gave off that unique glow she has. She certainly is a woman who can do it all.