Magic Johnson's Son EJ Shows off Shoulders & Legs in Black Minidress in His IG Stories
EJ Johnson, son of retired professional basketball player, Magic Johnson, showed off his hot legs and shoulders, dressed in a mini dress via Instagram stories.
Television icon and son of NBA's Magic Johnson has embraced his personality without reservations since opening up about his sexuality.
The 27-year-old recently flooded his Instagram stories with photos of himself looking stunning in a black mini dress, with his legs and shoulders on the display.
LOOKING CHIC IN BLACK
The television personality, EJ Johnson's pictures featured him seated on a chair faced sideways with a smile playing on his lips.
The socialite was dressed in a hot mini, long-sleeved gown, with an off-shoulder cut that teased his spotless shoulders. Also visible was the black-adorned gay icon's gorgeous legs, accentuated by the jaw-dropping little black dress.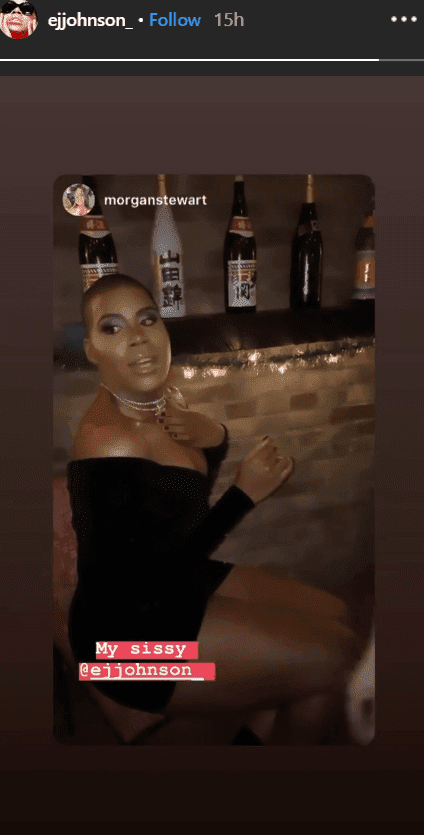 GETTING COMFORTABLE IN HIS SKIN
The star's gay-status, as well as brow-raising cross-dressing, has in the past left many speculating about the NBA champions son's sexuality, as well as intentions to either remain a drag queen or transition altogether into the female gender.
The most difficult part of embracing his personality was coming out to his dad.
However, the young man has stepped forward to clear the air, explaining that he loved himself the way he was and was sure there were no plans of becoming a transgender person for him anywhere in the future.
DEALING WITH SELF ACCEPTANCE
Since his gay status went public in 2013, EJ has embraced his sexuality. During a talk with Willow Smith and Jada Pinkett on "The Red Table Talk," he opened up about uniquely embracing his sexual preference, with a gender-diverse wardrobe. He noted:
"I guess you're just floating in the spectrum. You are not defined by any gender confines if you will. I'm jus Ej."
According to the 27-year-old, the most challenging part of embracing his personality was coming out to his dad, Magic Johnson. 
DISCOVERING A NEW REALITY
EJ Johnson's parents, the former NBA Lakers' president and his wife, Cookie Johnson, have not shied away from discussing their son's status.
In 2014, shortly after the icon was outed, his parents were featured by the legendary Oprah on her show, where they shared details about their take on their son's sexuality.
Speaking on the discovery of his son's sexual orientation, the legendary basketball player revealed that although it was a shock at first, he has since come to terms with the situation and extended his support to his gay son.
With two supportive parents and self-fulfilling confidence in his gay status, the star has made a name for himself, rising to Dame in his rights.