Ellen DeGeneres Unveils Secret Deodorant's Super Bowl Ad about Gender Equality on Her Talk Show
Ellen DeGeneres showed her support in kicking inequality when she unveiled the antiperspirant brand, Secret's new Super Bowl 2020 ad named "The Secret Kicker."
Ellen, who turned 62 on Sunday, shared the new ad by Secret on Monday's episode of her show, as it puts the spotlight on equal opportunities for male and female athletes.
It is the first antiperspirant brand specifically designed for women, and Secret enlisted the help of Crystal Dunn and Carli Lloyd, both US women's soccer stars for a poignant result.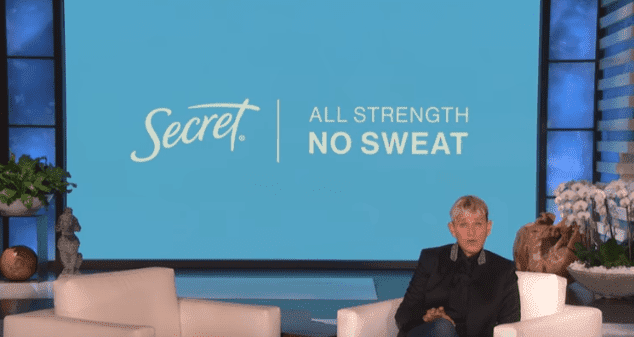 SECRET'S 2020 SUPER BOWL AD
A typical football game-day scene opens the ad, as the camera pans over the packed stadium. But during the final moments of the game, a player scores the deciding points with a field goal kick.
The crowd roared to life, but they soon turned silent after the kicker and holder removed their headgear, revealing themselves to be women.
Standing tall and proud, Dunn and Lloyd looked at the crowds before it erupted once more, followed by the appearance of the brand's call-to-action, "Let's Kick Inequality."
MORE THAN JUST A SUPER BOWL AD
In a statement, Secret associate brand director Sara Saunders shared that they hope to change girls' perspective that "society doesn't encourage women to play sports."
Ultimately Sara believes that a woman should have the choice whether to participate in a sport like football or not, as she added:
"Shouldn't she at least be able to consider it a possibility? We believe that there are things women shouldn't have to sweat and equal opportunity is one of them."
Other major brands, including Hyundai, Michelob, and Porsche, who will run their first Super Bowl spot ad since 1997, already released their commercial ahead of the big day on February 2.
HYUNDAI'S FUNNY "SMAHT PAHK" AD 
Hyundai wanted to highlight its smart parking feature, which allows drivers to park their cars automatically by using a key fob. 
Masterfully done by John Krasinski, Rachel Dratch, David Ortiz, and Chris Evans, they used their best Boston accents to make the "smaht pahk" feature unforgettable and entertaining to watch.
MICHELOB WENT FOR "PURE GOLD" 
Michelob Ultra Pure Gold, the brand's organic beer, aims to inspire as they offer farmers help "by simply having a beer."
In their latest promotion, Michelob tells customers that they will push a portion of the revenue earned from six-packs back to farmers transitioning their farms to organic.
SUPER BOWL PREPARATIONS IN FULL SWING
Full of excitement and anticipation of headlining the Super Bowl Halftime Show, Jennifer Lopez and Shakira is hard at work preparing for the big day.
When the countdown showed only ten days left, both Latin stars posted updates on their progress, as Shakira showed herself handy with a football, while Jennifer assured fans in a video that she is "ready to go."