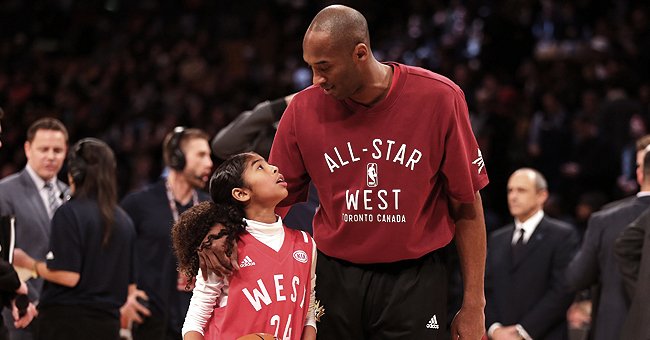 Getty Images
Kobe Bryant Talks About Coaching Daughter Gigi's Team & Her Love of Basketball During 2018 Interview With Jimmy Kimmel
Kobe Bryant and his daughter shared a similar passion for basketball, culminating in them having a special bond, which the late NBA icon spoke about during an appearance on "Jimmy Kimmel Live."
The painful death of Kobe Bryant, along with his daughter and seven others, continues to hurt everyone, especially as videos of the star's moments continue to resurface.
Kobe was live in the now-heartbreaking 2018 interview on "Jimmy Kimmel Live," where Kimmel joked about the former LA Lakers star returning to his team to salvage their then horrendous season.
Kobe Bryant attended the ceremony during the final of 2019 FIBA World Cup match between Argentina and Spain at Beijing Wukesong Sport Arena | Photo: Getty Images
However, the moving part of the interview came when Kobe said that his daughter, Gianna, who also died in the catastrophic helicopter crash, would carry on with his legacy.
When Jimmy Kimmel asked Kobe if Gianna wanted to play in the NBA, his answer was as emphatic as his famous dunks. Kobe said, "She does for sure," before going on to add:
"The best thing that happens is when we go out, and fans will come up to me. And she'll be standing next to me, and they will be like, "You gotta have a boy... to have somebody carry on the tradition, the legacy."
Continuing, Kobe said that Gigi would then turn to him and be like, "I got this." Among other things, Kobe also talked to Kimmel about his family's Halloween Traditions.
He revealed that his family always chose his costume for him and that they had dressed up as characters from the movie, "A League of Their Own" at the last Halloween a year before the interview.
Kobe appeared on Jimmy's show 15 times over the last decade and a half, more than any other show.
He added that they also observed the "Trick-or-Treat" and that he was the black Tom Hanks. Kobe and his wife Vanessa had four daughters, with the youngest, Capri, born in June 2019.
He also told Kimmel during the interview that it was essential to teach young people the importance of excellence. He said:
"You try to teach the kids what excellence looks like. Some of them may want to play in the WNBA, some of them may not. But we try to give them a foundation of the amount of work and preparation that it takes to be excellent in whatever it is that you choose to do."
Many people watched that interview again and were filled with emotions after doing so. A Twitter user, Nick Fineman, posted a clip showing when Kobe spoke about Gigi's love for basketball.
Fineman said that Kobe talking about Gigi's love for the sport with Jimmy Kimmel was the most heartbreaking thing he had seen in a long time.
Jimmy Kimmel also struggled to hold back tears in his tribute to Kobe Bryant. Kobe appeared on Jimmy's show 15 times over the last decade and a half, more than any other show.
Making his tribute in a new episode, Jimmy said that the night's show would be different and that there wouldn't be a live audience because it would be wrong to go on with a comedy show taking into account the tragedy that struck.
He went on to speak about his reaction to the sad news of Kobe, Gigi, and the seven others, who died in the crash. Jimmy described it as a punch in the gut for many.
Jimmy said Kobe was the last person one could imagine such tragedy to befall, before adding that the late star was a real life superhero who walked among men.
Please fill in your e-mail so we can share with you our top stories!