Kobe Bryant & Daughter Gigi's Tragic Deaths Inspire Touching Tribute Murals All around the World
The world was shaken by the death of Kobe Bryant and his daughter Gianna, and people across the globe decided to honor the late NBA legend by creating murals in their countries. 
Whether or not a person was a fan of Kobe Bryant or even basketball, everybody knew who he was around the world. He was constantly on television for twenty years, your local sneaker shops, your magazine print ads, your local gyms, your social media pages, you name it, he was there. 
He was an inspiration to those young and old through his relentless pursuit of greatness. He was a great example of the "daily grind," of working hard and having no excuses to become the best version of yourself.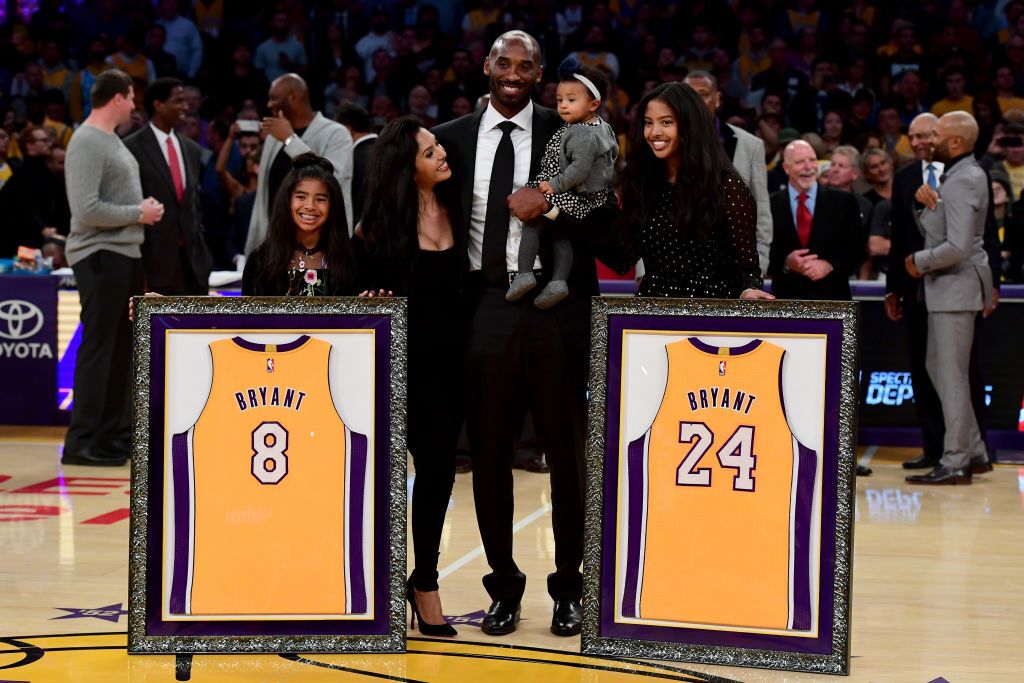 THE NEWS THAT SHOOK THE WORLD
That is why when news of his helicopter crashing into a hillside in Calabasas, California hit the news, the entire world stood still. How could this happen to Kobe and his daughter-prodigy GiGi? It couldn't have been them. 
Kobe and Gianna Bryant are succeeded by Vanessa Bryant and her three other children, Natalia, Bianka, and Capri. 
PAYING TRIBUTE TO KOBE AND GIANNA BRYANT
Soon after, murals honoring the late NBA superstar started appearing across the globe, some of them physically, some of them through the internet. One of the most notable petitions to have the NBA logo changed to Kobe's figure originated in Taiwan, and hundreds of others followed suit. 
Let's take a look at some of the heartbreaking yet stunning makeshift memorials created for Kobe and Gianna Bryant across the globe. 
CALIFORNIA, USA
When news of Kobe's death was confirmed, people flocked to The Staples Center, the arena that "Kobe Bryant built" to pay their respects. 
People placed jerseys, flowers, balloons, candles, letters on the floor to pay homage to the 20-year LA Laker who spent his entire career representing the city. He was a Los Angeles hero and will always be one. 
Kobe's name echoing outside Staples Center pic.twitter.com/smHPkSRzG2

— Dave McMenamin (@mcten) January 28, 2020
PENNSYLVANIA, USA
Despite living in Los Angeles for most of his life, his hometown Pennsylvania also made sure to remember the athlete and his daughter.
His very own school, the Lower Merion High School in Pennsylvania, blocked an entrance as people filled it with basketballs, flowers, letters, jerseys, and candles to pay respect to one of their greatest students. 
In 41 years, Kobe Bryant identified with Italy and Los Angeles, No. 8 and No. 24 – but it all started at Lower Merion High School. @espn story on the day I spent at Bryant's alma mater: https://t.co/PqoGxCQlmd

— Malika Andrews (@malika_andrews) January 27, 2020
THE PHILIPPINES
The Philippines is a country with millions of basketball enthusiasts. In fact, Kobe Bryant himself visited the Philippines multiple times to interact with his fans and teach them basketball. That is why after learning about his death, many were silenced and put to tears. 
LOOK: An exhibit for the late NBA legend Kobe Bryant has been put up here at the House of Representatives. | via @erwincolcol pic.twitter.com/RAkBLetxSV

— GMA News (@gmanews) January 29, 2020
Many of its major islands, as it is an archipelago of 7101 islands, created makeshift memorials to express their gratitude to the Black Mamba, who instilled in the Filipino people the sense of "Mamba Mentality," or constantly working to be the best version of yourself. 
Philippines' popular landmark SM Mall of Asia in Pasay City lit up its huge globe with Kobe Bryant's jersey number "24." Many Filipino fans paid tribute to Bryant on and off social media. (Photo by: SM Mall of Asia Facebook page) | via @hanahtabios pic.twitter.com/kFBAPYkSIk

— Manila Bulletin News (@manilabulletin) January 27, 2020
Aside from tarpaulins that fans can write to at the mall, a basketball court in the capital of the Philippines painted Kobe and Gianna's portrait on it, while the court walls are now filled with messages for the late father-and-daughter duo. 
LOOK: A group of artists residing in "The Tenement" in Taguig City paint the basketball court a mural of NBA legend Kobe Bryant and his daughter, who both died in a helicopter crash on Monday. #RIPMamba

READ MORE: https://t.co/eifUiZfmmw pic.twitter.com/MhkNZm7mCB

— CNN Philippines (@cnnphilippines) January 27, 2020
ITALY
In the 1980s before he became a worldwide sensation, Kobe spent a part of his childhood in Reggio Emilia, Italy. His family moved there after his father decided to play for a series of local teams. 
A look at some of the big newspapers all over the world paying tribute to Kobe Bryant. (AS in Spain, Gazzetta dello Sport in Italy, and L'Equipe in France) pic.twitter.com/DbJmz26YQT

— Igor Mello (@SuperIgor) January 27, 2020
There, he learned to speak Italian fluently and honed his basketball skills on the city's very own youth team, Cantine Riunite. 
A very young Kobe Bryant while in Italy where he followed his father playing there

RIP. pic.twitter.com/OP3AHj6ee6

— Emiliano Carchia (@Carchia) January 26, 2020
After learning of his death, the city paid tribute to one of the members of their community, honoring him for the wonderful life he's lived. 
#KobeBryant , who grew up in Italy between the ages of 6 and 13, was a devout Milan fanhttps://t.co/mKwUsp1Sk7 pic.twitter.com/H0KAm7Tc4o

— Express Sports (@IExpressSports) January 29, 2020
THE BRYANT FAMILY
Kobe and Gianna Bryant are succeeded by Vanessa Bryant and her three other children, Natalia, Bianka, and Capri. None of the Bryant family members have spoken out about the tragic crash, as they are mourning in silence during one of the most difficult times of their lives. 
From LA to the Philippines, fans across the world mourn Kobe Bryant. pic.twitter.com/8Kczf2WgWH

— Bleacher Report (@BleacherReport) January 27, 2020
Meanwhile, friends and colleagues of Kobe Bryant have expressed the pain that they feel through multiple online tributes, trying to make sense of the horrible accident that killed one of the world's greatest icons.