Steve Harvey Made Sacrifices Raising His Beautiful Twin Daughters: 'I Would Die for Them'
Comedian and TV host Steve Harvey, also known as one of the "Original Kings of Comedy," once admitted that he would die for his twin daughters Karli and Brandi.
Born in January 1957, Steve is one of the most famous comedians in the States. Due to his outstanding work, he has had several talk shows, including "Showtime at the Apollo," "Family Feud," and "The Steve Harvey Show."
"The life that we get to live and the blessings that we have as a family is because of you."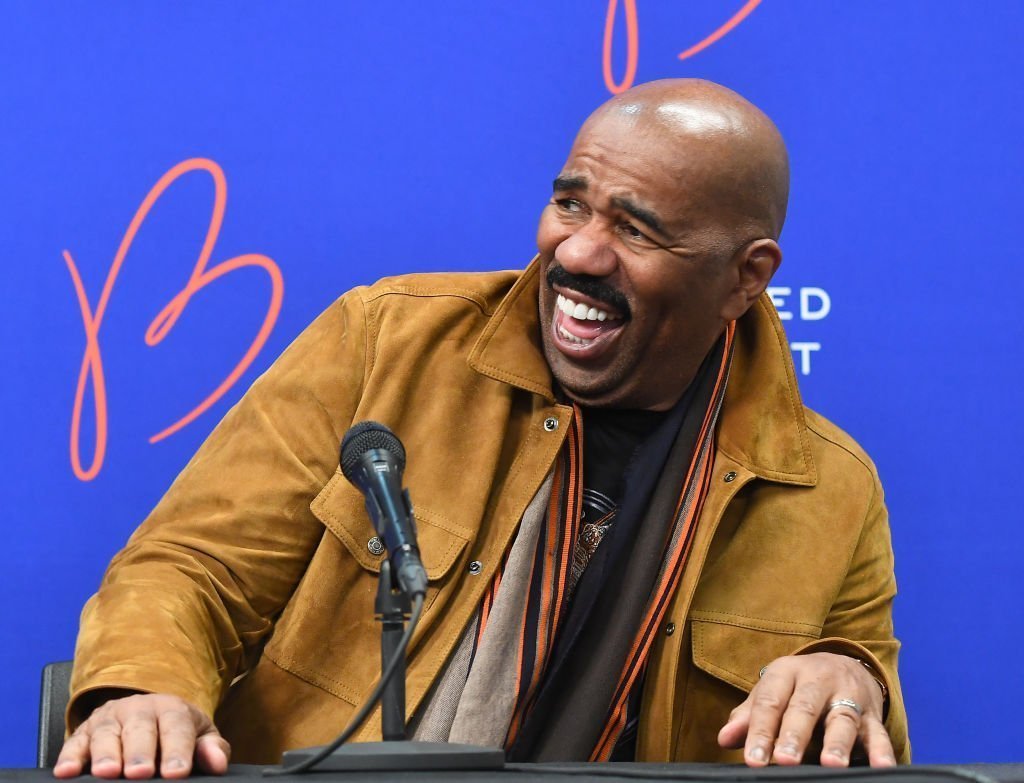 STEVE HARVEY'S SPOUSES
As per his romantic life, he has been married three times and has seven children. His first wife was Marcia Harvey, and they were together between 1980 and 1994.
During their relationship, they had three children: twin daughters Karli and Brandi, and son Broderick Harvey.
In 1996, the talk show host married Mary Shackelford. In their nine years together, they welcomed son Wynton to the world. Unfortunately for the family, they parted ways in 2005.
Currently, Steve Harvey's wife is Marjorie Bridges, who took her husband's last name after they exchanged wedding vows in June 2007. Ever since saying "I Do," Steve became the step-father of Marjorie's three children from previous relationships.
STEVE AND HIS TWIN DAUGHTERS ON HIS SACRIFICES
Apart from being a hilarious and hard-working person, Steve is a proud dad, and he made that clear during a segment of the "Steve TV Show" uploaded to his YouTube channel in December 2017.
Karli and Brandi were the special guests for the occasion, and Steve made sure that his daughters knew how important they are for him. He said:
"These were my first kids, man. And I would die for them. That's when I became a man. It was tough; it was tough because I didn't have it together when they were kids."
The host added that he was struggling to find himself and that he didn't know who he was. Steve confessed that he didn't see them for periods because he would get into trouble.
Karli and Brandi chimed in, though, and pointed out that they learned, understood, and respected the sacrifices their father did and why he was not with them all the time when they got older. They said:
"Yeah, you had those moments when you're a teenager and you're like, 'Well, why isn't he there?' But the life that we get to live and the blessings that we have as a family is because of you."
Apart from that, Steve Harvey's kids admitted that just watching him grow as a person and as a father was an "amazing journey" for them as adults, adding that he was an example.
Even though neither Karli nor Brandi followed in their father's footsteps, they both have important careers in different fields.
STEVE HARVEY'S CHILDREN NOWADAYS
In Karli's case, she is a public speaker who married Ben Raymond back in 2015. Together, they have one son, BJ, born in 2016. Speaking of Ben, he is a motivational speaker as well.
Brandi, on the other hand, likes to keep his life away from the spotlight. She is the founder of the women's wellness website Beyond Her and, at the moment, she is not married and has no kids.
The rest of Steve's children are also doing quite well with their lives. Broderick, for example, sells his own clothes on Need Money Not Friends.
Finally, Wynton is a photographer and fashionista who is also very passionate about philanthropy. Out of the four, Wynton is the most similar one to Steve in terms of humor, reported Closer Weekly.
At the moment, Steve Harvey is 63 years old and is not slowing down on his impressive career in the entertainment industry. He is the host of "Family Feud" and "Celebrity Family Feud" and is also expected to host the Miss Universe contest again.