Jacob Roloff and Wife Isabel of LPBW Fame Slam Trolls Who Want to Know How He Makes His Money
Jacob Roloff and wife Isabel are getting at it with trolls who keep questioning his source of income in a recent Instagram post. 
Jacob Roloff and wife Isabel are putting up a united front against haters who can't seem to mind their business when it comes to Jacob's source of income.
Ever since Jacob backed out of his family's reality show, "Little People, Big World," fans haven't stopped wondering how he makes his money, so yesterday, when he shared a new photo on Instagram, they struck with their question.
As reported by PopCulture, Roloff shared a photo of himself smoking something while chilling in the woods, which he captioned, "The old hang."
In no time the idyllic photo earned several comments from fans, but the majority of them weren't positive. 
Many users kept bombarding the 23-year-old with questions about his source of living. However, little did they know that Jacob and his wife were ready to give them a piece of their mind.
To the first comment which read, "just saying, where does he get an income if not from TLC," Isabel clapped back writing:
"Ask yourself why that matters to you, Barb."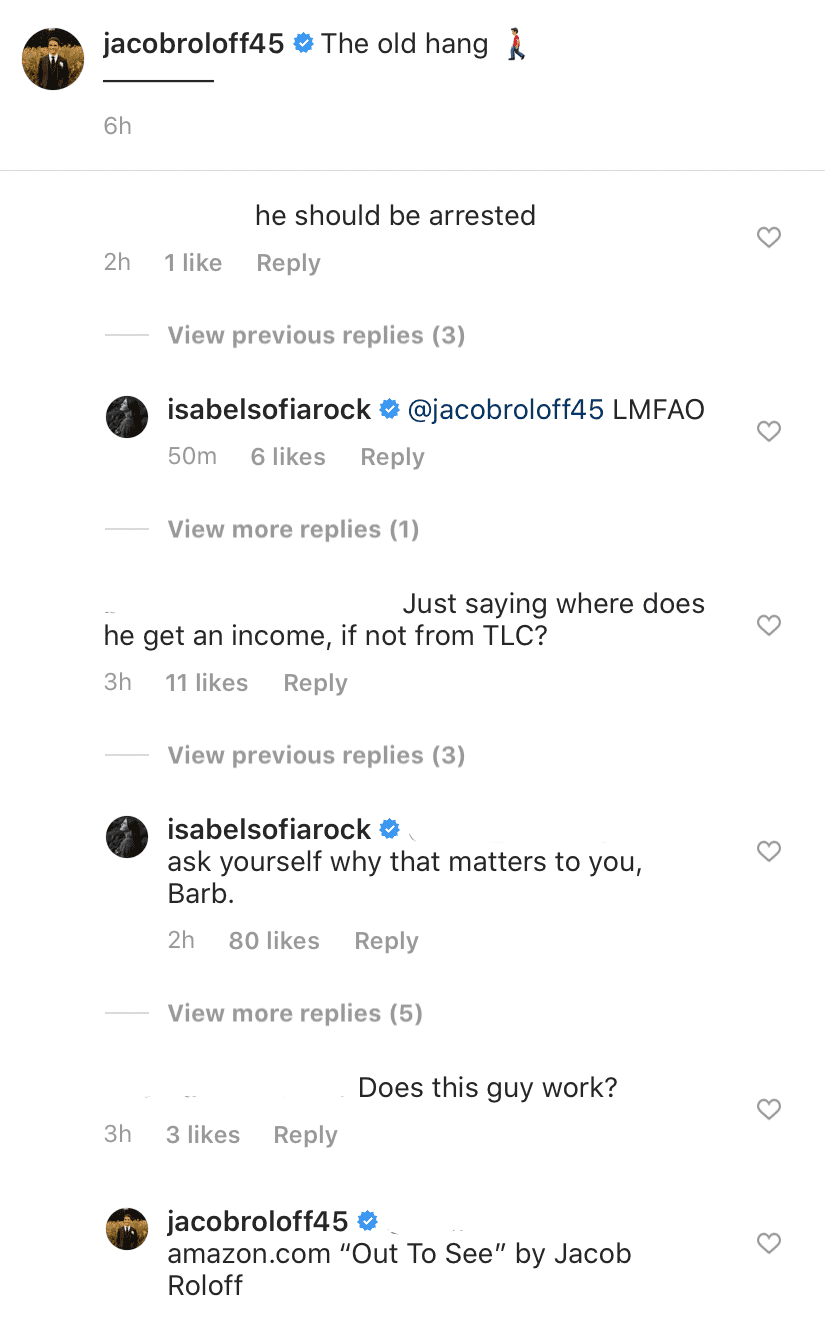 Another fan who didn't seem to get the memo asked if Jacob works, and he was quick to mention his 2018 book, "Out To See," on Amazon. 
As noted by In Touch Weekly, Jacob revealed in his book why he quit the show and didn't earn any money from it despite his previous appearances.
An excerpt of the tell-all book shared by the publication read:
"Among so many things, I simply did not want this ridiculous reality TV to use up so much of my time, lest it leave too deep an imprint on my ability to influence the world otherwise."
Jacob announced he was leaving his family's show back in 2016 after reports that he disagreed with the show's producers. 
He later discussed his decision to leave the family entreprise in March 2019 in an essay on his blog post and explained that he was "very happy" about leaving the show, per PopCulture.
The clap back at trolls comes a few weeks after Jacob celebrated his 23rd birthday with a heartwarming post on Instagram. 
In the accompanying caption, Jacob gushed about all the things he was grateful for, including his marriage to Isabel, which happened in September 2019.