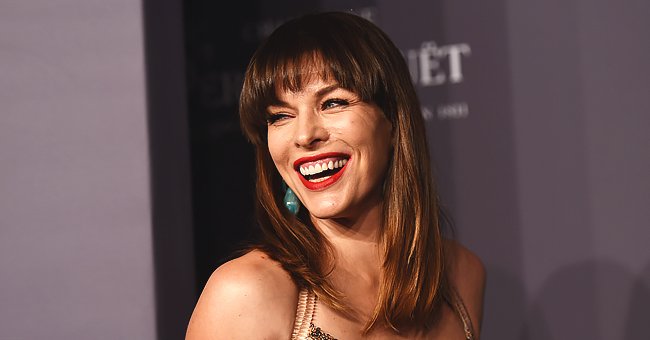 Getty Images
Milla Jovovich of 'Resident Evil' Fame Welcomes 3rd Child with Husband Paul WS Anderson & Shares Pics of the Newborn
Milla Jovovich has stopped slaying zombies in favor of having a beautiful family. The actress is now on her third baby girl after enduring a painful loss with her partner.
On February 2, Milla Jovovich and her husband Paul Anderson welcomed a new baby girl, Osian Lark Elliot. The couple, who has been married since 2009, also share daughters Ever, 12, and Dashiel, four.
Unbeknownst to Jovovich, Ever made the big announcement on Instagram ahead of her own on Tuesday. Luckily, the actress treated fans to more pictures of the newborn in the post, which is found below.
Milla Jovovich attends the amfAR New York Gala at Cipriana Wall Street in New York City on February 6, 2019 | Photo: Getty Images
Tons of pictures of Osian
Ever first shared a family photo in the hospital with everyone surrounding Jovovich as she held onto the newborn. The family of five all looked thrilled to have the new addition.
The next day, Jovovich posted six shots of Osian. Three of them were closeups of the newborn while the other four showed each member of the family holding the bundle of joy.
Jovovich shares her inspiration
In her caption, Jovovich admitted that she had no idea her daughter had shared the news already. Nonetheless, she gave the time, 8:56 a.m., that Osian was born and also explained the meaning of his name.
The "Resident Evil" actress said Osian is a Welsh name typically used for boys and is pronounced "O-shin." As for the middle names, the family voted and couldn't decide, so they went with both Lark and Elliott.
Jovovich, 44, went onto call her daughter a "miracle baby," likely due to her age and perhaps referencing the abortion she had back in 2017. She didn't clarify.
A candid push for women to choose
Last year, Jovovich candidly discussed her abortion experience, which was a result of pre-term labor. At the time, she was making a political statement in light of recent anti-abortion legislation in a few states.
Jovovich's abortion happened when she was four months pregnant and shooting a movie in Eastern Europe. It left her in a depressive mental state for months afterward.
Jovovich announces her pregnancy
The actress' nightmare was followed up by joyous news, which she shared in August last year. In her pregnancy announcement, Jovovich admitted that she was scared at first considering her previous loss.
Thankfully, after several visits to the doctor, she was given the all-clear and learned that she'd be having a baby girl — she was thrilled, as were her fans.
She was ready for the new baby
Two weeks ahead of the delivery, Jovovich shared a picture of her heavily pregnant self lying down on a couch. The "Hellboy" star confessed that despite her gratitude at being pregnant, she was quite ready to deliver.
She detailed all the struggles she was going through and asked other mothers to share theirs so she could relate. She must be excited to be back to normal now, and even more excited to have another girl.
In addition to being a strong mother, Jovovich has not slowed down her appearances on screen. According to IMDb, she has a few new movies coming up. Talk about having it all. Congrats, Milla!
Please fill in your e-mail so we can share with you our top stories!