Milla Jovovich shows off her slender figure in a plunging gown at the premiere of 'Burning'
Milla Jovovich flaunted her amazing physique in Cannes Film Festival in a plunging dress that featured a V-neck cut until the navel.
The actress continues to be one of the film industry's fierce and remarkable leading ladies and she proved just how fierce she at the premiere of Burning in Cannes Film Festival on Wednesday. Daily Mail has the scoop.
Milla looked radiant yet bold in her dove gray floor-length gown by Prada. It was embellished with sparkling jewels which perfectly complemented her statement diamond necklace and ring.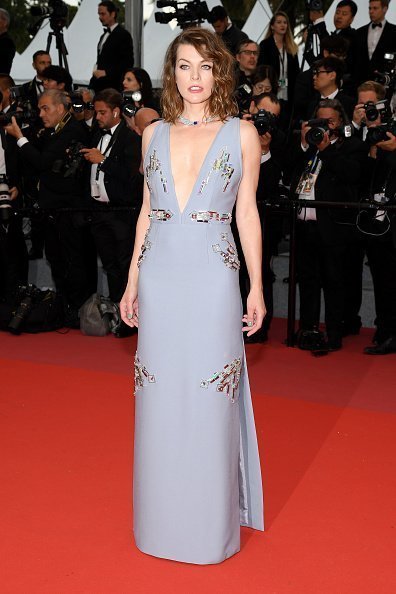 She also wore a rose lip and duck-egg blue nail varnish to complete the chic and sensational outfit.
The model and her filmmaker husband Paul W.S. Anderson have listed their three-bedroom pavilion on the market after buying it one-and-a-half years ago. According to Variety, they've put it up for $4.5 million.
The 1960s minimalist abode was purchased as an investment as it was rented out for $20,000 per month just a few months after it was bought. It's a 2,400-square-feet property that has three bedrooms and three and a half bathrooms. The property also boasts of a plunge-sized swimming pool and spa.
Milla and Paul started dating in 2002 after they met on the set of the film Resident Evil in which she starred in and he directed. They got married in 2009 and have two children together—Ever and Dashiel.
Paul directed four of the six installments in the sci-fi film series. He also co-produced and wrote for all of them. The series has brought in more than $1.25 billion in worldwide box office.
The 42-year-old actress is set to star in the soon-to-be-released movie Future World and the supernatural feature Hellboy.