LeBron James and Son Bryce Show How It's Done as They Dance to TisaKorean's 'The Mop' in TikTok Video
LeBron James isn't just great on the basketball pitch but the dance floor, and recently, he flaunted some dance moves with one of his children, Bryce.
The basketball champ has three kids who all have distinct talents, and just like their father, they put in dedication and passion to what they set their minds to.
LeBron's oldest son, Bronny, represents his school's basketball team and is treading his father's career path with his incredible sport skills.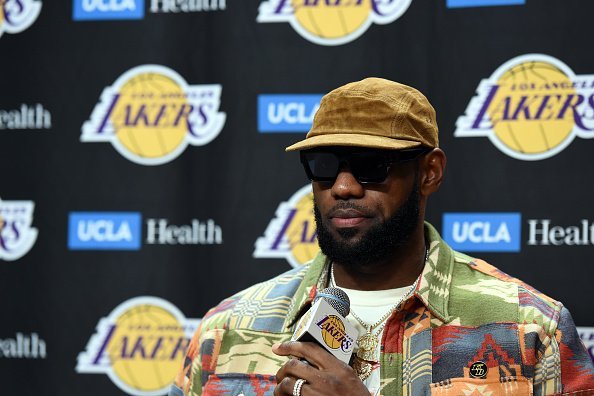 His younger brother, Bryce, is also a skilled basketball player who doubles as a great dancer. The 12-year-old's dad seems to be a proud parent as he often shows off his second child's talent on his social media handle.
Recently, an eye-catching post saw two members of the James family, father, and son in a rhythmic flow of bodies, showing how to dance the Tik Tok steps.
The short clip showed the duo having fun while they burst moves together. The post was captioned:
"#LeBronJames is officially a cool dad as he dances with his son #Bryce on TikTok @darealbryce on TikTok."
The adorable clip came after the NBA star applauded his teenage son for perfecting his dance moves around the house.
 The father of three isn't shy to express his love for his kids.
LeBron even told his Instagram fans that he recently got recruited to join in on the steps with his son.
It appears dancing is not the only time Bryce expresses himself. With his father as a role model, the seventh-grader plays junior basketball with Sierra Canyon and does so impressively. 
In a clip uploaded by the James' patriarch, the younger player is seen demonstrating his basketball skills during a game, and LeBron captioned the post:
"Yes, they do!! Them boys be cooking."
James' family is not new to cooking since Zhuri James, the youngest of his children, has a flair for culinary art and owns a YouTube Channel.
The 33-year-old sports star even shared his experience while he appeared on his 5-year-old's YouTube Channel. 
In the post, "BabyZNova," as called by her father, was all geared up for her cooking session, and her dad who seemed super excited seeing his baby girl's drive aimed at kissing her.
He stated that they are a team known as the "James Gang," and later on shared the link to her channel.
Young Zhuri seems to have a significant impact on her father, which he mentioned while honoring the recently deceased sports star, Kobe Bryant, and his teenage daughter Gianna Bryant who were victims of a fatal helicopter accident. 
LeBron admitted that he wore the jersey number two to play in honor of Gianna Bryant because his daughter asked him to.
The father of three isn't shy to express his love for his kids. He is also proud to display their talents on his social media.