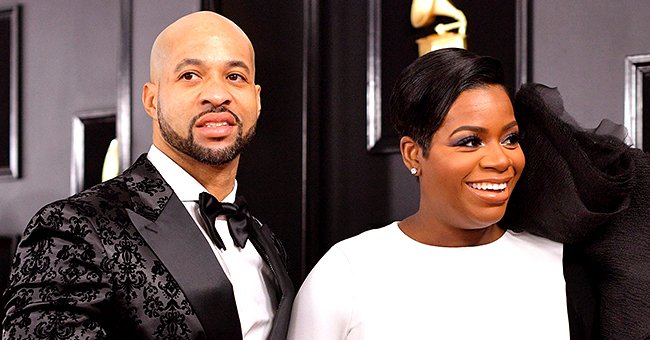 Getty Images
Fantasia Shares Heartfelt Birthday Tribute to Her Stepson Trey's Partner in Touching Post

Fantasia Barrino said the mother of her grandchildren is the "best mother ever" as she greets her on her birthday. The singer has two grandchildren with her husband, Kendall Taylor.
When Fantasia Barrino married Kendall Taylor, she not only become a wife, but she also became a grandmother instantly. Kendall has two grandchildren courtesy of his son, Treyshaun. Recently, the mother of Treyshaun's children, Kayla, celebrated her birthday and Fantasia took a moment to honor her on social media.
Kendall Taylor & Fantasia Barrino at the 61st Annual GRAMMY Awards in Februar 2019. |Photo: Getty Images
A SPECIAL GREETING TO THE "BEST MOTHER EVER"
"Happy Birthday Doll Face," wrote the singer to caption a close up of the beautiful Kayla. "I Love you and I'm very Proud of you Queen. We Love You For LIFE."
The 35-year-old continued by inviting her followers to greet Kayla.
"The Mother of Our Grandchildren is the BEST MOTHER EVER!!! Help me wish my Kayla Bean a Happy Birthday."
PROUD GRANDMA
Earlier this year, Fantasia delighted in the birth of their second grandchild, Kyan. She shared a photo of Treyshaun, Kayla and their newborn son at the hospital as she introduced the little bundle of joy to her followers.
"Let's give a Rock Soul welcome to the new addition to our Family! Kyan Jeremiah!!! We are absolutely proud of @treybrice2 @_kmccarthy for being masterful parents at such a young age," she had written.
"We don't want to come off rude when we say, we wake up and from the time we wake up, we're running."
BUSY WITH THEIR GROWING FAMILY
Kyan's older brother, Khoen was born in 2016. Fantasia also shared her excitement in welcoming the boy who made her a grandmother for the first time. She said she "jumped off the plane" and straight to see the Khoen. She also said the baby took Kendall's heart away instantly.
Kendall and Fantasia have been married since 2015. Since becoming grandparents, the couple admits their life has been busier than ever. Between tending to their businesses and their families, (Fantasia also has a daughter and a son from previous relationships) they have no time to hang out with other people.
The couple opened up about this in their recent "Taylor Talk" where they spoke about "The Freedom of Friendship."Explaining how busy their life is juggling their businesses, their children, and grandchildren, they revealed,
"We run into a lot of situations where we find people who want to hang out…We don't want to come off rude when we say, we wake up and from the time we wake up, we're running."
Though their friends had to take a backseat, Fantasia and Kendall are proud grandparents who just want to dote on their grandchildren and spend as much time with their family. And that's perfectly fine.
With the recent tragic death of Kobe Bryant, more and more celebrities are putting their families first, realizing that tomorrow is never promised.
Please fill in your e-mail so we can share with you our top stories!