Steph Curry's Wife Ayesha Shows off Her Moves as She Dances to Aaliyah's 'Try Again' in Video
Celebrity Chef Ayesha Curry showed off her dance moves in a recent Instagram video, but she hilariously concluded that the steps weren't as she envisioned.
Star Chef Ayesha Curry, and her hubby have always dazzled fans with their couple goals activities, and fans, in turn, keep anticipating more from the famous duo. 
Ayesha delighted her fans in a recent Instagram post where she dressed up in a sizzling ensemble while showing off her dance moves.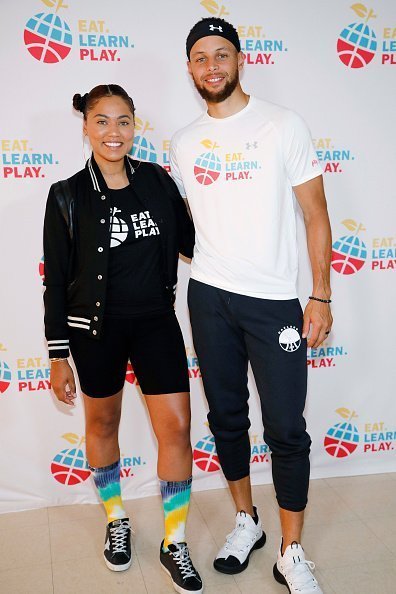 Ayesha looked gorgeous in black form-fitting leather pants, which she paired with a matching figure-hugging top. She gave off the stage dancer vibes with a pair of black boots while styling her long braids in a high ponytail. The celebrity cook wrote in her caption:
"Actual footage of me doing something… Thought it was dancing but alas. Sometimes you've just got to laugh at yourself."
However, fans had a figment opinion about her moves as they praised Curry's moves and cheered her in the comment session. Apparently, Ayesha's side to side energetic moves got the approval of fans.
Ayesha and Steph Curry have come a long way together right from their days as childhood sweethearts to meeting later in life and taking the next significant steps in their lives.
This couple got the attention of fans for not just being professionals at their chosen fields but also carrying on the image of an ideal couple.
The couple got married in their early twenties with Ayesha being 22 while Steph was 23 years old.
The couple started their love as church members, but at the time, they were merely each other's crushes. But all that ended as Ayesha moved to Los Angeles to pursue an acting career.
Steph also got drafted in the NBA, where he started living his dream. The two would later meet to become lovers and eventually a married couple.
The couple are two celebrities with excellent careers. While Ayesha is a successful entrepreneur, celebrity chef, and a business mogul, her hubby is an NBA champion who keeps making his mark in basketball. 
However, these two have managed to beat the odds against failed celebrity marriages. Steph and Ayesha keep going on strong in their matrimony as they have always made each other a priority.
Ayesha had initially been wary of Steph because of her thoughts about athletes. According to her, they were too arrogant, and she didn't want to indulge that. This, however, changed after she and Steph went on their first date.
The celebrity chef did not kiss her hubby until the day he proposed. Although this was not premeditated, Steph got his first kiss from Ayesha just after he asked her to be his wife.
The couple got married in their early twenties with Ayesha being 22 while Steph was 23 years old. The two had their first child Riley whom they referred to as a "honeymoon baby" soon after their union.
The Curry's have two other kids, Ryan and Canon. Ayesha once mentioned that in between getting their career in better positions and trying to be good parents, they always made time for each other, and this has helped them maintain a healthy relationship.