La La Anthony of 'Power' Fame Poses with Her Son Kiyan as She Rocks Orange Bodysuit & Black Latex Pants in Photos
"Power" star La La Anthony shared orange bodysuit pictures of herself and her pre-teen son, Kyian, in what looked to be a mother-son night's out.
Experiencing the growth of a child is one of the most beautiful things that can happen in the life of a parent. From adolescence through their teenage years, it can be a roller coaster ride of emotions.
La La Anthony is having that roller coaster ride of emotion right now as her son, Kyian, with basketball player Camelo Anthony is hitting his pre-teen years.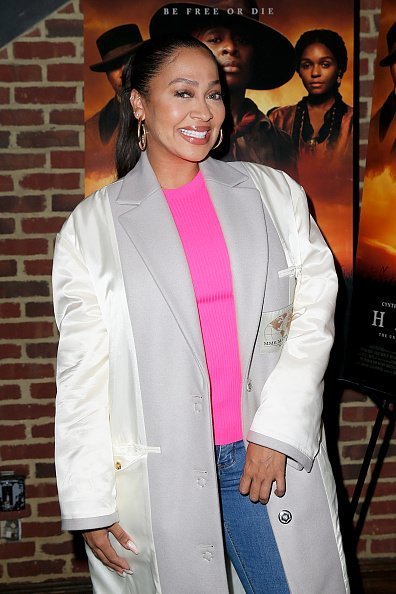 The proud mother of one took to Instagram to share amazing pictures of herself and her son, who is almost taller than she is even with her heels.
The pictures which looked like they were taken at night showed the mother and son enjoying each other's company as La La looked stunning in an orange bodysuit. The post was captioned with the following words:
"Orange you lucky."
The first picture in the series showed the "Power" star wearing an orange bodysuit with black latex trousers, which she paired off with high latex boots and a clutch bag.
Mother and son were pictured in the second image with La La having her arms around Kyian, who dressed casually in an all-black joggers ensemble pairing it off with black sneakers.
The two looked to be walking towards the direction of the camera as La La smiled at Kyian, who was looking at something in the distance.
The picture in the third frame showed the actress looking all giddy as she spread her arms out wide, smiling cheekily for the camera.
Lovers of the Anthony family took to the comments section to share their thoughts about the pictures. A couple of people commented that the duo looked terrific, as always.
While some pointed out that Kyian was almost taller than his mother, to which someone replied saying, "broo, that's how it be when your dad is 6"8 @carmeloanthony."
Kyian, who is the only child of La La and Carmelo Anthony is going to be turning thirteen this year, and his mother is getting jitters as to how to handle his teenage years.
While speaking on "The View," La La opened up saying her son was beginning to show behaviors that were apparent with teenagers. He asks not to have his pictures taken or scrutinizes any of his photographs before his mother posts them on social media.
La La also expressed how her concerns for Kyian had her spying on him. She alluded to having prompted her driver to "spy" on a co-ed gathering that Kiyan attended.
Although La La and Carmelo are no longer together, the two make Kyian their top priority, stating that his upbringing of most importance to them.