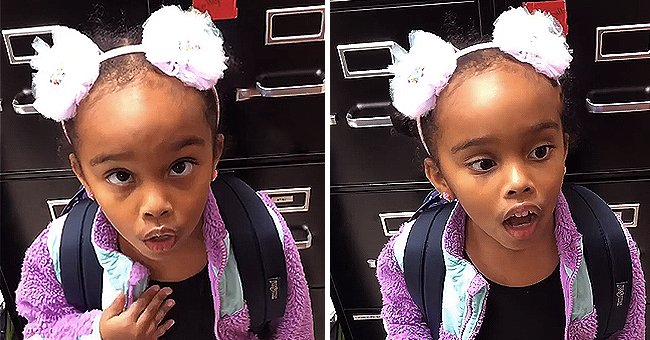 Instagram/tabgeezy
Girl Goes on Sassy Rant about Classmate Who Stole Her Perfect Attendance Pencil in Cute Video
A woman from Texas names Tabitha Garcia shared a video of her cute little daughter ranting boldly about her pencil that was stolen from a classmate.
The video clip on Instagram has aroused admiration from the multitude of social media. The girl named Taylor Garcia, who is just in second grade, affirmed that her pencil was stolen by a girl named Lizzie in her class.
Taylor was hurt because the pencil was more like a prize for her. She had won the beautiful pink pen based on merit for Perfect Attendance, and now it was taken by a girl who couldn't even earn it because she went to Canada on Vacation.
The little girl reported so assuredly that Liz wasn't going to give back her pencil to her, and her teacher wasn't going to help her get it back.
Having told her it wasn't that big of a deal to rant about the pencil, little Taylor still complained, so her mum decided to record the short clip with the caption,
"She earned her pen for perfect attendance, so she was super serious, I told her it wasn't, and they all do the same thing."
The young sweetheart who was bitter looked sweet as she wore a fuzzy purple jacket and a black tutu with a feminine headband, a pink bag, and pink earrings.
Taylor must have had a thing for pink as it happened to be the color of her favorite writing material. Being a natural storyteller, she painstakingly narrated the unjust story to her mom. The second-grader said,
"Yesterday, I put my pink perfect attendance pencil in the sharpening box...I got it sharpened this morning, but when I unpacked, I went to get my pencil and guess what I saw? Nothing but plain old pencils."
She continued by explaining that since she could not find her special pink attendance pencil, Taylor had to take someone else's because she knew who the defaulter was.
Little Taylor then said she had seen Lizzie making use of the pencil when she yelled at the latter that the pen belonged to her.
Showing no signs of remorse, Lizzie claimed that the pencil was inbox, telling her it was just a pencil when Reese, another classmate, joined the argumentation supporting Taylor and reminding Liz that her friend had earned that pencil.
Efforts were made by the youthful Ms. Garcia to retrieve her pen, but Lizzie shoved it into her desk.
The internet had come to Taylor's defense so sharply that by Friday morning, about two topics were trending on Twitter, namely, "Lizzie" and "Perfect Attendance Pencil."
One user suggested it wasn't about the pencil, but the principle, and she offered to send pencils to Taylor. Another user jokingly said if Lizzie wanted the pencil, she shouldn't have gone to Canada.
A severe user tweeted that if someone ever took his kid's perfect attendance pencil, the whole school would be shut down.
Please fill in your e-mail so we can share with you our top stories!