Washington 8-Year-Old Sells Enough Handmade Key Chains to Help 7 Schools Clear Students' Lunch Debts
Keoni Ching, a little boy from Washington state, did his part to eliminate his school's outstanding lunch debt by selling handmade keychains. The amount he collected will help seven schools in total.  
Keoni Ching might be merely 8-years-old, but he has the biggest heart. The little one has proven that kindness can change the world by his small gesture of love that has melted the hearts of many. 
With the help of his parents and his grandparents, Ching has made over 300 key chains worth $5 each. By selling those, he raised $4,015 to clear the lunch debt of students from his school, Benjamin Franklin Elementary.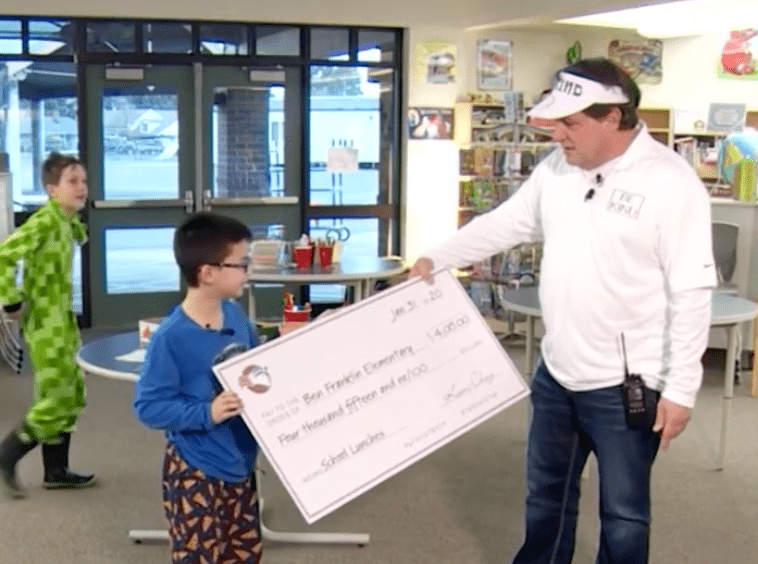 A SELFLESS ACT
"CNN" reported that Ching, who only wanted to help his school friends, started making keychains because he loves them and likes the way they look on his backpack.
Since he wanted to do something worthwhile for "Kindness Week" at Benjamin Franklin Elementary, Ching conceived the idea of starting the project to help his school along with six other schools. 
Inspired by @RSherman_25, 8 year-old Keoni Ching is making customized keychains for $5 to help raise money to pay off school lunch debts at Franklin Elem. in Vancouver

To date, he's raised over $1200 - more than enough to pay off the school's current debt. pic.twitter.com/3Q4EVoy8Fz

— Devon Haskins (@devonhaskins) January 7, 2020
His parents, Barry and April Ching, helped him to get the project started. Ching was inspired by the kindness of Richard Sherman, a San Francisco 49ers player, who donated over $27000 to clear students' lunch debts. 
Soon enough, the news of Ching's selfless cause started to spread and people from all around the country took notice. They started to send their requests for custom keychains. 
It's part of kindness week, which is the last week of January.

His family says some have bought a keychain and donated extra just to help others pay for lunch. pic.twitter.com/cQCvhlHEOH

— Devon Haskins (@devonhaskins) January 7, 2020
PEOPLE TOOK NOTICE
In an interview with "CNN," Ching's mother April shared how people started reaching out to them for keychains. According to her, they have sent keychains to Rhode Island, Arizona, Alaska, and Minnesota to name a few states. 
"It was absolutely amazing how much support the community showed for his whole project."
He's a @MiamiDolphins fan, even though his parents are @Vikings fans

If you wanted a Seahawks themed keychain, it used to cost you $19.77, because "Just so I can get less of those and ... It's really long and my family doesn't like the Seahawks"

Price has dropped to $5 🤣 pic.twitter.com/jgkk6Xfkyk

— Devon Haskins (@devonhaskins) January 7, 2020
April also shared that there was a lady who wanted keychains worth $100 so that she could hand them out to people. Similarly, there were several people who bought one keychain and paid a hundred bucks for it. 
Last week, Ching handed out the $4,015 to his school. The school will use $1000 to pay off the $500 lunch debt and save $500 for any future debt incurred. 
HE ISN'T THE ONLY ONE
As for the rest of the sum, six nearby schools will get $500 each to clear out their own lunch debts. According to Franklin Elementary's Principal Woody Howard, this type of contribution take a little weight off the shoulders of students' families who cannot pay for lunches. 
Ching isn't the only young student who has made such a kind and selfless gesture to help fellow students. Previously, a 9-year-old student named Ryan Kyote used his saved allowance of $74.80 to pay off the school lunch debt.