Chrissy Teigen and John Legend Share Sweet PDA Moment at 2020 Vanity Fair Oscar After-Party
Chrissy Teigen and John Legend may be voted the cutest couple for the Oscars. Not only did they look gorgeous, but they gave fans a treat with some sweet PDA. 
On Sunday night, the 2020 Vanity Fair Oscars Party was just as much a highlight as the main event. Chrissy Teigen and John Legend were just two of the stars who showed out. 
Legend, 41, donned a classic black suit and bowtie for the event. Meanwhile, his gorgeous 34-year-old wife stole the show with her ensemble. Pics are found below.
Teigen looks glamorous in green
Teigen, mother-of-two, stepped out in a Georges Hobeika mint green dress that looked more like the ocean than a piece of clothing. The cookbook author also made waves with her display of skin. 
Aqua-tinted fabric rolled over Teigen's arms and legs in the halter fit that featured a braided pattern from the shoulders to the elbow. The waist was nipped with a silver bowed belt. 
Legend shows some affection
The flowy gown also boasted a high slit — the highest we've seen — that allowed Teigen to put her toned legs on full display. She matched the piece with strappy stilettos. 
Teigen styled her hair in a sleek bun and accessorized with a pair of earings and some rings. She left her wrists bare and held onto a mint green clutch to complete the look.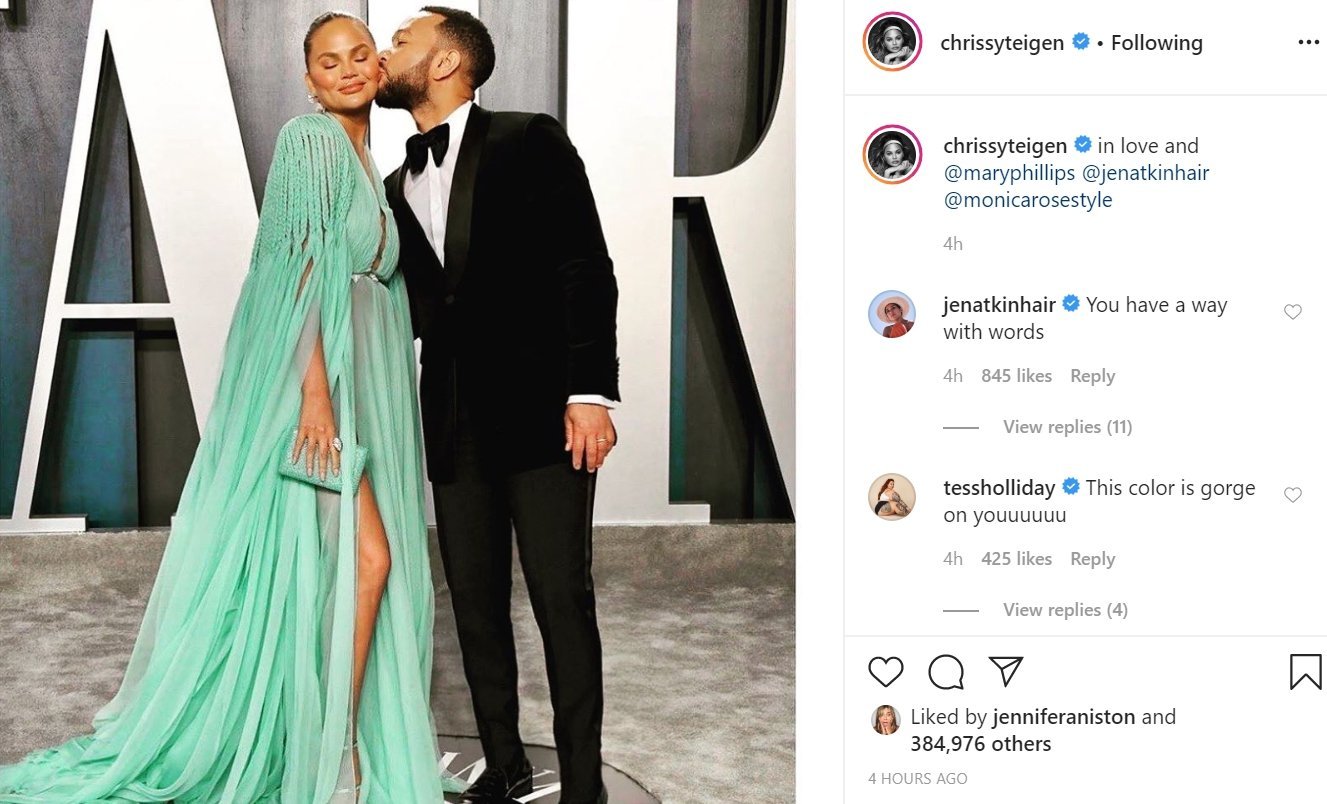 At one point during the couple's photo op, Legend proceeded to give Teigen a heartwarming kiss on her cheek. Teigen's face reflected bliss as her husband showed her PDA. 
Teigen dons orange for Grammys
Last Sunday, Teigen went with a slightly different style as she opted to wear a snazzy orange dress that featured billowing sleeves that stood upright in a curvy pattern. 
The frilly display also had a high slight and showed off ample cleavage. Teigen wore her locks down for the occasion. Meanwhile, Legend sported a gray suit with a white undershirt. 
Teigen's leggings are hilarious
Late last week, Teigen's fashion took a drastically different direction as she posted a hilarious photo of her in a pair of leggings with her husband's face printed on it. 
In the shot, Teigen was on her hands and knees showcasing the piece of clothing. On her backside, fans saw none other Legend's face, each encased in orange hearts. 
"We get... really random stuff sent to the house," Teigen noted in her caption. We agree. We're just lucky Teigen can leave it behind when she's on the red carpet.