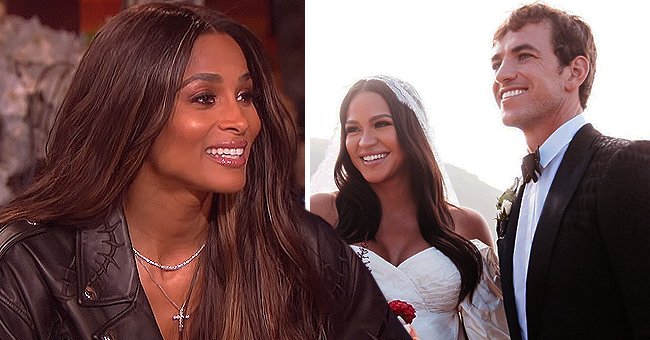 YouTube/TheEllenShow Instagram/cassie
Cassie's Husband Alex Fine Responds to Fan Asking If Ciara Shared Her Prayer with His Wife
In a swift response to a fan's comment on his post on Instagram, Alex fine affirmed how lucky he and Russell Wilson are to have Cassie and Ciara in their lives rather than the other way around.
Love is a beautiful thing, and when you find the right partner, it can be truly magical, and this is why many people go as far as praying for the right partner, be it a man or a woman.
Alex Fine showed not only pure class but also immense respect and love for his talented singer wife, Cassie when replying to a comment made by a fan on his post about his family.
The fan commented on a post in which Alex proclaimed how blessed a man he is to have his wife and daughter – describing them as the best gift from God. In his Instagram post, the excited and thankful father of one said:
"The absolute greatest gifts God gave me is two of the most beautiful happy girls."
A curious fan, in the comment section, referring to the "infamous" Ciara Prayer, asked whether Cassie had gotten a copy of the prayer from the "1, 2 Step" singer.
Both Cassie and Ciara have not had the best of luck when it comes to relationships.
No one was expecting the type of response that came from Alex, but it would have put a smile on the face of his wife, just as it won him even more admirers.
In his response to the fan's question, Alex Fine made it clear that both he and Russell Wilson were lucky to have their prayers answered by God through their beautiful wives. He wrote,
"What if Russell shared the prayer with me?"
During a live interview with Angie Martinez, Ciara explained that she had prayed to God, detailing to Him the exact type of man she wanted after her messy breakup with ex-fiance Future.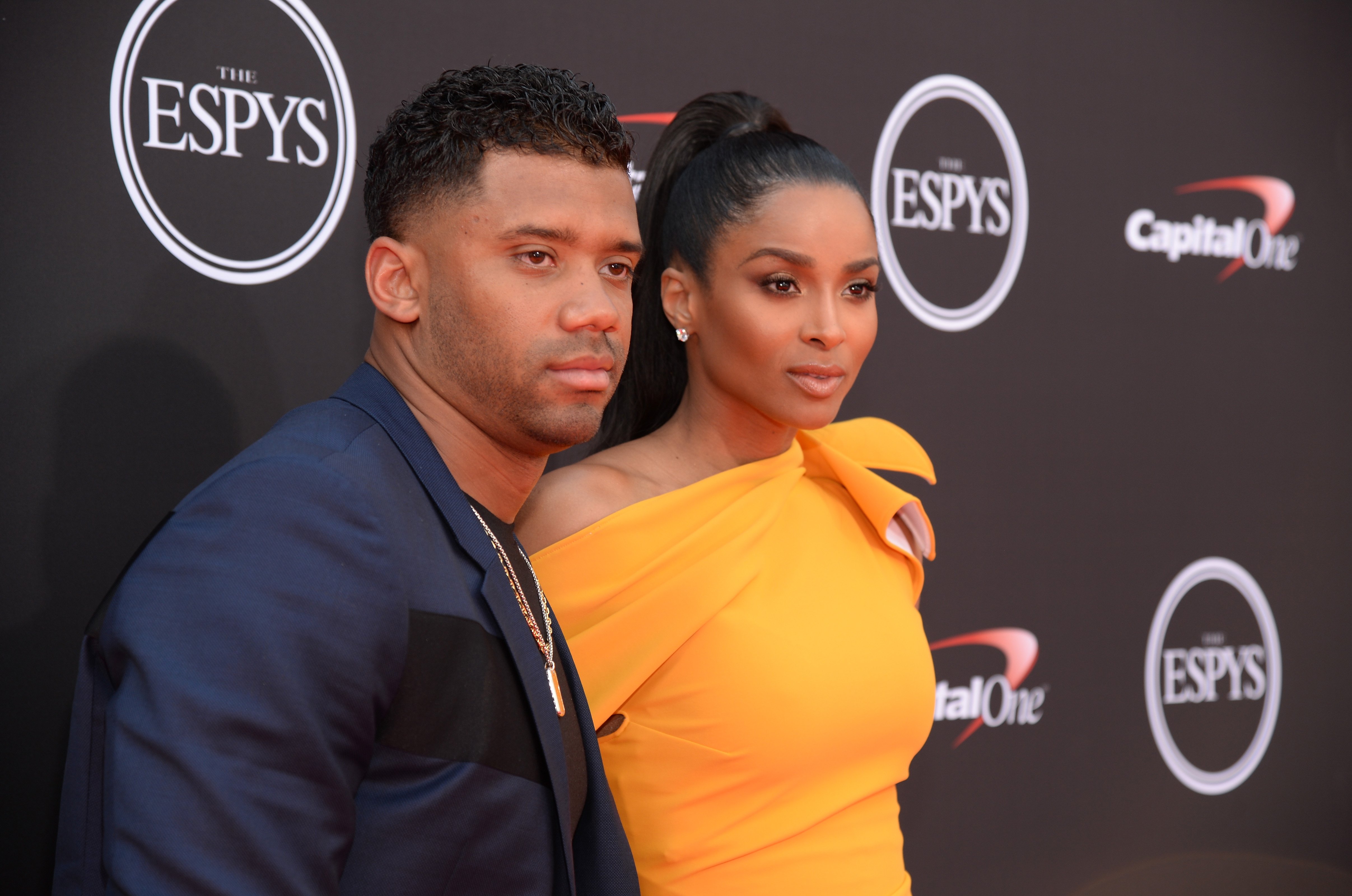 Russell Wilson and Ciara at the 2018 ESPY Awards red carpet. | Photo: Getty Images
In the live-streamed interview, which went viral, and brought about the tag Ciara's prayer, the award-winning singer and performer gave details about her supplication to God and how she met her husband, Russell Wilson. She stated:
"I prayed for a man that loved kids, because, obviously me having my son, if you're gonna love me, you've gotta love him. I prayed for a man that was worldly as well. I was ready to level up!"
It seems that while many people may see the husbands (Alex and Russell) of these talented women, as the real catch, Alex has taken it upon himself to set the records straight as to who should be appreciated.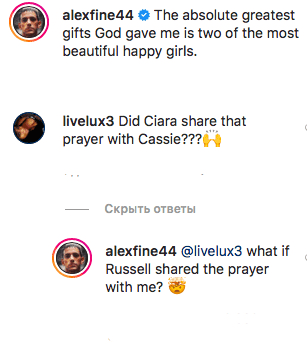 The comment on an Instagram post | Photo: Instagram/Alex Fine
To him, Cassie isn't a broken woman, as many may want to believe; instead, she is the answer to his prayer.
Both Cassie and Ciara have not had the best of luck when it comes to relationships. Ciara had a very messy breakup with her ex-fiance, which involved a lawsuit.
At the same time, more recently, Cassie ended a long term relationship with music mogul P. Diddy, which seemed to be heading nowhere, amidst rumors of infidelity.
Please fill in your e-mail so we can share with you our top stories!