Brad Pitt Had Sweet Moment with KUWTK Star Kim Kardashian as He Held Her Hand at Vanity Fair Oscars After-Party
First time Oscars winner, Brad Pitt was alleged to have exchanged a cozy moment with TV star, Kim Kardashian, at the Vanity Fair celebration party for Oscars award winners. 
After winning an Oscar for the first time in his acting career, Brad joined the other winners at The Wallis Annenberg Centre in Los Angeles for a celebration party.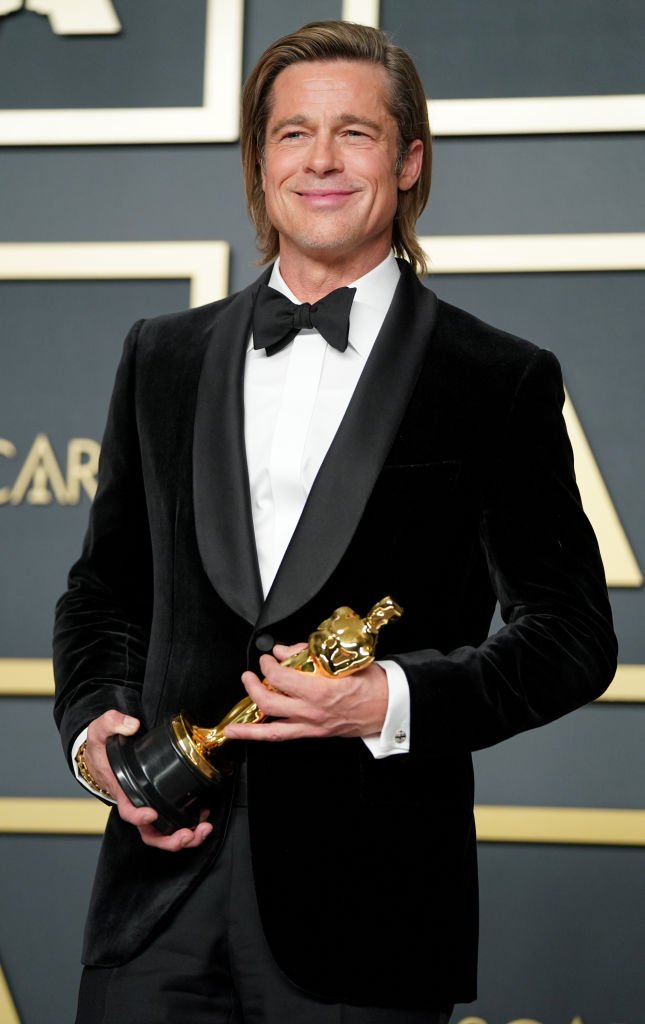 During the party, Brad was spotted with the "Keeping Up With The Kardashians" star as she arrived at the party with her husband, Kanye West. 
Pitt, who seemed elated to be receiving Kim at the party, welcomed her by holding her in both hands. He leaned in to have a little chat with her, amidst the guests who were waiting to congratulate him on his win.
After the pleasantries with Kim, Pitt exchanged a brief hello with Kanye West. The music star congratulated him on his win, and after a short greeting, he dashed out to meet the other guests who had come to celebrate his first Oscar win with him. 
Pitt won an Oscar in 2012 for directing the movie, "12 Years a Slave," but this is the first time he would be winning an Oscar for his role as a character in a film. 
The award, which he received as Best Supporting Actor for his role in "Once Upon a Time in Hollywood," was dedicated to his kids. The father of six dotingly dedicated the award to them, saying, 
"And to my kids who color everything I do, I adore you."
#Oscars Moment: Brad Pitt wins Best Supporting Actor for @OnceInHollywood pic.twitter.com/TSGjMB3v8P

— The Academy (@TheAcademy) February 10, 2020
The 56-year-old actor also gave a shout out to his good friend, Leonardo DiCaprio. Brad acted as "Cliff Booth" in "Once Upon a Time in Hollywood," alongside DiCaprio, who played "Rick Dalton."
The two, who did excellently in the movie, have been rumored to have a great friendship outside work. Pitt confirmed the rumors when he cracked a joke about riding his 45-year-old friend's coattails. 
The award-winning actor also thanked the producer of the movie that got him his first acting Oscar Award, Quentin Tarantino. He said, "this really is about Quentin Tarantino. You are original. You are one of a kind."
Brad Pitt, who was also seen exchanging pleasantries with Rita Wilson, Tom Hanks, and several others at the event, later retired from the party, saying he is not the partying type.