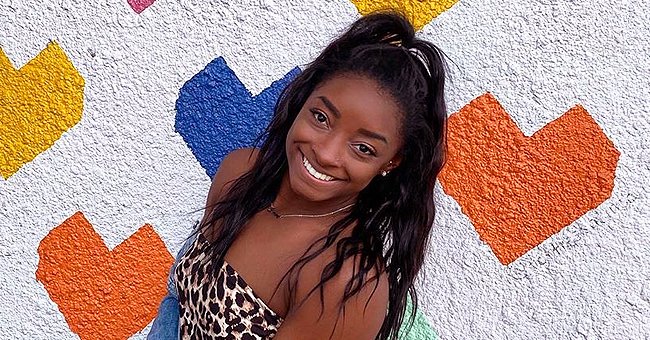 Instagram/simonebiles
Simone Biles Posts Photo of Herself in Black Low-Cut Top That Reveals What Looks like a Sternum Piercing
Simone Biles might be busy with her intense training for the 2020 Olympics, but that did nothing to stop her from adding a new sternum piercing to her collection of body art.
The 22-year-old Olympic gymnast treated her 3 million-plus fans on Instagram with a selfie that showcased her latest update on body art on Tuesday.
The athlete posed with a charming smile and sported a low-cut black wrap top that revealed the beautiful diamond stud she recently got to decorate her chest. The sparkly rock also matched her ear piercings.
A NEW PIERCING
Biles, who seems to love decorating herself, also has a nose piercing, a belly button piercing, and a number of ear piercings, but as she wrote on her Instagram she is "kinda unbothered" about what others might say.
By Wednesday, the adorable selfie had generated well over 148,000 likes and tonnes of comments from fans who wanted to admire the young gymnast and know more about the new jewelry.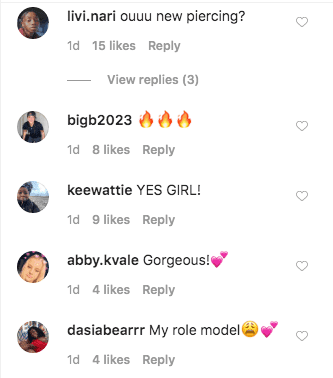 Fans' comment on Simone Biles's Instagram post. | Source: Instagram/simonebiles
However, this is not the first time that Biles has posed with her new diamond jewelry. She had taken to Instagram on the first day of February to post a similar snap.
THE FIRST TIME AROUND
The previous snap featured the beautiful Biles sporting the same shirt coupled with a pair of ripped jeans and a pair of block heel boots. She also flaunted her perfect six-pack abs which perfectly compliments her athletic reputation.
Since this picture was not as up-close as the more recent selfie, the Olympic athlete's sternum decoration was not readily visible. Possibly the reason why the fans just noticed the sparkling rock.
It is not certain when exactly Biles underwent the body modification, but "Healthline" reports that the piercing takes anywhere from 6 to 12 weeks to heal.
BILES IS IN LOVE
Biles, who was titled the most decorated gymnast ever, recently made headlines after she posted a picture of her boyfriend Stacey Ervin Jr. and herself posing by the beach with a breathtakingly beautiful sunset as the backdrop.
The post was especially interesting because Biles might have hinted at a future engagement when she captioned, "I wanna spend the rest of my sunsets with you."
In response to the romantic caption, Ervin replied, "I second the motion of that ocean.. I mean caption." This was not the first time this picture went public either.
Ervin had uploaded the same breathtaking snap over at his Instagram, where he announced his love for his beautiful girlfriend while quoting a rock band, "The Darkness" in the captions.
Please fill in your e-mail so we can share with you our top stories!