Zooey Deschanel and 'Property Brothers' Star Jonathan Scott's Relationship Timeline
"Property Brothers" star Jonathan Scott and "New Girl" actress Zooey Deschanel surprised their followers during the fall of 2019 when they started dating!
The new couple has been making headlines ever since the first rumors surrounding their then-unofficial romance began back in August. Taking a look at their love story is definitely worth it, so here's a detailed timeline of Jonathan and Zooey's relationship.
"We literally make each other laugh nonstop."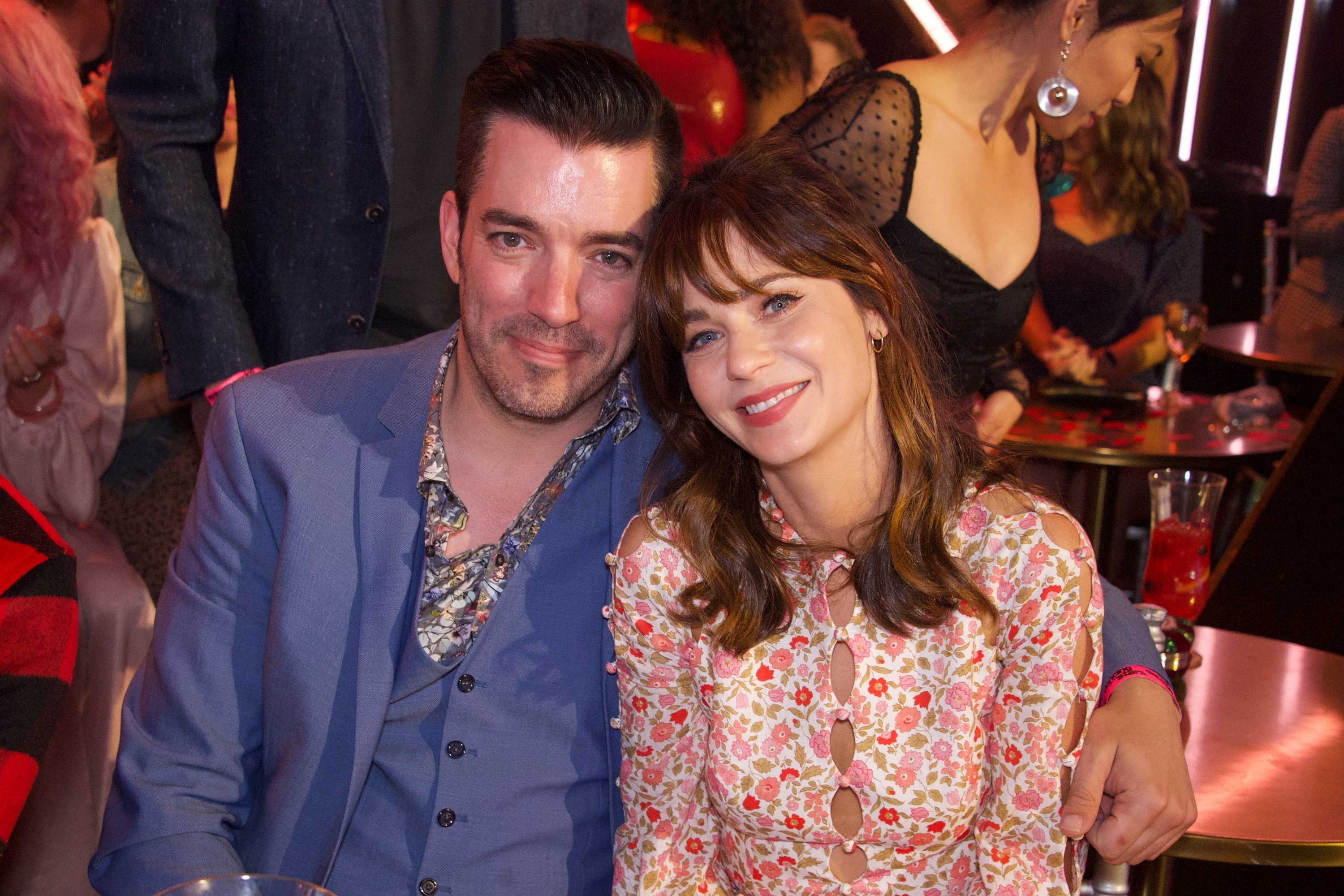 THEY DID NOT MEET THROUGH "PROPERTY BROTHERS"
Since Jonathan and Drew Scott are the main stars in the popular HGTV show "Property Brothers," it is only natural to think that the "All the Real Girls" actress met her new boyfriend through it.
However, the truth is entirely different – but still extremely entertaining. It was the "Late Late Show" host James Corden who made everything possible so that the couple's paths crossed.
James asked the Scott twins and the Deschanel sisters (Zooey and Emily) to join him for a "Carpool Karaoke" special. One of the most exciting aspects of this meeting is that neither Jonathan nor Drew knew who their partners would be before filming.
On August 4, shortly after shooting the episode, Jonathan shared on his Instagram account some of the photos he took throughout the day. For the caption, the TV personality admitted that the group had fun.
In Zooey's case, she uploaded a short boomerang on Instagram the following day in which she appeared to be dancing while Jonathan flexed his muscles. It is worth noting that Emily and Drew were not as ecstatic as their siblings.
FIRST PHOTOS TOGETHER
On September 13, the early reports of a possible romance between one of the halves of "Property Brothers" and the "(500) Days of Summer" actress started circulating after a few photos of them hit the Internet.
In them, the pair were walking side by side while holding hands as they made their way into Little Dom's Restaurant in Silver Lake, California.
During their time together, they kept whispering and smiling to each other and even cuddled repetitively. The following day, Hollywood Life interviewed the Scott brothers to dig into the topic, and Jonathan confessed that they and the Deschanel sisters "just clicked." Drew added:
"We like to have fun. We like to laugh every day. So, when we met them, both Zooey and Emily are the exact same way. We just had so much fun."
BECOMING INSTAGRAM OFFICIAL
On October 20, the couple uploaded to their respective Instagram accounts photos of their visit to Halloween Horror Nights in California. Even though Zooey was in Jonathan's arms, the captions of their pictures didn't confirm their romance.
The next picture of the pair was uploaded by the actress on November 1. In the first of the two-image slideshow, Jonathan's brother JD Scott and his wife Annalee appeared sharing a very romantic moment.
For the second one, which was taken at JD and Annalee's wedding, Jonathan was shown wearing a Batman suit while Zooey chose a Catwoman costume. Again, it was evident in their pic that they were dating, but they didn't address it.
On November 17, the "Property Brothers" star and the "New Girl" actress became Instagram official.
In the photo uploaded to Jonathan's account, Zooey was kissing his cheek. For the caption, he wrote:
"Simply a perfect date night. From the [Tim Burton] exhibit at [The Neon Museum in Las Vegas] to Jerry Seinfeld at [Caesar's Palace]. Such a wonderful time."
MAKING THEIR RED-CARPET DEBUT
From that point on, both of them kept uploading photos of their relationship, remarking how fun it was to be next to each other. On December 16, they made their red-carpet debut at the premiere of "Star Wars: The Rise of Skywalker."
Drew Scott and his wife Linda Phan were with the new couple at the event, and they all posed together just outside the El Capitan Theater before watching the film.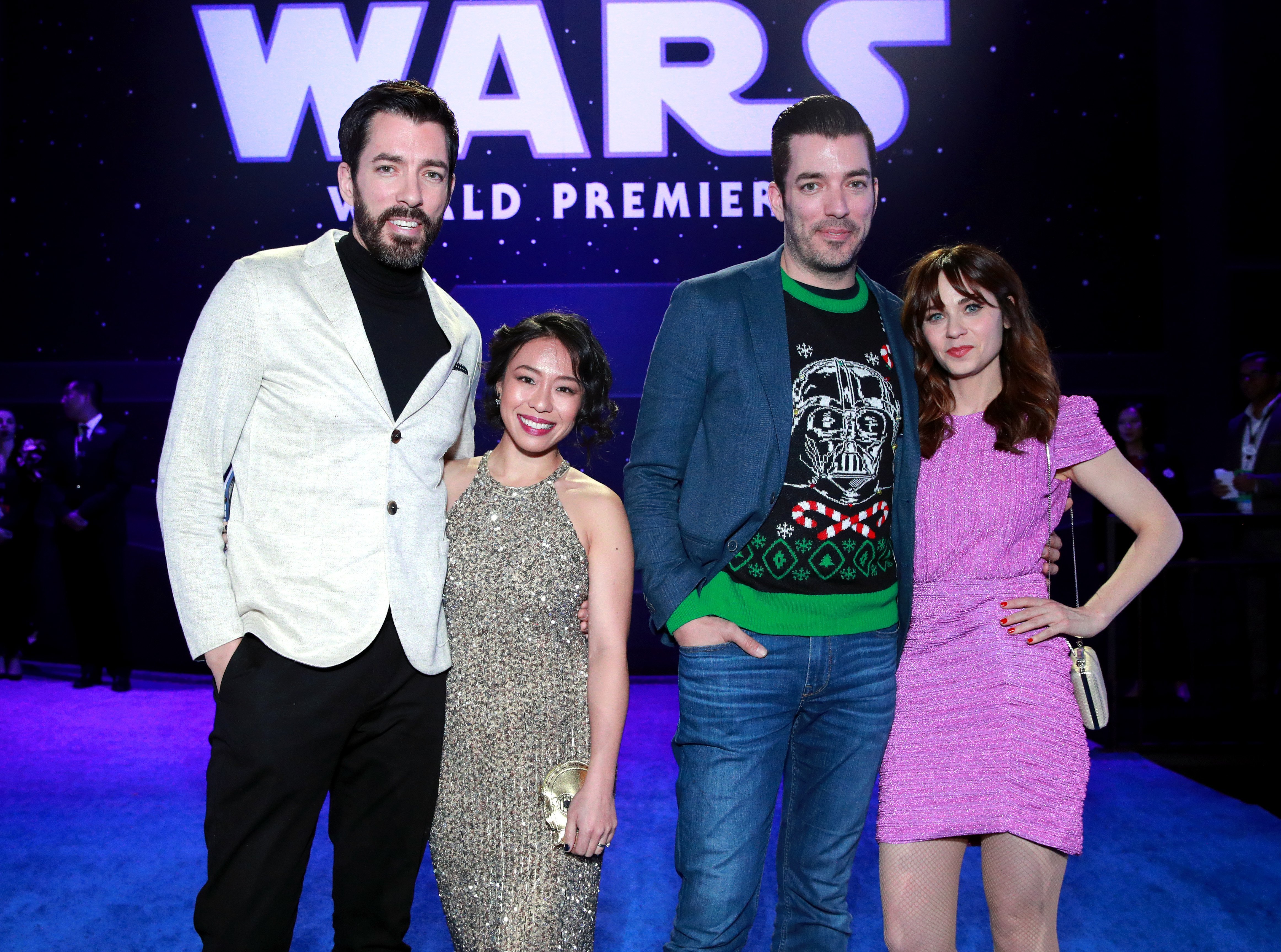 2019 ended with more cute photos of the couple enjoying their time together, and in January 2020, Jonathan opened up to People about his new girl. He confirmed that they started feeling their chemistry while shooting "Carpool Karaoke." He added:
"We literally make each other laugh nonstop. I have never been in a relationship where my partner is as romantic as, if not more romantic than, I am. I'm usually the one who carries the romantic load."
The TV personality confessed that his girlfriend is not only smarter, funnier, and cuter than him but she is also a very considerate person, which is exactly what he was looking for.
Jonathan also admitted that Zooey got the sign off from his family, an aspect that was "very important" for him.
Zooey Deschanel and 'Property Brothers' Star Jonathan Scott's кelationship reflected comments from Maryna Dvornyk, a psychologist with a Ph.D. in Social Psychology. 
Dvornyk said we tend to assume "that our partners' experience is the same as ours and that events and behaviors mean the same to them as they do to us."
The doctor explained exclussively for Amomama:
"While couples are at the beginning of their relationship, in the "honeymoon" phase, the partners will shower each other with affection and words of appreciation".
"But often, as time goes on, partners may start taking each other for granted and forget to show the same kind of admiration they once did.
One of the main reasons for long-term couples splitting up was that one of the partners was no longer showing enough affection and attention to the other".
THINKING ABOUT THE NEXT STEP?
Although Drew Scott is the only member of the "Property Brothers" married, things might probably change soon, and judging by Jonathan's comment in one of Zooey's photos, it might happen even earlier than expected.
On January 7, the couple sparked engagement rumors after the actress posted a photo posing with her beau followed by the caption: "One more night with my one and only prom date."
Jonathan Scott wrote in the comment section, "May I have this… and all future dances?" Netizens quickly pointed out that his question had a proposal vibe, and Zooey's reply only added fuel to the speculations:
"Yes! Can't wait. You're my favorite dance partner."
At the moment, neither the "All the Real Girls" actress nor the "Property Brothers" star has confirmed or denied the rumors of their engagement. However, the lack of a big and shiny rock on Zooey's finger might suggest that the next step has yet to be taken.