LL Cool J's Wife Simone Smith Poses with Boombox Accessory in Front of a Vinyl Record Wall Display
Wife of a veteran rapper, Simone Smith shared an image of her looking like a pop star of the 90s. The image set was full of old records, and she held a toy tape recorder.
LL Cool J's wife and mother of his four kids may have stolen the cool off her man's name after she posed with one arm to her waist while donning a bright colored top with baggy denim pants.
Neither has age nor motherhood gotten in the way of her love for trendy fashion pieces.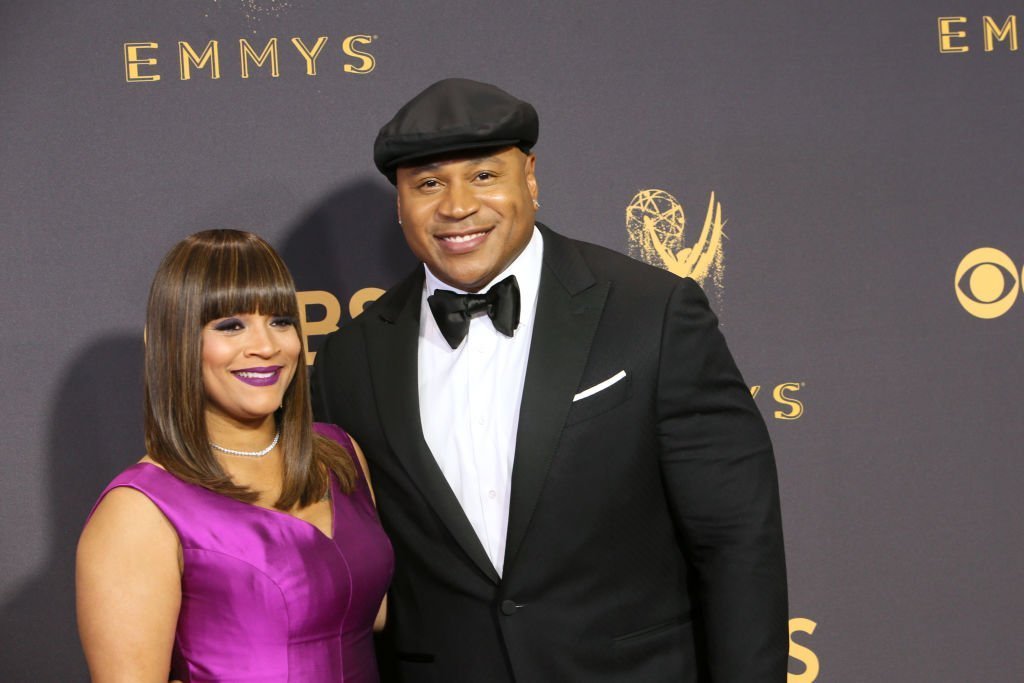 The black leather varsity jacket of the New Yorker had a big R crested on the chest, as the brand's name was also entirely written in style.
Apart from striking a boss lady pose while modeling the outfit, Simone charged her Instagram fans to hurriedly get the black jacket as it would soon be off the market. Precise details of how to get the attire were shared in the caption. She wrote:
"It's your last chance to get the @RockTheBells x ROOTS CollaboVarsiity Jacket exclusively on rockthebells.com - only available until 11.59 pm PT tonight 2/12 @rocksea."
The trendy style on the celebrity caused her fans to commend her look, and the background theme that spiced up the photoshoot got its fair share of admiration.
Modeling isn't the only thing she's great at, in fact, Simone is fantastic being a mother to her four children, whom she shares with her "Doin' It" star husband.
Simone and LL have done impressively well in maintaining a relationship that has lasted for more than three decades.
She told a news outlet about how much compromises she makes to balance her busy schedule. By doing regular things such as cooking, cleaning, and driving her kids to school, the 51-year-old successfully carved a bond with her children, Nina, Samaria, Najee, and Italia.
On the other hand, LL is an incredible father who spends quality time with his family. Quality time isn't all that matters to the entertainer but ensuring that every member of his family is in good health.
During his wife's battle with chondrosarcoma cancer in 2004, he supported her in every way possible. He explained to Oprah that it was a conscious decision. He said:
"I made some decisions professionally and decided to be by Simone's side more during that period."
While the mother of four had a formidable support system, she also reached out to God through prayers and established online that her test results didn't turn out as badly as before.
Another thing that interests the cancer survivor asides praying is selling pieces of jewelry. She owns a charitable jewelry line that has a diversity of accessories suitable for women of all ages.
Simone and Cool J have done impressively well in maintaining a relationship that has lasted for more than three decades, as they first courted for eight years before saying their "I do's" in 1995.
Although their ride or die love story sounds captivating, it is worth noting that the pair out in some hard work to make it work.