Ivanka Trump Stuns in Metallic Silk Gown & Black Headscarf in Photos from Dubai's Biggest Mosque
Senior adviser to the United States Presidency and daughter of President Trump, Ivanka, caught the eyes of everyone at the Sheikh Zayed Grand Mosque in Abu Dhabi in her metallic silk gown and black headscarf.
Ivanka, the daughter of  President Trump and his first wife, Ivana is a 38-year-old unpaid senior adviser to the President of the United States of America, serving since 2017.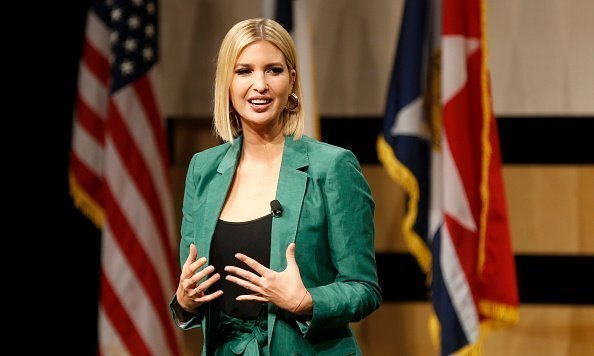 She recently took to Instagram to post some pictures from her recent trip to the United Arab Emirates. In one photo, Trump was seen rocking a black headscarf over a shiny silk gown that made her stand out.
She commended the aesthetic prowess of the largest mosque in Dubai: the Sheikh Zayed Grand Mosque and called it a "masterpiece". In another photo, the mother of three posed at the "Louvre Museum", with some UAE female ministers and entrepreneurs after a women's conference. Ivanka uttered her intentions on meeting with the ministers saying,
"Together we seek to advance gender equity throughout the region"
The First daughter who's described her husband, Jared Kushner as "the CEO of our household" has shown her proclivity to get out of his way in getting important things done. Interestingly, both Ivanka and Jared are senior advisers to the U.S President.
The two start dating shortly after meeting in 2005 and got married in 2009,  but the road their relationship took was not so smooth. The couple was introduced in a gathering of mutual friends who only thought the two would benefit business-wise from each other.
Trump later referred to that networking deal as " the best deal we ever made'. Jared and Ivanka broke up in 2008 due to disagreements of their parents about the conflict of their religions.
Ivanka is born a Presbyterian Christian while Jared is Jewish. Nevertheless,  the duo got back together the following year and Ivanka converted to Judaism. They later went on to tie the knot at the Trump National Golf Course in New Jersey. 
The marriage is blessed with three kids, Arabella,  Joseph, and Theodore. On the couple's 9th wedding anniversary, Ivanka Trump took to social media to express her love for her husband and referred to him as her "light", "love",  and "life".
The couple seems to be taking the advice from President Donald Trump in his best man speech at their wedding when he told them to "be happy" and enjoy their lives.