Snoop Dogg's Grandson Zion & Granddaughter Elleven Flash Big Smiles in Photo, Showing How Much They Look Alike
Two of Rap legend, Snoop Dogg's beautiful grandchildren, turn up on Instagram sporting big smiles that looked all too similar to their famous granddad's.
Since venturing into music in 1992, Snoop Dogg has grown to become one of the most successful figures in the music industry. However, he is also a family man with a wife, kids, and grandkids.
His grandkids, Zion and, Elleven, recently made an appearance on social media when they were posted on Corde's Instagram page.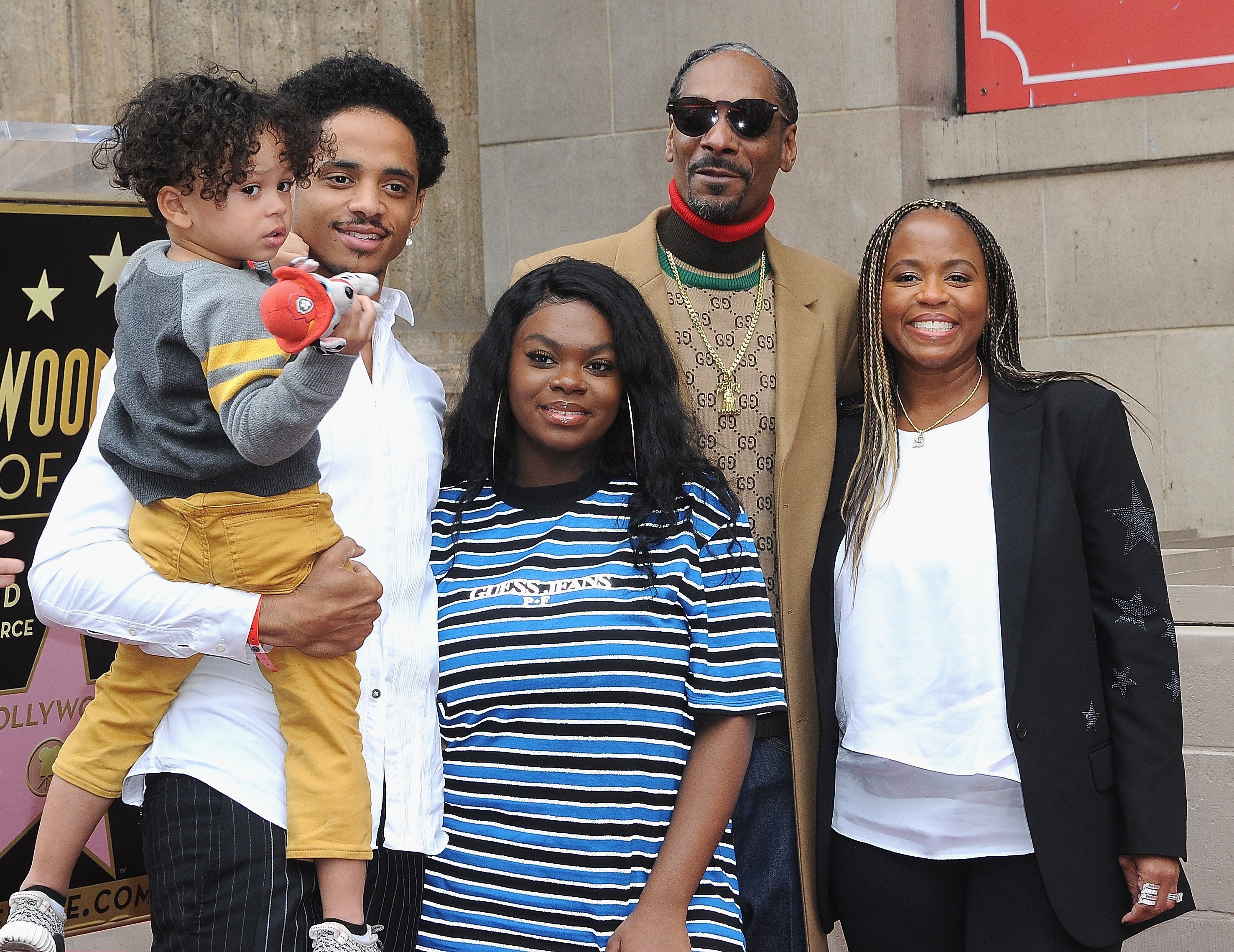 The photo posted featured Zion hugging his sister from behind as they both wore smiles very similar to Snoop's back in the day.
Zion can be seen wearing a green hoody, while Eleven wore a pink one; they both looked lovely while staring at the camera with narrowed eyes, and a wide smile finished the Snoop-Dogg-look. The post has since garnered over a thousand likes.
Zion is the first grandchild born to Snoop Dogg's first son, Corde, and his then-girlfriend, Jessica Kyzer. At the time, Snoop Dogg had taken to his Instagram page to deliver the great news.
He posted a series of shots that featured various family members looking affectionately at the new-born. The caption that followed was a pure expression of love, it read:
"Zion. U have a lot of love WAitn on u grandson!!" 
The 43-year-old rapper was reportedly out of town when baby Zion was born, so his Instagram updates were the primary way through which he displayed affection and love for the birth of his grandson. 
Among his posts on the happy day was a video of Corde holding his son, after which he uploaded another photo where his wife, Shante Taylor, could be seen cradling the little bundle in her arms.
However, the infant died ten days after his birth — reportedly in his father's arms.
At the time of his grandson's birth, the talented rapper and his second son, Cordell, also launched the first episode of "Snoop and son" — a docuseries that centers on Cordell's hopes of playing college football. 
A few years after baby Zion's arrival, Corde and his new heartthrob, Soroya, welcomed another baby — a girl they named after the number, Eleven. The proud mother took to YouTube to announce her arrival as she shared the benefits of having a natural delivery with her followers. 
Corde took to his Instagram page with a snapshot of Soraya breastfeeding his baby girl to announce the birth. "Today my daughter, 11, was born," the proud father revealed to his Instagram family on August 17, 2018.
He encouraged his fans to go the natural way when it comes to childbirth —no epidurals or drugs. Corde also welcomed a new son, Kai, in 2019; however, the infant died ten days after his birth — reportedly in his father's arms. 
The heartbroken father announced the sad news via his Instagram page, where he posted a video of his then 13-month-old daughter Eleven, gifting her little brother a kiss in the hospital.