Snoop Dogg & Wife Shante Broadus Dance Together to Charlie Wilson's 'Forever Valentine' in New Videos
After spending so many years together, Snoop Dogg and wife, Shante, are still very much in love, as depicted in a video shared on valentine's day.
The two high school sweethearts danced together, while "Forever Valentine" played in the background. Shante posted the video, and she captioned that the song got her in the valentine mood.
Snoop and his wife have been together for over twenty-two years, they met in high school and tied the knot in 1997 and have been inseparable ever since.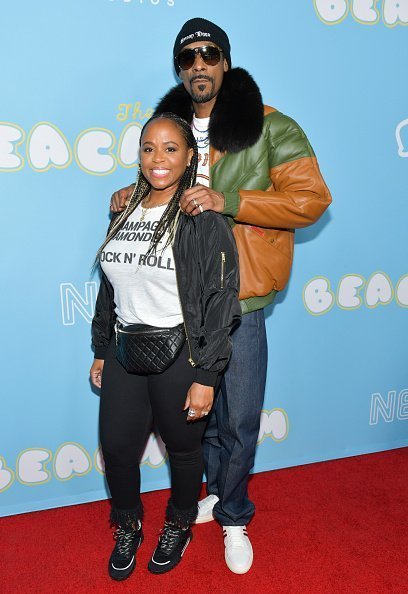 The rapper posted a picture of the two recently, and tagged her, acknowledging that the ride had not been all rainbows and butterflies; they have had their fair share of trials.
One of the trying times was in the earlier part of their marriage. In 2004, Snoop Dogg filed for divorce but later canceled the proceedings.
According to him, they fell in love again with each other. Snoop Dogg admitted that the separation had to do with his mistakes,
"I cheated on her, that's the worst thing you could possibly do- lose somebody's trust who really loves you."
Despite all these, they have made it work, and Shante recently gave insight into how they've made it work, by posting a quote that read, "no one wants to hear this, but truth be told… a long-lasting relationship comes with a lot of forgiveness and understanding." 
Her rapper husband, Snoop Dogg, responded to the post by thanking his longtime wife for forgiving and understanding him all the time.
Cori's diagnosis brought the couple closer then, and they were able to pull through.
After their brief separation, the pair renewed their vows in January 2008, although it was a surprise for Shante, all the guests were aware of the plan. Their union has waxed stronger ever since then.
Spotted at the movie premiere of "Bad Boys," they looked practically inseparable as they held on tight to each other on the red carpet.
Shante and Snoop have battled through a lot; they lost their grandson last year, ten days after he was born, their daughter, Cori, was also diagnosed with lupus at the age of six.
Cori's diagnosis brought the couple closer then, and they were able to pull through. The youngster now lives a normal and healthy life.
Tthe couple have three kids together, sons Corde and Cordell and their daughter Cori. Also, Snoop has a son from a previous relationship.