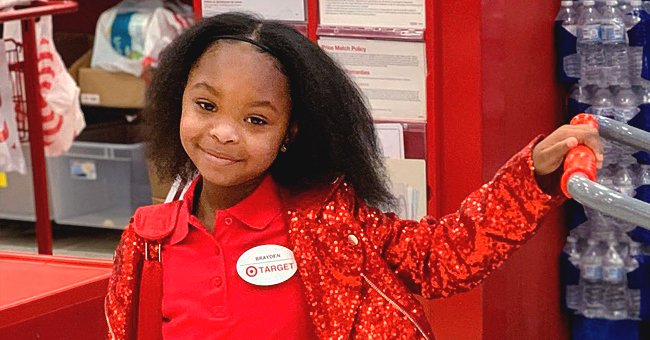 twitter.com/yahoolifestyle
8-Year-Old Girl Had Her Birthday Party inside Target

Brayden Lawrence was over the moon during her eighth birthday party. The girl got to celebrate it at Target.
A Twitter post shows Brayden enjoying the party with her friends at her local store. All wearing the classic Target uniform, the young girls raised their colorful beverages for a toast.
Her aunt, Rikki Jackson, shared snapshots from the fun party on Twitter. She wrote the caption: "My niece really just had her 8th birthday at Target lol! She's obsessed."
TURNING HER WISH TO REALITY
It was Brayden's wish to celebrate her birthday at the local store, as reported by Today. Her aunt shared that the young girl is obsessed with Target.
"Literally will ask to go to Target just to walk up and down the aisles. She asked for a Target party, and my sister was like, 'OMG, how do we make this happen?'" Jackson said.
Her mother was determined to make it happen. She spoke with the manager of the Camp Creek Target in Atlanta.
STORE-TURNED-PLAYGROUND
The manager immediately agreed to arrange a Target-themed birthday celebration. They have not done it before in that branch.
Brayden's mother and aunt bought the children uniform while Target staff made them name tags. And so, the store became a playground for the day for Brayden and her friends.
To make it more fun, Brayden was the one who checked out the items chosen by her friends.
REAL TARGET EXPERIENCE
To add fun to the party, the store crew set up a scavenger hunt where the children had to find items inside the store and then put them in their right places. The game was pure delight for Brayden and her friends.
The young girls also enjoyed some time for shopping, as reported by Yahoo. Jackson said they bought all the children's gift cards.
To make it more fun, Brayden was the one who checked out the items chosen by her friends. The birthday girl felt like a real Target sales attendant.
The birthday bash ended with a feast on child-friendly snacks like Icees, hot dogs, and popcorn. They also enjoyed a huge Target-themed cake!
Another heartwarming birthday story happened when kindergartens gave a deaf custodian a touching birthday surprise. The man could not help but cry in sheer joy.
The sweet moment took place at Hickerson Elementary in Nashville. James Anthony, the custodian, was overwhelmed by emotions as the children greeted him happy birthday in sign language.
Please fill in your e-mail so we can share with you our top stories!