Khloé Kardashian of KUWTK Fame Shares Photo From Breakfast Time With Daughter True Thompson
Khloe Kardashian posted a photo of her having breakfast with one-year-old daughter True Thompson and dad Tristan made an adorable comment on the post.
Khloe could  be seen smiling with her right arm raised, while True gave her mom a hilarious indifferent look from her high chair, with a few toys in her hands.
A life-size teddy bear sat in the chair beside the adorable one-year-old, and a large bouquet of roses sat pretty on the table.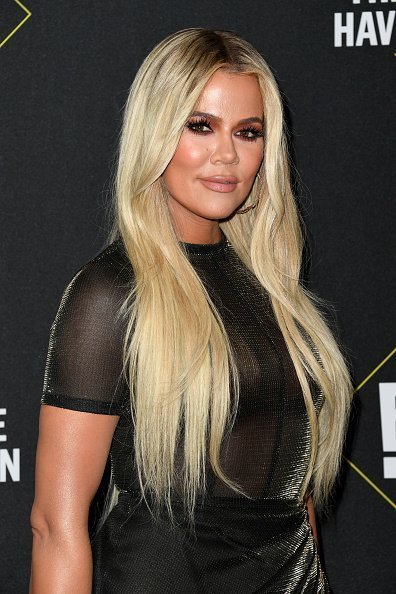 The mom-of-one makes sure that she has breakfast with True every morning; she clears her schedule and works out very early before the toddler wakes up. Khloe captioned the breakfast post,
"Great Morning!" 
In the comment section, Tristan Thompson, Khloe's ex, and True's dad wrote, "Morning Mommy and Tutu!!" adding a heart, love-struck, praise, and another heart emoji to the comment.
The Cleveland player who is in the middle of the NBA season may be far away but has managed to co-parent with Khloe.The pair are in a better place now, but about a year ago, Tristan reportedly hooked up with Jordyn Woods, Kylie's and the "betrayal" ended their relationship and the friendship between Woods and Jenner.
Though the split was hard on Khloe, she has worked hard to put their differences aside and have a decent relationship for the sake of their daughter. Her priority remains co-parenting with Tristan. According to a source close to the former couple,
"Khloe and Tristan are taking things extremely slow and just talking more. They are not at all back together but are taking small steps to see if they can get there."
The KUWTK star is gearing up for True's second year birthday on April 2, and if fans are to take a guess based on her first birthday, it is going to be the best!
Khloe went all out last year with pony rides, giant balloons, cotton candy, butterfly decorations, and plenty of food. Despite the cheating scandal, Tristan still showed up for the party at Khloe's house.
The basketball player also allegedly cheated on Khloe in 2018, a few days to when she delivered True. The youngest of the Kardashian sister has moved past the negative energy and is merely enjoying motherhood.