Anna Duggar of 'Counting On' Fame Shows off Personalized Gold Necklace Days before Baby Maryella Turns 3 Months Old
Josh Duggar, and his wife of eleven years, Anna Duggar celebrates their baby daughter's birthday as she turns six months old. The little cutie had a huge smile on her face. 
"19 Kids And Counting" stars, Josh and Anna Duggar are halfway through their youngest daughter's first year on earth, and the couple is glad to celebrate the remarkable milestone.
Josh Duggar's wife, Anna Duggar, took to Instagram to display her daughter's significant necklace as they mark her sixth month birthday.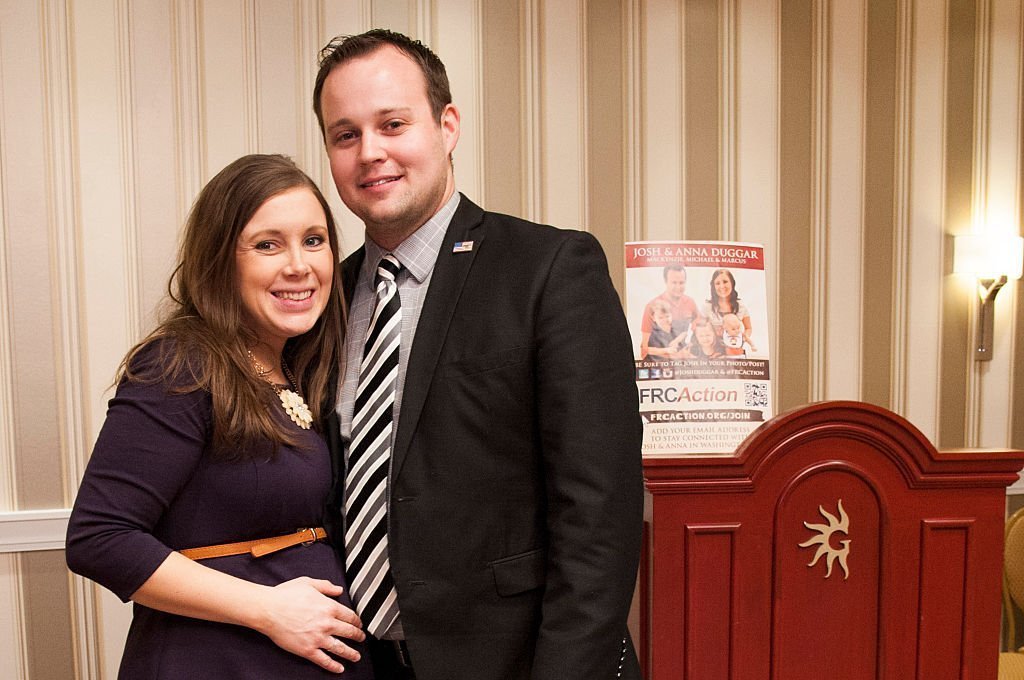 The mother of six shared a closeup picture of the meaningful gold necklace comprising two circular pendants. The bigger pendant sported the alphabet, "M," while the smaller one was inscribed "6." Her caption read:
"Maryella and I are ready to head out with for our weekly date night. P.S Loving my new mommy #M6 necklace from @madebymary They are my new favorites. Love their classy jewelry!"
A second pic featured the 6-month-old and her mom, both smiling for the camera. Maryella Duggar looked adorable in her pink bow headband and purple sweater.
FANS OF BIG FAMILIES
The Duggars welcomed their daughter, Maryella, in November last year, a day before Thanksgiving, making her the sixth addition to their already large brood. The little one was named Maryella, a play on the alphabet "M," which begins the names of their other six kids, Mackenzie, Michael, Marcus, Meredith, and Mason.
The sixth time mom reflected on the importance of cherishing moments with family.
The young couple is building up a large family of their own, which is unsurprising as each one was born into large families. Josh Duggar grew up among the crazy, Duggar clan, famed for their religious extremes, as one of nineteen kids. Anna, on her part, was one of seven kids born to the Kellers.
EMBRACING THE DUGGARS
The television personality participates in all family events and is always glad to show it off to the world. Following their annual ugly sweater Christmas party, the sixth time mom reflected on the importance of cherishing moments with family, via a post saying:
"A reminder that we don't always know what a year may hold, so cherish every moment this Christmas season."
BUILDING A FAMILY IN LOVE
Since joining the Duggars as Josh's wife, Anna, who first learned about the star family at thirteen, has embraced her new family wholly. 
The 31-year-old also enjoys showing off her brood of six to the world, while pushing about the fantastic lot. Earlier this year, the young mom showed off her kids on social media as they posed for a family photo, and two of her kids stole the moment.
The snap showed two of Anna's daughters, Mackenzie and Meredith, twinning up in identical outfits, which matched their mom's. The two girls easily passed as mini versions of the conservative mom. Six and counting on, the large family of Josh and Anna Duggar is undoubtedly built on love.