Kate Middleton Talks about Mixed Emotions She Felt When Introducing Prince George to the Public for the 1st Time
Kate Middleton's interview with Giovanna Fletcher was quite a revelation. It revealed some details about the Duchess, including how terrifying it was for her to introduce Prince George to the public.
Kate Middleton, who is big on motherhood and taking care of children, revealed a shocking fact about herself when it comes to her children.
When asked about her experience with introducing her first child Prince George to the world during a recent interview with Giovanna Fletcher for her famous podcast series "Happy Mum, Happy Baby," Kate expressed that:
"The first time was slightly terrifying, slightly terrifying; I'm not going to lie."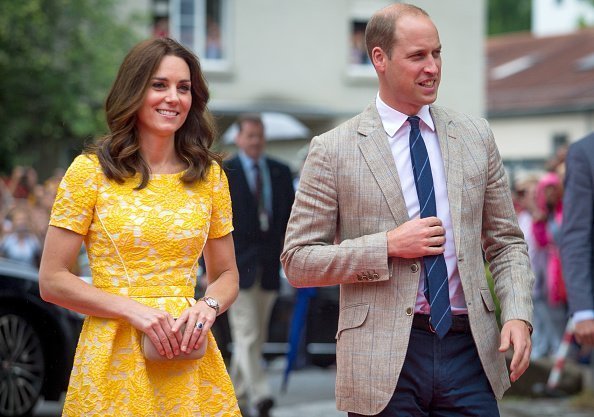 The royals have a tradition that has now become a staple in royal births where the mother introduces the new-born baby to the media in a photocall on the steps of the Lindo Wing. A tradition that has now been named the "Lindo Walk." She further mentioned that:
"For us to be able to share that joy and appreciation with the public, I felt it was really important. But equally, it was coupled with a new-born baby, and inexperienced parents."
Surprised, Giovana expressed that Prince William at that time had made what seemed to be a seamless effort of getting the baby into the car to which Kate replied that she was sure her husband did not think so at the time.
Still speaking of the Lindo Walk experience, the 38-year-old Duchess said that at the time of introducing Prince George, she and her husband were still trying to get the hang of things even though they had practiced with a doll. She, however, felt William had done an excellent job.
Her husband was not there with her while she learned and practiced hypnobirthing.
The mother of three further mentioned that her pregnancy periods were not something she enjoyed. She usually had severe cases of morning sickness called Hyperemesis Gravidarum, which made her husband feel helpless since he couldn't do anything about it.
Despite the morning sickness, Kate said what fascinated her the most was that even though her body was rejecting food and was uncomfortable, it still found a way of providing the baby with all the goodness it needed. Because of her experience, she revealed that:
"It was through hyperemesis that I really realized the power of the mind over the body because I really had to try everything and everything to try and help me through it."
The Duchess also mentioned that her husband was not there with her while she learned and practiced hypnobirthing. She did not ask him as she wanted to learn the process herself.
Kate, who welcomed all her three children at the Lindo Wing, is not the first royal to give birth there. The tradition dates back to Princess Anne, who first gave birth to her children Prince Peter and Zara Philips at the center.
The wing has experienced the birth of almost two generations and has become a spot for Royal watchers who often set up camp a few weeks before the royal babies are born.
Kate, who rarely grants interviews as regards her life and motherhood, has surprisingly bared it all in Giovana's Podcast, revealing new details of her life.
The Podcast, which was done to help promote Kate's survey called: "5 Big Questions on the Under Fives," has been the closest people have gotten to know about the Duchess' life as a mother.