Hoda Kotb from 'Today' Shared Her Biggest Wish for Her Wedding Day
"Today" anchor Hoda Kotb explained that she only wants her upcoming nuptials to her fiancé Joel Schiffman to be a "beautiful moment" followed by "drunk dancing" at the reception.
Hoda, 55, announced live on "Today" that she had been engaged to Joel, 61, in November 2019. The couple, who have been together for six years, is getting married this fall.
In a recent interview, the morning anchor has clarified that she isn't sweating the little stuff with regards to her wedding celebration.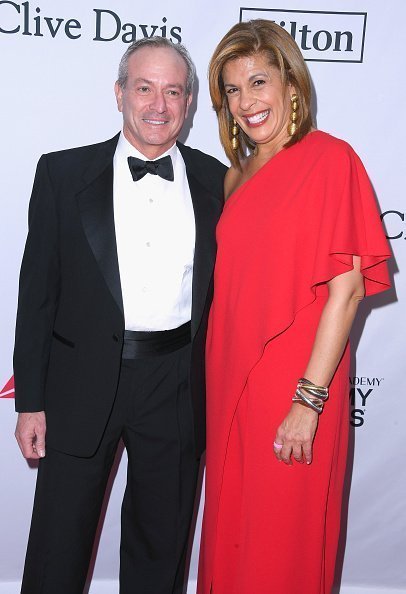 DESTINATION WEDDING
"I'm putting the planning in the hands of professionals," Hoda told People. "All I want is Joel, Haley and Hope, and my closest inner circle."
The acclaimed television personality added that she can picture her fiancé at the end of the aisle and her kids, Haley and Hope, wondering what's going on.
During a tropical getaway in Mexico on November 23, Hoda and Joel got engaged. In an interview with TODAY a year ago, the famous journalist said she and her fiancé would most likely do a destination wedding.
HAND-PICKED BY HER MOTHER
Hoda also recently told Page Six that she would walk down the aisle in a wedding dress hand-picked by her mom, Sameha. She said:
"My mom is going to get [the dress] for me. If I wear a dress that people like on the air, she bought it! It's [usually] from her."
DOESN'T NEED TO BE INVOLVED
But with regards to preparing her wedding, Kotb said her loving mother doesn't need to be involved. She shared that she and Schiffman will do a beach thing.
Hoda was diagnosed with breast cancer when she was 42 years of age.
Hoda initially met Schiffman, the Head of US Defined Contribution and Insurance Sales at Schroder Investment Management, in the summer of 2013 at an occasion for Wall Street professionals.
She was signing books after her discussion when Schiffman approached her. The pair then bonded and have been making history ever since.
In February 2017, Hoda adopted Haley, and in April 2019, she came on the "Today Show" via phone to announce she had adopted another baby girl, Hope.
Hoda was diagnosed with breast cancer when she was 42 years of age. Sadly, she came out of treatment, unable to conceive.