Daniela Ruah from NCIS: LA Shares Cute Photo of Her Children & Fans Can't Help Raving
The "NCIS: Los Angeles" star Daniela Ruah recently shared a picture of her little ones having a flashcard practice session during breakfast and fans can't help but fall in love. 
As fans already know, Daniela Ruah is a doting mother to her two kids, Sierra Esther and River Issac, who make cute appearances on their mother's Instagram every now and then. 
This time, the cute duo was captured on camera by Ruah while they were having a flashcard practice session during breakfast. The little ones seem to be engrossed in the fun activity in a picture shared by Ruah on Instagram. 
FANS ADORE THE KIDS
In the caption, Ruah shared how she feels like her kids aren't listening, but times like those make her realize that the concept of supporting each other is sinking in. 
Fans were excited to see the brand new picture of the kids. Many of them immediately took to Instagram to share how parents feel amazing when they discover that their kids actually learn from them even though they sometimes feel like they're not.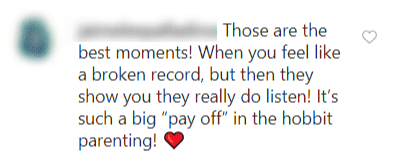 Ruah and her husband, David Paul Olsen, love their kids to the moon and back. The loving parents have a love story where David's brother, Eric, played the matchmaker. 
Ruah plays the role of Kensi Blye in "NCIS" and her on-screen partner is Eric. According to Eric, Ruah and his brother were dating people who weren't that great before they met each other. 
ERIC THE MATCHMAKER 
So Eric decided to hook them up. Since his brother was his stunt double, it was easy for him to introduce them to each other and he hoped that they would get together. He shared how his plan went down during his appearance in "The Queen Latifah Show."
"When they got together, because [David] came on to do stunts, I would say something nice about her to him and then say something to him about her."
Since Ruah and David had heard so many great things about each other, it became easy for them to start a conversation. Soon enough, their conversations progressed into a loving relationship. 
Ruah and David welcomed their first child, River, on December 30, 2013. The next year, the lovebirds walked down the aisle on June 19. 
A BEAUTIFUL FAMILY
The couple welcomed their second child in 2016. Before giving birth to her daughter, Ruah had a miscarriage that deeply affected her emotionally and physically.
Thankfully, Ruah could look past that and she was blessed with a little girl. Today, her family-of-four is a happy lot who has each other's backs.