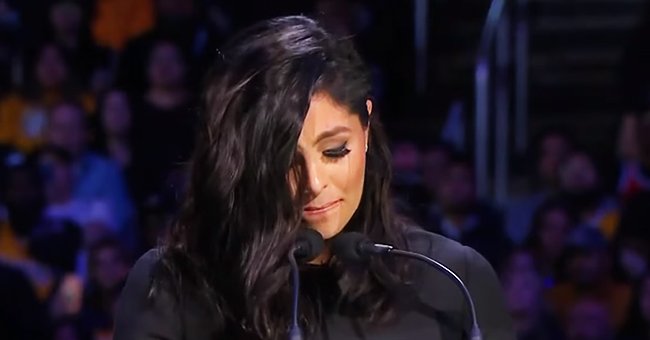 youtube.com/ET Canada
Vanessa Bryant Received Words of Support from Fans during Kobe and Gianna's Celebration of Life Memorial
Vanessa Bryant has all the backing she could ask for even as she teared up during her speech at her husband and daughter's memorial. Everyone is part of her team now.
On Monday, Vanessa Bryant caused hearts to ache as she delivered a jolting emotional speech following the passing of her late husband and basketball legend, Kobe Bryant, and her daughter Gianna.
The stands were packed with family and friends, and fans not present were glued to the screen to watch the "Celebration of Life for Kobe and Gianna Bryant" event.
Remembering Kobe and Gigi
The memorial, which took place at the Staples Center in Los Angeles, was also a remembrance for the seven other people who died in the January 26 helicopter crash.
Victims included the pilot, Ara Zobayan, Christina Mauser, Sarah Chester, and daughter Payton, and John Altobelli, his wife Keri, and their daughter Alyssa.
During her speech, Vanessa described her daughter as "competitive like her dad, but [she had] a sweet grace about her." She mentioned how "Gigi" loved athletics and was very active.
She couldn't stop the tears
In speaking about Kobe, Vanessa said he was the romantic in the relationship. She talked about several experiences that showed how great of a father he was, too.
Vanessa paused several times during the speech to breathe and compose herself. Towards the end, she struggled not to cry, saying, "He had to bring them home to heaven together."
She took a long pause after that as the tears began to flow. Understandably, the late legend's wife choked up as she spoke directly about her husband and baby girl being gone.
Vanessa is one strong woman
Online, empathizers let their tears flow as well, expressing both sorrow and support for the grieving mother-of-four. Kobe and Vanessa were married for 19 years.
One person commended Vanessa for her strength in such a difficult time. On the sidelines, the model also had an array of comforters. One of them was megastar Beyonce.
The singer performed on the stage before going on to sit just behind Vanessa. At one point, Beyonce showed support by holding the widow's arm.
Beyonce comforts Vanessa
According to the Daily Mail, the touching moment happened while legend Michael Jordan was giving his tribute to Kobe. The display of comfort came from a friend of the family going back 20 years.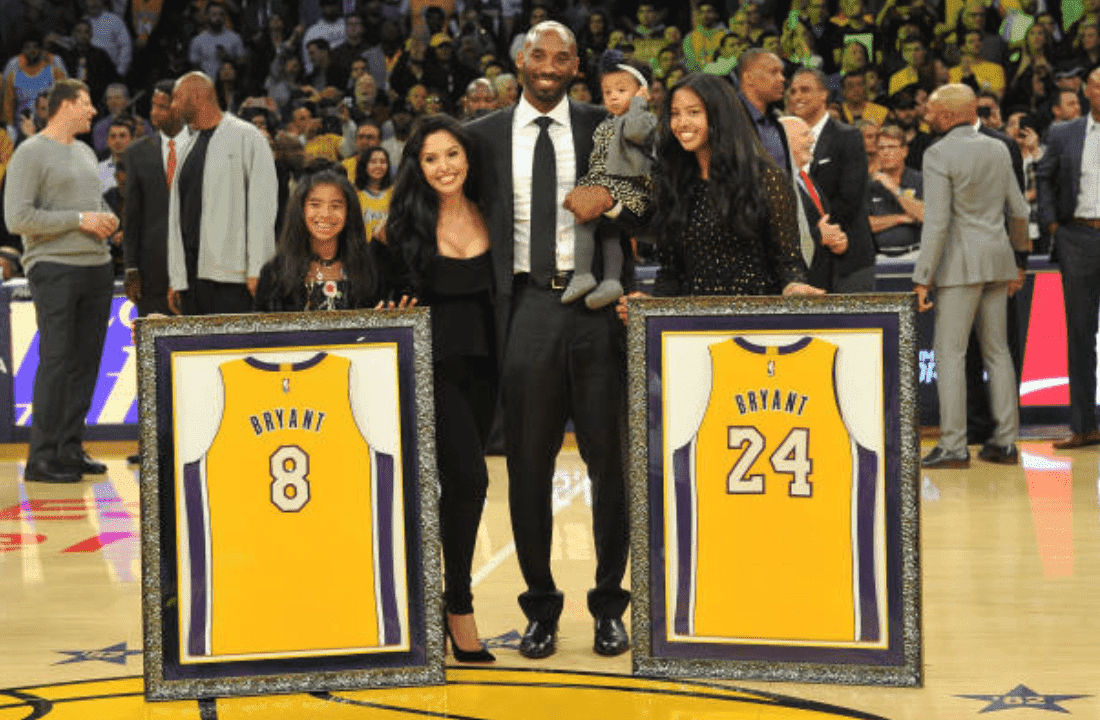 Kobe Bryant, Vanessa Bryant and their daughters Gianna Bryant, Natalia Bryant and Bianka Bella Bryant pose with his retired jerseys during a ceremony at the Staples Center on December 18, 2017, in Los Angeles, California | Source: Allen Berezovsky/Getty Images
Back in 1999, Kobe appeared in Beyonce's former girl group Destiny's Child's "Bug-A-Boo" video. In the shot, the young basketball star tied his shoe near a locker as the group walked in.
Beyonce wore a pair of dark sunglasses as she sat in the stands on Monday. During her performance, she sang a modified version of "XO," which better fits with the relationship. R.I.P Kobe.
Please fill in your e-mail so we can share with you our top stories!