Snoop Dogg's Daughter Princess Broadus Pours out Her Curves in Figure-Fitting Blue Tracksuit in Recent Photo
Snoop Dogg's daughter, Cori Broadus, looked beautiful sporting a 2-piece fitting blue tracksuit in a recent photo posted on Instagram.
Cori Broadus, daughter of Snoop Dogg and Shante Broadus, took to her Instagram page to share a picture of her in a fitting blue tracksuit. In it, Broadus revealed her curves, and her fans loved it.
Cori, who also goes by her stage name CHOC, was born on June 22, 1999. The 20-year-old Instagram celebrity has never been one to be shy about her body.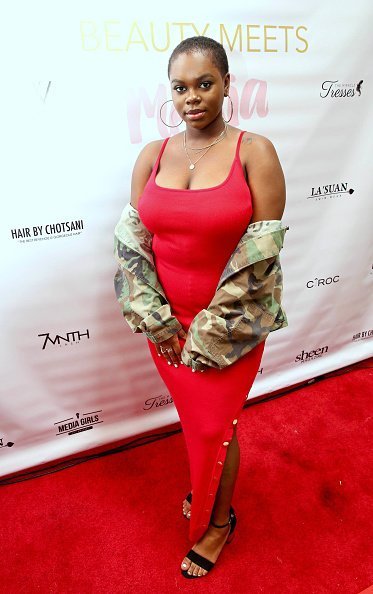 In the Instagram photo, the record producer's daughter rested slightly on a white vehicle as she flaunted her profile. She wore a luxurious brown hairdo that slightly covered her necklace. She also had a white jacket on.
The highlight of the Instagram post was the royal blue sweatshirt. Broadus, who styles herself as @princessbroadus, looked like royalty in her blue outfit. The post read:
"2 piece set @fashionnovacurve Fashionnovapartner."
CHOC, who released the 2018 single "New Phone, Who Dis?" featuring Kamaiyah, was marvelously gorgeous in her two 2-piece sets. She struck a classic pose with her sideway gaze into the distance
The promising singer was the target of a media backlash a while back when she got a face tattoo that read "belle."
The "Drop It Like It's Hot" rapper's 20-Year-Old Daughter is responsible for her parent's marriage.
Snoop Dogg's daughter had posted a picture of her face tattoo on her Instagram page. In the photo, the BET award winner's daughter spotted the same distance gaze as in her recent photo.
Cori Broadus, spotting her puffy white jacket, showed off a side her pf her face to reveal the tattoo. the caption read:
"belle=beauitiful in french" 
The "Drop It Like It's Hot" rapper's 20-Year-Old daughter is responsible for her parent's marriage. Snoop Dogg wanted to divorce his wife, Shante Broadus, in 2004. He changed his mind after his daughter was diagnosed with Lupus.
Lupus is an inflammatory disease that is caused when the victim's immune system begins to attack healthy cells and tissues. It is a life-threatening disease that should be taken seriously when diagnosed.
When Snoop Dogg realized the severity of the disease, he decided to call off the divorce in other to be with his family. Thankfully, with the support of her family, Cori Broadus was able to overcome the disease.
The Youtube celebrity has two brothers, Cordé (born August 21, 1994) and Cordell (born February 21, 1997). She also has a stepbrother, Julian Corrie Broadus (born 1998).