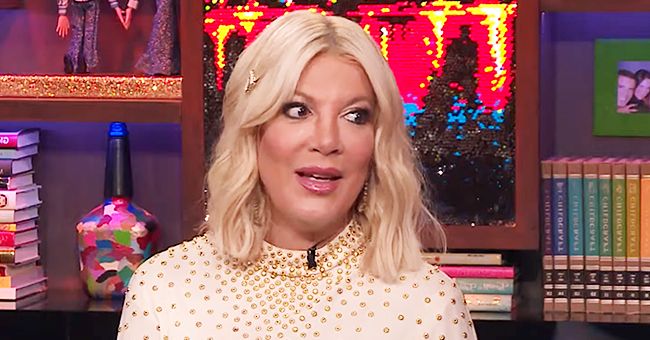 youtube.com/Watch What Happens Live with Andy Cohen
Tori Spelling from BH90210 Details Bullying Experienced by Her Kids Stella and Liam
"BH90210" star Tori Spelling took to social media recently to open up about her children — daughter Stella and son Liam — suffering "so much bullying."
On February 23, Spelling 46, posted a throwback photo of Stella, 11, and Liam, 12, playing together. Liam was two years of age, and Stella was one during the time the picture was taken.
In the caption, the acclaimed actress revealed that the siblings "have been thru so much bullying" that she felt she could "no longer not share and express ourselves."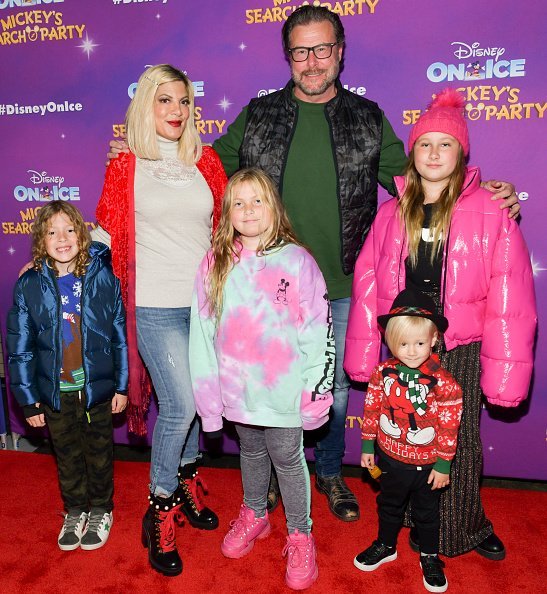 Tori Spelling and her husband Dean McDermott with their children, Finn Davey, Hattie Margaret, Beau Dean, and Doreen at Staples Center on December 13, 2019 in Los Angeles, California. | Photo: Getty Images
Spelling explained that Stella had experienced enough bullying for a lifetime between her last year at her elementary school or the 1st year at her middle school. She added:
"Her old school in Encino, we were told she is acting like 'patient zero' and 'she's playing the victim.'"
Spelling continued that the parents of the bully are on the school board, meaning that their child may have gotten special treatment since "they give a lot of money to this school" while she and husband Dean McDermott "aren't able [to]."
In spite of the fact that she and her husband moved Stella to another school, that didn't change things, Spelling shared.
According to her, Stella was bullied so severely, including bad remarks about her weight. The school expelled the boy, but for Spelling, the damage had been done.
Spelling and McDermott also share daughter Hattie, 8, and sons Beau, 2, and Finn, 7.
As for her son Liam, Spelling explained that the principal told her and McDermott that their son was "unmotivated" and "lazy." That happened ahead of his graduation from the Encino school.
Liam also experienced bullying in his new middle school. There was a time when he developed severe emotional-based headaches and stomach aches.
Spelling and McDermott also share daughter Hattie, 8, and sons Beau, 2, and Finn, 7. As reported by PEOPLE, this isn't the first time the couple have spoken out about their children being targeted by bullies.
In January of last year, McDermott said he was disgusted after reading a comment in an Instagram photo of his wife. According to the commenter, their children are "fat" and look "terrible."
Meanwhile, on February 11, Spelling took to Twitter to express her disappointment after Luke Perry was left out of the 2020 Oscars in memoriam tribute.
Thirteen years ago, the actress's late father, television producer Aaron Spelling, was also excluded from the segment.
McDermott also shared his disappointment, posting to Instagram that Sid Haig, Tim Conway, Michael J Pollard, Jan Michael Vincent, and Cameron Boyce are also missing from the 2020 Oscars in memoriam tribute.
Please fill in your e-mail so we can share with you our top stories!