Ivanka Trump Glows in All-White Tunic-And-Trouser Ensemble on Second Day of Her India Visit
Ivanka Trump looked sophisticated in a tunic for the second day of the tour of India as she opted for an all-white ensemble during a visit at the Hyderabad House.
During her second day of the tour of India, Ivanka Trump looked stylish as she opted for an all-white traditional South Asian tunic with matching trousers.
The pairing of the outfit with the tunic and trousers is called "shalwar kameez." She chose to honor her hosts with a traditional look at the ceremonial reception for President Donald Trump at the Rashtrapati Bhavan in New Delhi.
Ivanka's full-sleeved top, which is called a "bandhgala sherwani," which was a button-up design, was a button tailored with pocket accents on the breast. Anita Dongre, the designer, explained:
"Ivanka is wearing a sherwani made out of handwoven silk from Murshidabad, West Bengal. It is timeless, and such a classic."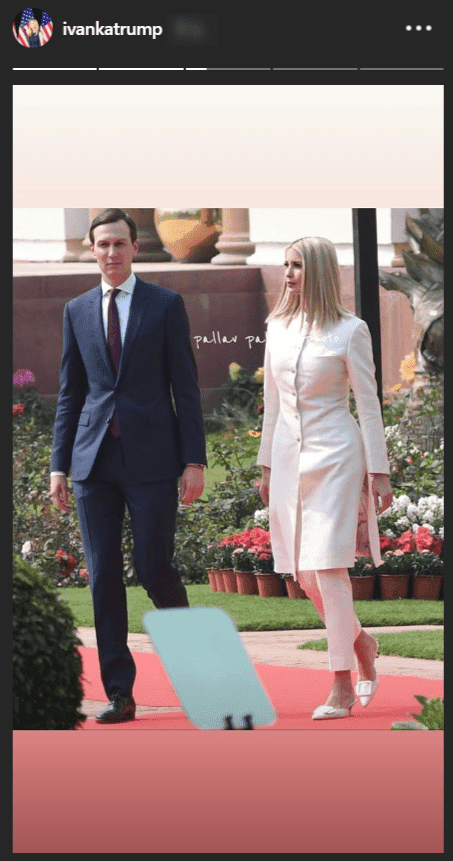 While some foreigners are drawn to the more colorful and detailed styles of the shalwar kameez, 
Ivanka
 opted for a white ensemble with matching straight-legged pants, admiring her simplicity, a fan 
said:
"Simply gorgeous beauty [some people] prefer to wear yellow, blue, purple, pink, white n gray colour combination most important is yr simplicity."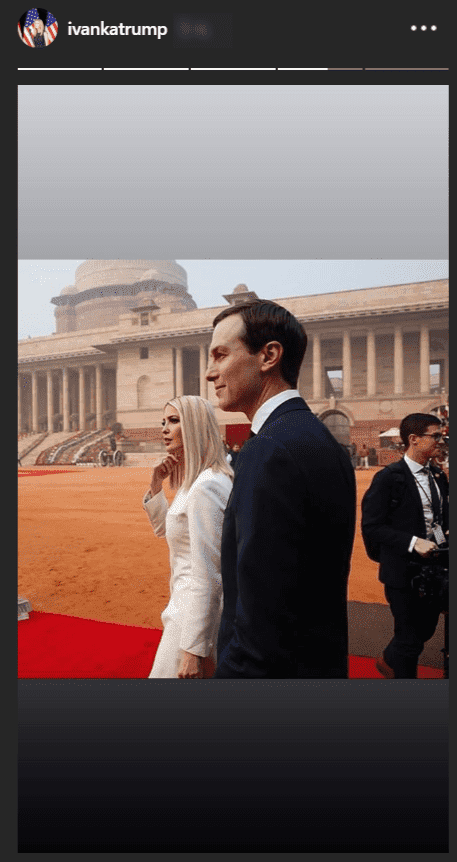 Contrasting her simple attire, Ivanka wore statement gold chandelier earrings that were encrusted with diamonds and detailed with pearls. 
For her make-up, she had a red lip and long dark lashes to match her smokey eye. Her hair was styled down with a middle parting by local hairstylist Anu Kaushik, who thanked the first daughter for using her services.
Although she is normally pictured in high heels, she put away her 6-inch designer collection and opted for 20-inch kitten heels for the ceremonial reception.
It is reported, Ivanka completed her look with $691 Manolo Blahnik's pointed white slip-on mules that had a large matching buckle on the top.
Earlier in the week, Ivanka chose a more colorful look when she visited the Taj Mahal with her husband, Jared Kushner.
She wore a mid-length floral dress by Proenza Schouler. It is the same dress she wore in September 2019 during her tour of South America. It is estimated to have a retail value of $1 690.