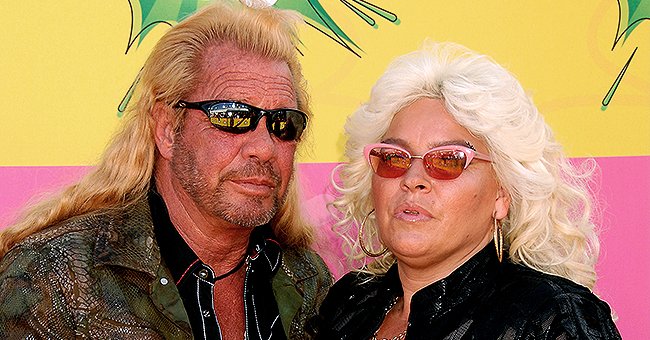 Shutterstock.com
Duane Chapman from 'Dog The Bounty Hunter' Reunites with Daughter Cecily in New Photo after Ending Family Feud
'Dog The Bounty Hunter' stars Duane Chapman reunited with his daughter Cecily Chapman to pose for a picture in support of a t-shirt collection for his late wife.
Amid months of tension over speculation that Duane Chapman was dating his late wife's best friend, the bounty hunter reunited with his daughter Cecily for a rare picture together.
The two appeared to put aside all the drama from recent weeks to join forces in supporting a t-shirt collection in honor of family matriarch Beth Chapman.
It is reported, the rift between Duane and Cecily has healed since he split from Moon Angell, who had been living with him in recent months.
Showing off their latest memorabilia, "For Beth Collection," the two stood side by side, holding a black t-shirt with the words "For Beth" printed across the front.
Cecily posted the same image on her Instagram page, and in her caption, she wrote. "Dad!" She also added a blue heart emoji as a sign of affection validating the love restored between the two of them.
With her long blonde flowing down her back, many fans commented, saying that she looked just like her mother. One fan thought it was Cecily's smile that resembled Beth.

A fan comments on a picture of Duane Chapman posing with his daughter Cecily Chapman as the promoted a t-shirt collection in honor of Beth Chapman | Source: Instagram.com/duanedogchapman
Other fans praised Duane for making peace with his daughter and encouraged him to keep focusing on his family and put them first.
The feud in the family started with Lyssa Chapman shared her disapproval of Moon, whom she said dated one of her brothers, and had moved into the family home.
The two women spent weeks going at each other on twitter. Eventually, Cecily joined her sister in the twitter war against Moon.
It is reported, Cecily initially broke her silence by retweeting messages in support of their dislike for Moon, and then started making her own attacks telling Moon to get out of her mother's bed.
It is not clear if Duane has made peace with Lyssa, who had been the most outspoken in the feud over her father's alleged friendship with Moon.
However, with his personal drama squashed, Duane now has to deal with legal drama. It is reported, he is fighting a lawsuit over late payments for his Hawaii mansion.
Please fill in your e-mail so we can share with you our top stories!