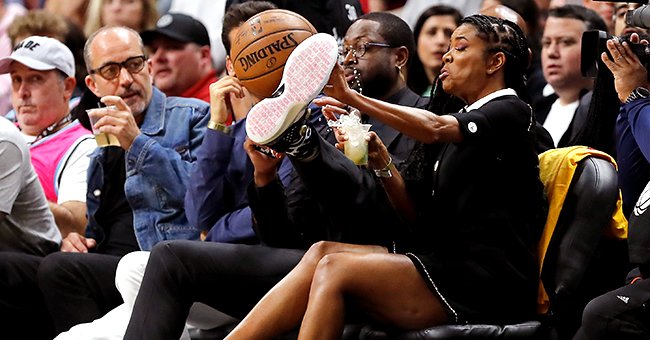 Getty Images
Dwyane Wade Uses Foot to Protect Wife Gabrielle Union from a Flying Ball in Hilarious yet Sweet Pic
Dwyane Wade and Gabrielle Union had first row seats to a Miami Heat game over the weekend, and the former NBA star made sure to protect his wife from a flying ball during the game in a hilarious yet sweet picture that's gone viral.
Dwyane Wade and Gabrielle Union had front row seats to the Miami Heat game that doubled as his jersey retirement ceremony, and while enjoying the exciting game against the Cleveland Cavaliers, a ball suddenly came flying their way.
Post-retirement life has been eventful for Dwyane Wade, as a lot has been going on personally and professionally.
DWYANE'S PROTECTIVE INSTINCTS KICK IN
Of course, Dwyane's reflexes kicked in pretty quickly, and he kicked the ball away before it hit his wife. While this knocked off a bit of Gabrielle's drink on her husband's suit, she carried on watching the game unscathed. The couple laughed at the hilarious incident, even posting it on social media for their fans to enjoy.
Wade spent most of his NBA career playing for the Miami Heat. He became MVP of the 2006 finals when the franchise won its first-ever championship, and he is the fifth Heat player to have his jersey number retired following Tim Hardaway, Chris Bosh, Shaquille O'Neal, and Alonzo Mourning.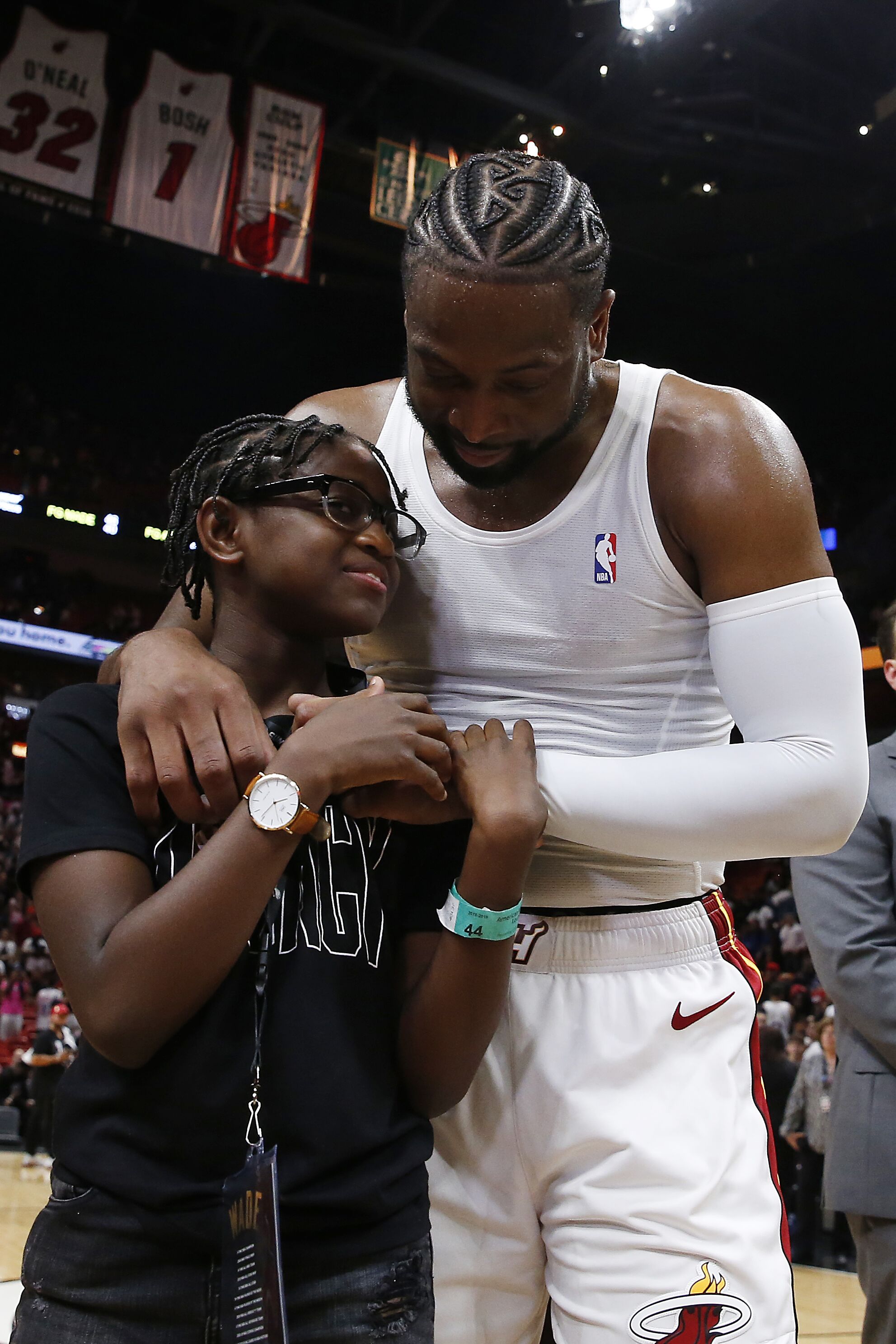 Dwyane Wade and son Zion at a Miami Heat Game | Source: Getty Images/GlobalImagesUkraine
DWYANE'S POST-RETIREMENT LIFE
Post-retirement life has been eventful for Dwyane Wade, as a lot has been going on personally and professionally. He's done a lot with his time, including the launch of clothing and shoe lines, a wine brand, a documentary, and a song called "Season Ticket Holder."
On top of this, he's a hands-on father to his children, as his eldest son Zaire begins his basketball career, as his son Zion transitions into Zaya as he identifies as a female, and as his youngest daughter Kaavia grows up to be the intelligent little girl that she is.
DWYANE'S EVENTFUL PERSONAL LIFE
The new documentary "D. Wade: Life Unexpected" details the personal life of one of the NBA's best guards, especially the transition of his son Zion into becoming Zaya. While it wasn't an easy decision to show Zaya's story to the world, he knew it would help other families and so they decided to tell the story.
According to Wade, Zaya already knew at three-years-old that she would like to identify as a woman, but it took years for Dwyane to accept it and become fully supportive. Ultimately, Zaya was his first encounter with someone coming out as gay.
"Hopefully, I'm dealing with it the right way. Some people feel that I'm not. But inside our home, we see the smile on her face. We see the confidence that she's able to walk around and be herself. And that's when you know you're doing right."
Dwyane has Gabrielle Union supporting him through it all, being his number one fan in all his endeavors and helping them guide their children towards the right path.
Please fill in your e-mail so we can share with you our top stories!