Steve Harvey & Wife Marjorie Wear Embellished Face Masks While on a Plane in Recent Pic & Fans Weigh In
Fans took to the comments section to leave their opinion on the picture Marjorie shared of her and Steve Harvey donning facial masks
Prevention, they say is better than cure. With a global health scare crisis going on, everyone is taking precautionary methods to protect themselves from contracting the flu-like Corona Virus. Whatever the prevention method, the goal is to remain safe.
Steve Harvey and his wife Marjorie shared a picture of themselves aboard a flight, and they were both wearing chic facial masks that had quite a number of fans talking and giving their opinion.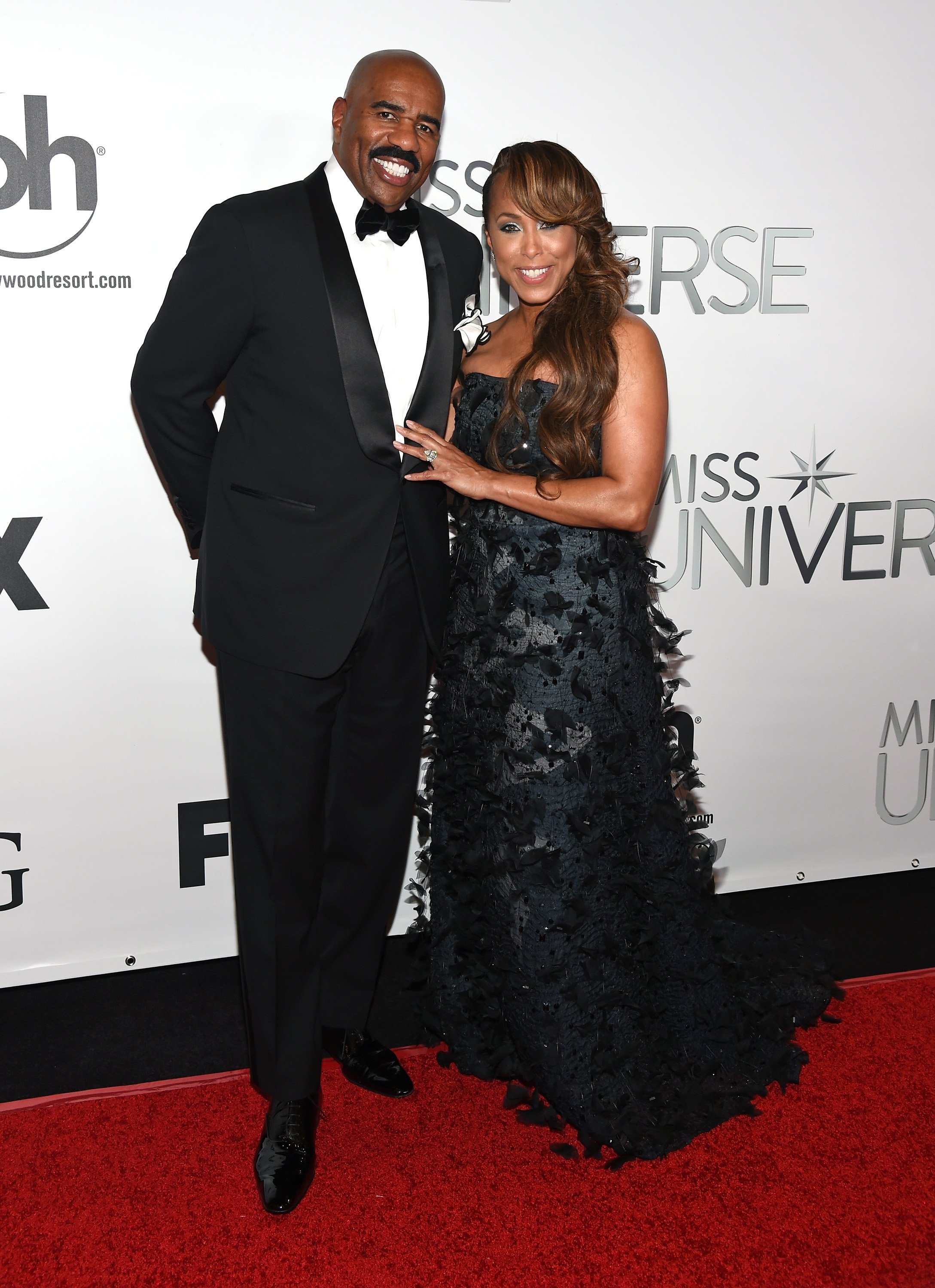 Marjorie took to her Instagram page to share a picture of herself and Steve with her two million-plus followers. The picture showed the couple aboard a flight wearing fancy facial masks with Steve holding a bottle of hand sanitizer. The image had the caption:
"? #Harvey's."
Their masks which they wore the right way were quite fanciful and chic. Steve's mask was sliver in color while Marjorie's mask had an aqua green color with spotted star designs on it.
Following the posting of the picture, the comments section came alive with different people airing their opinion on the mask and the couple. One fan commented that the use of facial masks was for the sick, and the couple did not need it, but the person acknowledged that the masks were, in fact, cute.
Spending time with Marjorie helps him relax.
Another fan commented on the masks asking why the couple got really stylish masks.
On the other hand, some fans were a bit sarcastic with their comments with one fan stating that they were sure the couple could not catch the virus while on their private jet. Another fan commented on the post saying:
"Coronavirus, but make it FASHION!!"
While one other fan mentioned that they did not blame the couple for taking such preventive measures, another advised them to have fun, but they should ensure that they wiped down and washed their hands.
Steve and Marjorie are parents to seven children from their separate marriages. While Steve has four children from his previous marriage, Marjorie has three, and on their getting married to each other, the couple decided to blend their families.
The duo who met in a funny manner, when Marjorie came late for Steve's show, and he told the audience he was going to marry her, had been friends for a long time before they tied the knot in 2007.
Despite being together for a while, the couple is completely smitten by each other, with Steve saying that spending time with Marjorie helps him relax and get rid of jitters before going on stage.
Marjorie, on the other hand, too, is smitten by Steve and has mentioned several times that she is grateful she has him as her lover and soulmate. Someone she can spend the rest of her life with.