Steve Harvey Looks Stylish in Pink Blazer While Wife Marjorie Stuns in White Minidress at NFL Honors 2020
Popular American television personality, Steve Harvey and his wife Marjorie Harvey, stunned the NFL Honors looking all peng.
For the second time in a row, Steve Harvey was asked to host the NFL Honors award show which was held on Saturday, February 1, 2020.
Steve and his beautiful wife, Marjorie, had heads turning at the awards show as they graced the event in glamorous outfits.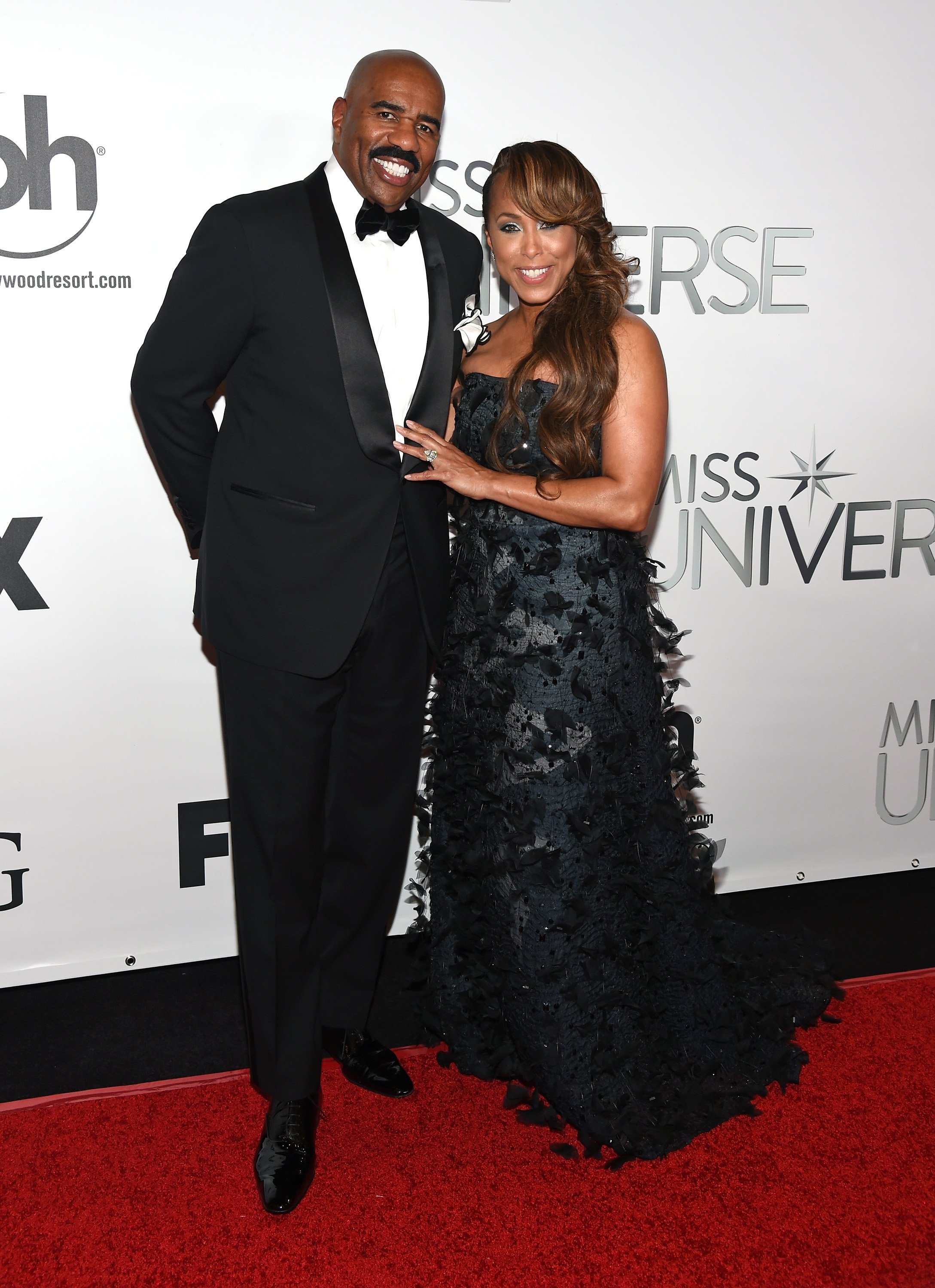 While Steve wore a chic pink suit with a pink shirt and pink bowtie with a pair of black trousers, Marjorie wore a white cleavage-revealing mini dress.
They both took to their personal Instagram accounts to share their moment at the award show with their fans. Marjorie posted a short video while Steve posted a picture with the caption:
"Super grateful and blessed for the opportunity to host again. Thank you so much and congratulations to all of the honorees. #nflhonors."
At the show, during his opening monologue, the "Celebrity Family Feud" host made a joke about his hometown football team, Cleveland Browns.
Steve said it was uncommon and a big deal for a native of Cleveland to keep the same gig for more than one year as he did with the NFL awards show.
In 2007, they tied the knot, and together, they have a blended family of seven children.
Apart from his beautiful grandchildren, the "Miss Universe" host loves to show off his wife of 13 years, Marjorie, on his Instagram page.
Last year, the couple celebrated their 13th anniversary with super-fun trips to Italy, Monaco, and France. Before taking off to Ghana, he dropped a sweet comment on a picture of Marjorie:
"Truth is…I love her, and she loves me, that's a fact…… you know 2 people can really be in love…. It really is possible."
The American comedian who was married twice before, met his third wife in 1990 while he was doing a stand-up show at club Memphis, Tennessee. There and then he made up his mind to marry her.
At the time, Steve was still married and he wasn't in touch with Marjorie. However, years later, fate made their paths cross again in 2005. By then, Steve had just ended his second marriage.
In 2007, they tied the knot, and together, they have a blended family of seven children. Last year, while the host faced challenges in his professional life, there were rumors that there was trouble in his home.
His wife, however, addressed the rumors; Marjorie said they were doing just fine. Subsequently, the pair released a funny video that revealed through their chemistry that they were indeed fine.