Royal Family Marks St David's Day: 10 Facts about the Patron Saint of Wales
Members of the Royal Family wished their Welsh followers a happy St David's Day. The Patron Saint has been celebrated in Wales every March 1 since the 12th century.
Members of the royal family — the Queen, the Cambridges, and the Sussexes — celebrated St. David's Day by sending compliments to their Welsh followers on Instagram. 
They all captioned their posts with "Dydd Gŵyl Dewi Hapus," which translates to "Happy St David's Day" from Welsh to English.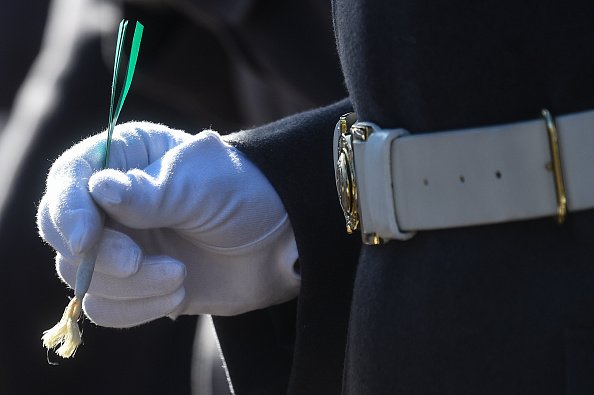 St. David's Day is celebrated only by Welsh people, which means a lot of people around the world might not know much about the Patron Saint of Wales. 
The day is usually marked with persons wearing leeks and daffodils, and eating traditional Welsh food such as cawl and Welsh rarebit. Here are ten facts about the Patron Saint of Wales:
First of all, the exact dates of his birth and death are unknown. However, he is believed to have been born in the year 500 and died on March 1, 589. The alleged day of his death marked the day in which St. David has been celebrated annually since the 12th century. 
Secondly, the Patron Saint of Wales was born during a thunderstorm. His mother, St. Non, delivered him on a cliff in Pembrokeshire. 
A bolt of lightning came from heaven and split a rock in two at the exact timing of his birth. The spot is known as the ruins of St. Non's Chapel. There is also a healing well, nearby.
Two pilgrimages to St David's were worth one to the Vatican.
St. David also had a strict diet. The patron and his fellow monks abstained from alcohol and lived in austerity. Their diet consisted of water, bread, and leeks.
Fourthly, he performed a few miracles. He is believed to have formed a hill using the ground under him while preaching to a crowd in Llanddewi Brefi. The people had complained that he was not audible from the back. 
A white dove from God is said to have rested on his shoulder. Another miracle is that he raised a boy from the dead through splashing the boy's face with tears. 
Next, his name is not David. St David was named Dewidd by his mother, St Non, while the locals called him Dewi. However, David is his baptismal name.
Sixth, he has royal blood. His father is said to be Sant, the Prince of Powys, while his grandfather is King Ceredig, who founded Ceredigion, a town in Wales.
The patron was an excellent preacher as he spread Christianity throughout various regions in Wales, Brittany, and south-west England. He found churches and monasteries in those areas. 
He is also said to have visited and rededicated the Glastonbury Abbey. By the 12th century, over 60 churches were dedicated to him.
Also, his popularity reached beyond Wales, such that Pope Callistus II had said of his shrine, that two pilgrimages to St. David's were worth one to the Vatican.
Dydd Gŵyl Dewi Hapus 🏴󠁧󠁢󠁷󠁬󠁳󠁿

Let's celebrate the "pethau bychain" – the little things happening right now, all over Wales, which make us proud to be Welsh.

So, go on, tell us – what makes you proud to be Welsh? #StDavidsDay pic.twitter.com/WaCdpZk6hb

— Welsh Government #KeepWalesSafe (@WelshGovernment) March 1, 2020
St. David has his flag, which is a yellow cross on a black background. People also mark his day by displaying the flag.
Lastly, his legacy remains. St. David's last words to his followers were from a sermon he had delivered on the previous Sunday. A phrase from the sermon ⁠— "Do the little things" ⁠— is still used in Wales today.